2019 Lexus ES 350 F Sport : Review
The long-awaited seventh generation of the top-selling sedan in the Lexus lineup is finally here, and the new 2019 Lexus ES will hit dealerships around the same time the kids head back to school. In the United States, there will be three flavors of ES, the ES 350, ES 300h (Hybrid), and for the first time, ES 350 F Sport. That F Sport model is targeted at a younger and more male demographic than the average Lexus customer.
Here at Gunaxin, we're younger and more male than the average Lexus customer as well. So not surprisingly, we fixated on the F Sport model when we recently were invited to Nashville to meet the new ES. For sake of comparison, we did drive all three offerings, but our video, photos, and review will focus on the new 2019 Lexus ES 350 F Sport. We know the younger buyers like it when the pictures move too, so please take a first look at the newest F Sport in our latest video below.
Exterior
The most striking design element of the new ES F Sport is the same thing that has been attracting polarized attention for Lexus over the past 5 years. It's that gaping spindle grille on the front. Yasuo Kajino, Project Chief Designer, describes it as "provocative elegance". We're on record stating that our approval of that grille grows as the grille itself grows. So while this isn't the largest its been proportionally to a Lexus, it is still fairly impressive. The F Sport treatment with the jet black mesh is a definite must for us, as it looks better than the vertical bars on the standard grille. We honestly wouldn't be surprised if the F Sport version of the spindle grille was the primary motivator of customers who choose the upgrade over the regular ES 350. That sexy mesh is also repeated in the lower corners for a balanced look.
The new ES was redesigned on the all-new Global Architecture-K (GA-K) platform, which resulted in an ES with a better stance and proportions. It is longer (+2.6″), lower (-0.2″) and wider (+1.8″) than the outgoing model, and the wheels have also been pushed closer to the corners with a two-inch longer wheelbase. The hood and roof line are both relatively low and sleek, dare we say almost coupé like. Ultra Sonic Blue Mica 2.0 (the shade changed slightly, we asked) and Ultra White are color options exclusive to the F Sport. Overall, the vehicle has been transformed, and is clearly the most sporty looking version of the typically conservative ES ever produced.
Our favorite photo we took of the ES 350 F Sport is the 2nd row center image above, with the F Sport badging and the redesigned mirrors stealing design cues from the LC500. You don't have to look very hard to find other design elements that have pleasantly made their way down the lineup from the sportier cousins. The ES F Sport gets unique dark graphite coated dual-spoke 19-inch wheels that are similar to those used on the LC and LS. It also features slim headlamps with Lexus "L" shaped marker lights, and LED tail-lamps with more "L" shaped goodness. On the rear, dual chrome exhaust finishers and a trunk lid spoiler are included to complete the look.
Interior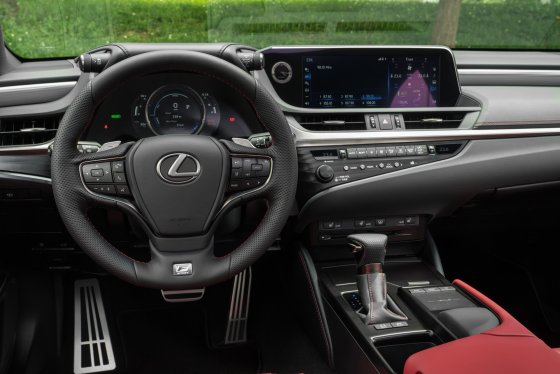 The F Sport model of the ES is offered in an exclusive Circuit Red color which is the most striking feature in our photos below. It's absolutely fabulous, and just one more reason why we would definitely prefer the F Sport if looking to make an ES purchase. It's combined with an all-new F Sport standard metallic trim called Hadori Aluminum, that is inspired by an ancient sword polishing process. The strong color scheme of Red, Black, and Silver is eye-catching, and really elevates the ES into a far sportier realm than it has ever been before.
The F Sport logo adorned front seats are power adjustable in 10 ways, and can be heated and ventilated as you would expect. The steering wheel apparently comes directly from the LS, and is adorned with even more F Sport badging. The F Sport also receives a larger (8 inch) LCD instrument panel, which features the movable center ring that has been popular on other F Sport models.
The available (with Navigation) 12.3 inch wide Electro Multi Vision (EMV) display is great, and the analog clock placement makes smart use of that potential negative space. We're still not sure why Lexus continues to use that frustrating Remote Touch Interface, but at least it has improved in recent years. It's used to access two of our favorite interior features, an available 17-speaker 1800 watt Mark Levinson audio system, and a new invention named Apple Carplay. The former sounds amazing, and the later is making its long-awaited début in the Lexus lineup. Carplay operates exactly as we've come to expect, but is even better on that impressive wide screen. It'll soon offer Waze capability, too.
If Android Auto is your thing, you still won't find it on any Lexus or Toyota product. However, if you still have the desire to talk to your new car, the 2019 Lexus ES is Amazon Alexa enabled, for both car-to-home, and home-to-car commands. Are you currently lacking Alexa enabled devices and a new ES to talk to them with? Apparently Lexus and Amazon can help you fix that, as they're giving away a 2019 Lexus ES and a smart-home makeover for Prime Day.
Performance
The front-wheel drive ES 350 takes a significant step up in performance compared to the outgoing model, largely due to the newly developed GA-K chassis. It's much more rigid than before, thanks to additional use of high-strength steel, structural adhesives, laser screw welds, and bracing. Building a more rigid chassis has paid dividends for other recent Lexus models, and it does the same for ES handling.
"We knew that this ES had to feel responsive and easy to drive, no matter what kind of road it was on and that can only be achieved with a solid foundation." -Yasuhiro Sakakibara, Engineer
The 2019 Lexus ES 350 is powered by a 3.5-liter V6 engine that produces 302 horsepower and 267 lb-ft of torque (both up from the outgoing model) and is mated to an all-new 8-speed direct shift automatic transmission. None of those numbers are upgraded if you pay extra for F Sport badging, but there is more to F Sport on the ES than just an appearance package.
The main performance upgrade you get with the F Sport model is the Adaptive Variable Suspension (AVS) system, which is capable of 650 levels of sensor driven adjustment to deliver optimal ride quality and precise control. The difference between the AVS equipped F Sport and the standard Dynamic Control Shocks is quite noticeable under spirited driving situations. The AVS is one of the systems that is adjusted when you select the Sport or Sport+ driving modes, along with throttle, transmission, and steering.  Furthermore, in Custom mode, F Sport drivers can choose three engine and transmission programs (Eco, Normal, Sport), two steering and suspension programs (Normal, Sport) and two climate programs (Eco, Normal).
Overview
The 2019 Lexus ES is improved in every way, and we didn't even mention the smooth quiet ride that Lexus is known for. With an F Sport model introduction, Lexus has invited a new customer to consider the popular ES. It's yet unknown whether those customers will answer that invitation. The front-wheel drive ES 350 F Sport can't match the performance of the rear-wheel-drive offerings in the lineup (IS, GS, LS, RC, LC), however we don't believe it was meant to. With the exception of the AVS and additional driving modes, the F Sport is largely an appearance package, but it's one with much more dynamic styling that we really like. Combined with the new technology offerings, we think an F Sport version of the top-selling Lexus is a compelling option that has previously been missing from the lineup.