2019 Mercedes-Benz GLS : Review
It may not be the flashiest or sexiest of the Mercedes lineup, but the 2019 Mercedes-Benz GLS has a lot of goodness to it. The big SUV is one of the largest and most usable of the three-row options from Mercedes and, although it's now at the five year mark for its current design, it's still very up to date.
The big 2019 GLS seats up to seven, has more interior space than most New York City apartments, and is as comfortable and opulent as one would expect a Mercedes top-line model to be.
Style
The GLS is a strong looker. Mercedes' designers managed to take the basic square body of a big sport utility and put some verve into it. The 2019 GLS carries several elements of the current Mercedes-Benz styling cues found in most of the make's SUV lineup. That includes the two-pronged grille that radiates out from either side of the large three-point star Benz emblem and the flat, expressive hood. The hood has speed lines that grab the light to either side of the center line, creating a promise of forward momentum.
The 2019 Mercedes-Benz GLS has a raked windscreen that helps accentuate how long the hood is, which in turn masks the bulky, square bodywork into a saloon-style shooting brake design. This creates the illusion of fast movement and personality, something often missing from an SUV. The bulkiness of the sport utility is not easily hidden, of course, but it's nicely tempered by this overall motif.
Large wheels and wide gaps in the wells counter the sleek styling a bit, making sure that the onlooker knows that this is a capable four-by-four and not just another wannabe that never leaves the pavement. Finishing the look are large doors for easy access and a wide rear hatch for better cargo access, all masked by a tapering greenhouse and well-placed chrome accents.
Utility
The 2019 GLS has three rows of seating and all three rows can be used by adults. That's fairly unusual in today's market, where the third row is most often relegated to kids-only and forgotten. Access to the third row is through tilt-forward seating in the second row, which slides forward towards the front to give a nice gap for entry. It's a bit of a climb, but most grownups can manage it. Kids will make it look easy, of course.
Cargo space in the 2019 Mercedes-Benz GLS is both massive and massively useful. There is a total of 93.8 cubic feet of space with the second and third rows folded down and then progressively less as those rows deploy. We managed to put three kids' bicycles into the big GLS and still had the second row up for three-across seating of said three children. That's impressive.
With all of that space and seating, no amount of comfort is sacrificed in the big Mercedes-Benz GLS. Accommodations are opulent, sometimes breathtakingly so. A 7-inch touchscreen and two USB ports alongside dual-zone climate and an auto-dimming rearview are standard in the GLS. Things only get better from there with our top-end GLS 450 coming equipped with massaging front seats, heated and cooled seating in both the first and second rows, and high-end leather treatments throughout. Then come sunroofs (yes, plural), an air ride suspension, a huge infotainment display, and plentiful amounts of advanced driver aids and safety technologies. The Grand Edition, new for this year, pours on those goodies for the GLS 450.
In short, the 2019 Mercedes-Benz GLS is big, comfy, and spacious. Everything is top-end with this SUV.
Capability and Performance
The 2019 GLS comes in three flavors of performance. Our GLS 450 model (above) is the base line, powered by a twin-turbocharged V6 that outputs 362 horsepower. This is more than enough to make the GLS feel confident and capable on the road. The 4Matic (all-wheel drive) option gives the GLS 450 some good off-road cred too, so long as the going isn't too strenuous. This is not a Moab-ready rig, by any means.
Next up is the GLS 550, which swaps the V6 for a turbocharged V8 that growls out 449 horsepower. This model also adds several optional goodies from the 450 as standard equipment, such as the larger infotainment display and those aforementioned advanced driver's aids and safety techs.
At the top end of the trio of GLS options is the AMG GLS 63, which turbo-turbocharges that V8 to 577 horses. This trim also adds a lot of goodies, including nearly all of the options available for the 550 plus AMG-tuned adaptive suspension dampers, 21-inch wheels, and more power-delivery goodies.
In any package, though, the GLS is a very well-done SUV. There's little to complain about with it. It features a quiet ride quality, careful comfort, and some beautiful engineering.
Getting Out There With the 2019 GLS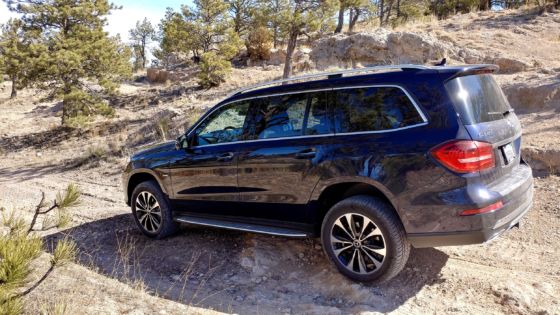 We took the GLS around town as a daily driver for the family and found it to be a great daily drive SUV. It's big, comfortable, and easy to get used to living in. Off the road, the GLS will do what most standard SUVs are capable of and doesn't fuss about it. There's no mud bogging or rock crawling with the GLS in any package, of course, but it'll get you to the campsite, fishing hole, or view point without worry.
On the highway, the 2019 Mercedes-Benz GLS is surprisingly quiet for its size and the air ride suspension gives a cushioned, but not too distant glide along the roadway. Even kids, sensing the quietude inside the Benz, will use normal "inside voices" to talk. That's a good test metric for how quiet a vehicle really is on the road.
Around town, the bulkiness of the GLS makes parking and squeezing through tight spaces hairy, as would any full-sized sport utility, but the 360-degree cameras and athleticism of the big SUV helps make that much better than it could be.
Overview
The Mercedes-Benz GLS is a big, capable machine. It's comfortable for everyday use and strong on opulence. It's also good at most of the things we expect a good SUV to be able to do. With seating for seven adults, it's also a rarity in today's market. Mercedes did well with the big GLS and that shows as, despite its relative age compared to rivals, the GLS still holds its own against them.