The 22 Greatest NBA All-Star Game Performances
In the NFL, the Pro Bowl has become the biggest joke in sports. Not only is it the most pointless exhibition game people actual pay money to watch, it is also the ugliest. What did the NFL expect when they rewarded a bunch of millionaire athletes to with a week of fun in the sun? Did they actual think someone would make a tackle? These guys are more worried about the hotel bill on Monday morning then getting hit for no reason.
Then there is the NBA All-Star game. Not only is it fun to watch, the sport's popularity was built on exhibition displays like this. And 1 and the Harlem Globetrotters have been around for years just traveling the globe playing basketball, and promoting the sport with amazing exhibitions of skill.
As any exhibition game goes, it starts off slow and boring as many players learn their spot on the court. There are going to be bad shots, turnovers, and lots of dunks. By halftime, everyone has played for both sides and an actual game is starting to unfold. Do you really think these guys don't go into beast mode when they come out in the second half?
The level of competition rises as the 4th quarter nears. The score is meaningless until the final 12 minutes. These are the greatest basketball players in the world. They cannot help but play hard. They don't know any other way. Winning is all they know.
Can Stephen Curry catch fire and break the record for most points in an All-Star game? Or will the insane Western Conference bench show up the Eastern Conference starters? (Chris Paul, Klay Thompson, James Harden, Kevin Durant, LaMarcus Aldridge, Russell Westbrook)
To get you pumped up for a possible epic performance this weekend, we look back at the All-Star Games of the past. Below we've listed the 22 greatest individual performance in NBA All-Star Game history. Enjoy.
22) 1951 – Ed Macauley (East)
Points: 20
FG – Att: 7-12
Rebounds: 6
Assists: 1
It doesn't take a genius to figure out why Ed Macauley makes this list. We have seen many of these lists of greatest performances yet not a single one of them mentioned the man who won the first one. By default he has to be mentioned for his performance in 1951. His numbers weren't crazy good, they were something you would expect from an NBA All-Star MVP. He led the way for the others you are about to read about.
21) The '80s – Magic Johnson (West)
All Star Games in the '80s – 9 (1980, 1982-1988, 1990)
MVPs – 1 (1990)
Wins – 3 (1985, 1987, 1989)
Assists – 104 (11.6/game)
The NBA will never again see a point guard with as much talent and size as Magic Johnson. He stood 6'9″ at the PG position? That doesn't make sense. Even Penny Hardaway was only 6'7 with shoes on. Magic stood tall and made plays no one had ever seen before. The All Star game was made for players like him and he knew it. He dominated the All Star games in the 80's and only won the MVP award once. Why? Because he is the most unselfish player in NBA history. This guy loved passing the rock. He even won an All-Star game MVP in 1990 when his team lost by 17.
20) 2014 – Blake Griffin (West)
Minutes: 32
Points: 38
FG – Att: 19-23 (0-2 3Pt.%)
Rebounds: 6
Assists: 1
Steals: 2
He is quiet, cocky, and has put more people on posters than Hugh Hefner. But for some reason, people tend to hate the guy or claim he is overrated because he is nothing more than a dunker. What? We are not going to waste time showing you numbers but Google is a great resource to find anything. Maybe those people should read about how in 2014, Blake Griffin showed up at the All-Star game and put on a show. He did it without talking trash, being arrogant, or anything else. He quietly dropped 38 points and shot an amazing 83% from the field hitting 19 of 23 shots (19 made FGs is an All-Star game record). If he doesn't jack up two wasted 3's, he ends up at 91%. 38 points is also third most for a single All-Star game in history. His performance earned him a spot on this list and many more for years to come.
19) 1980 – Kareem Abdul-Jabbar (West)
Minutes: 30
Points: 17
FG – Att: 6-17 (5-6 FT)
Rebounds: 16 (5 Offense)
Assists: 9
Blocks: 6
Kareem Abdul-Jabbar is the single greatest player to ever play in an NBA All-Star game but has never won an MVP award. He owns the All-Star game career records for appearances (18), Minutes Played (449), Personal Fouls (57), Blocks (31), and Blocks per Game (2.1). But if there was ever a single game he deserved the award, it was 1980. He was amazing. He had more assists than Magic Johnson and Julius Erving combined in that game. He also had six blocks, an All-Star game record. But the Western Conference just could not match up and ended up losing by eight and Kareem missed out on a MVP award that was his for the taking.
18) 1975 – Rick Barry (West)
Minutes: 38
Points: 22
FG – Att: 11-20
Rebounds: 5
Assists: 8
Steals: 8
Blocks: 1
Rick Barry is an NBA Hall of Famer. He had an incredible career with the ABA and in the NBA. But this guy was probably the best All-Star game player of all time. He always put on a scoring show. In the 1975 game in Phoenix, Arizona, Mr. Barry only managed 22 points but he added an NBA record 8 steals. Walt Fraizer led the Eastern Conference to the win and he took home the MVP but it was Rick Barry that helped the West keep it close.
17) 1993 – Mark Price
Minutes: 23
Points: 19
FG – Att: 6-11 (6-9 3-Pt)
Rebounds: 1
Assists: 4
Steals: 1
Mark Price? What? How in the how did he make a list of the best performances during the '90s when Michael Jordan owned everything? Simple… Mark Price won the 3-Pt shootout for the second straight year and then entered the All-Star game on the same level. He was on fire from behind the arc. He was always a dangerous shooter but his performance in 1993 was especially impressive because he did it alongside MJ, Shaq, Pippen, Ewing, Isiah Thomas, and a few other NBA Hall of Famers.
16) 2011 – Kobe Bryant (West)
Minutes: 29
Points: 37
FG – Att: 14-26
Rebounds: 14 (10 Offense)
Assists: 3
Steals: 3
Kobe Bryant will eventually retire from the NBA and then become a Hall of Famer. Until then, we still get to enjoy his talents. In 2011, there was nothing new. He scored 37, which was an NBA All-Star game record at the time, and added 10 offensive rebounds, which is still an NBA All-Star game record. It just goes to show you that hard work pays off. There have been plenty of NBA Hall of Famers play in the All-Star game but none of them can claim to have the most offensive rebounds. Not Bill Russell, Wilt Chamberlain, or Kareem Abdul-Jabbar. It was also his 3rd MVP award.
15) 1968 – Hal Greer (East)
Minutes: 17
Points: 21
FG – Att: 8-8 (5-7 FT)
Rebounds: 3
Assists: 3
We will not waste time explaining how a man can come off the bench, play only 17 minutes, make every single shot he puts up, and end up being named the NBA All-Star game MVP. We might have to do a little research but has there ever been a player with less minutes win the MVP award in the NBA All-Star game?
14) 2014 – Kyrie Irving (East)
Minutes: 34
Points: 31
FG – Att: 14-17 (3-6 3-PT)
Rebounds: 5
Assists: 14
The NBA has so much talent that it is almost impossible to dethrone the kings of the game in an All-Star game. LeBron James, Kevin Durant, and Blake Griffin all dominate but Kyrie Irving found a way to score while leading his team to victory. It isn't easy dropping 14 dimes and also scoring 30+ points but he made it happen and helped the Eastern Conference take another one away from the West.
13) 1980 – George Gervin (East)
Minutes: 40
Points: 34
FG – Att: 14-26
Rebounds: 10
Assists: 3
Steals: 3
Larry Bird made the first ever 3-Pt shot in All-Star game history but it was a moot point because George Gervin helped the Eastern Conference to victory with 34 points and 10 rebounds. The former ABA star made his Spurs proud becoming the second straight former ABA player to win the NBA All-Star game MVP en route to victory.
12) 2003 – Kevin Garnett (West)
Minutes: 41
Points: 37
FG – Att: 17-24
Rebounds: 9
Assists: 3
Steals: 5
Blocks: 1
Kevin Garnett was only 26 years old when he won his one and only NBA All-Star game MVP award. But it wasn't just the MVP that earned him a spot on the list. It was the talent he outperformed to win it. The 2003 game went to double overtime and is easily the greatest All-Star game of all time and KG stole the show. It was also MJ's final performance.
11) 1994 – Scottie Pippen (East)
Minutes: 31
Points: 29
FG – Att: 9-15 (5-9 3-PT, 6-10 FT)
Rebounds: 11
Assists: 2
Steals: 4
Blocks: 1
The Chicago Bulls won six championships, all with Michael Jordan. But even MJ once said, "I had Pippen." Is there any doubt that Scottie Pippen was always going to be a six-time NBA champion and NBA Hall of Famer? Yes. But in 1994, he showed us that he isn't just MJ's teammate, he is a player. He scored from all over the court and finished with 29 points to claim his only All-Star MVP award while helping the East claim victory once more.
10) 2014 – Carmelo Anthony (East)
Minutes: 30
Points: 30
FG – Att: 10-18 (8-13 3-PT)
Rebounds: 5
Assists: 2
The record for most 3-Pointers made in one NBA All-Star game doesn't belong to Steve Kerr, Reggie Miller, Stephen Curry, or Mark Price. It belongs to Carmelo Anthony when he went bezerk in 2014 nailing 8 triples including the biggest shot of the game with one minute to go to secure the win for the Eastern Conference.
9) 1986 – Isiah Thomas (East)
Minutes: 36
Points: 30
FG – Att: 11-19 (8-9 FT)
Rebounds: 1
Assists: 10
Steals: 5
Isiah Thomas became the first player in All-Star game history to score 30 points and 10 assists. It was his 5th appearance but it was the first time he truly shined as he led the East from seven points down with only four minutes left to victory. The East ended up scoring 39 points in the final quarter to claim the come from behind win by an easy seven points.
8) 1961 – Oscar Robertson
Minutes: 34
Points: 23
FG – Att: 8-13
Rebounds: 9
Assists: 14
The only player in NBA history to average a Triple-Double was Oscar Robertson back in the 1961-62 season. Just a year before he did that, he was playing in his first ever All-Star game as a rookie where he fell just one rebound shy of a Triple-Double. That performance laid the ground work for a career that sent him to the Hall of Fame.
7) 1962 – Bob Pettit (West)
Minutes: 37
Points: 25
FG – Att: 10-20 (5-5 FT)
Rebounds: 27
Assists: 2
The 1962 NBA All-Star game wasn't close but will go down as one of the greatest games of all time. Bob Pettit had a huge role in the victory for the West by grabbing more rebounds than anyone else has ever done in one All-Star game, 27. That is a ridiculous number of rebounds for a player that only stands 6'9″.
6) 1967 – Rick Barry
Minutes: 34
Points: 38
FG – Att: 16-27 (6-8 FT)
Rebounds: 6
Assists: 3
Rick Barry is probably the most underrated NBA player of all time. He was a natural scorer and he played before the 3 point line was added in 1979. Imagine what he would have become had they added an extra point to 30% of his shots?
5) 1992 – Magic Johnson
Minutes: 29
Points: 25
FG – Att: 9-12 (3-3 3-PT, 4-4 FT)
Rebounds: 5
Assists: 9
Steals: 2
Magic Johnson was diagnosed with HIV and retired from the NBA. He made his return and figured the 1992 All-Star game would be his final farewell to the game. It wasn't supposed to go down as his best performance. Not only did he earn the MVP award, he helped the West win by a large margin. After sinking his final bucket, a beautiful triple from way downtown, the final 14 seconds were left alone and the Eastern conference let the clock run out, for the love of the game.
4) 1988 – Michael Jordan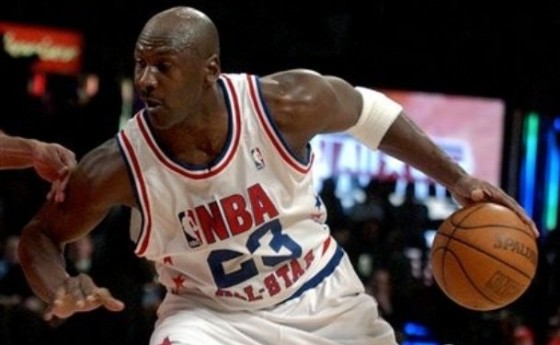 Minutes: 29
Points: 40
FG – Att: 17-23 (6-6 FT)
Rebounds: 8
Assists: 3
Steals: 4
Blocks: 4
Michael Jordan was still only 24 years old during the 1988 All-Star game, his fourth consecutive. (He missed the 1986 game due to injury) But this one was special because it was before all the titles, awards, and Olympic gold medals. He was already one of the best scorers in the NBA just having finished the 1987 season averaging 37.1 points a game, but this All-Star game has become the game that turned him into the MJ we know today. It was the beginning of the legacy of the greatest athletes of all time.
3) 1962 – Wilt Chamberlain
Minutes: 37
Points: 42
FG – Att: 17-23
Rebounds: 24
Assists: 1
Too bad no one tracked blocks before the 1972 season. Otherwise, we might have seen some amazing numbers from Wilt Chamberlain back in the 60's when he was dominating the sport. His All-Star game performance in 1962 was a prime example of how this man played the game. He could score, rebound, and rebound. Did we mention rebound?
2) 1987 – Tom Chambers
Minutes: 29
Points: 34
FG – Att: 13-25
Rebounds: 4
Assists: 2
Steals: 4
Ralph Sampson couldn't play so the NBA needed to find a replacement. They went with Tom Chambers, the hometown star of the Seattle Sonics. In a game that featured 14 future NBA Hall of Famers, the one guy no one expected to claim the MVP award was Tom. But he scored 34 and turned the Kingdome in Seattle into a chaotic explosion of excitement as fans from all over were happy to witness an epic performance by a man amongst giants.
1) 2001 – Allen Iverson (East)
Minutes: 27
Points: 25
FG – Att: 9-21
Rebounds: 2
Assists: 5
Steals: 4
With only nine minutes remaining, the Western Conference held a 21 point lead and looked as if they were going to run out the clock and win with ease. Allen Iverson scored 15 of his 25 points during the improbable comeback and earned his first All-Star game MVP award.