The 25 Biggest Super Bowl MVP Snubs
Tom Brady owns five Super Bowl Most Valuable Player awards, an NFL record. He is one of only five players in NFL history to win multiple Super Bowl MVP awards. Joe Montana has three while Terry Bradshaw, Eli Manning, and Bart Starr all have two each. And…they all play the most prestigious position in sports, Quarterback.
It is also the most recognizable position when it comes to naming a Super Bowl MVP. Since 1967, of the 53 Super Bowl MVPs, 28 of them played QB. It's not their fault for winning the award, and some of them seriously deserved it at the time. But you cannot win a football game without a team. If a QB has a terrible offensive line, he is going to spend all of his time trying to avoid the blitzing defenders coming from all over the field. You simply cannot win a Super Bowl without a talented roster of studs.
This has caused some debate among football fans in recent years because it seems as if the only player the voters notice is the man behind the center. For example, eight of the last eleven Super Bowl MVPs played QB. So what about the performances that are worthy of an MVP award but were snubbed during the Super Bowl in favor of some other player? Below we take a look at the 25 Biggest Super Bowl MVP Snubs Ever. Enjoy.
25) 1982: Ray Wersching, K, 49ers
Super Bowl XVI
Player Stats

Kicking: 4-4 Field Goals Made (22, 26, 40, 23 Yards), 2-2 Extra Points Made

Original MVP: Joe Montana, QB
Sure, Joe Montana was responsible for the game's only two touchdowns (1 Passing, 1 Rushing), but he still only went 14 for 22 with 157 yards. After he quickly got them to a 14-0 lead, the 49ers offense was shut down for the rest of the game. It was left to Ray Wersching to make repeated clutch field goals to secure the win. Without his leg, the 49ers lose the game 21-14.
24) 2013: Jacoby Jones, WR/KR, Ravens
Super Bowl XLVII
Player Stats

Receiving: 1 Reception, 56 Yards, 1 TD
Kick Returns: 5 Returns, 206 Yards, 41.2 Avg, 1 TD (108-Yard Kick Return TD)

Original MVP: Joe Flacco, QB
No one can argue that Jacoby Jones 108-yard return TD was not the momentum shifting play that eventually led to their Super Bowl title. He also broke a Super Bowl record for most total yards in a game (290 Yards).
23) 1980: John Stallworth, WR, Steelers
Super Bowl XIV
Player Stats

Receiving: 3 Receptions, 121 Yards, 1 TD

Original MVP: Terry Bradshaw, QB
You are going to see a bunch of wide receivers on this list whose QB won the original MVP and you might even ask yourself how the WR is more deserving than the man who got them the ball? Well, while trailing 19-17 in the fourth quarter, and with 12:15 minutes left to play, John Stallworth brought in a Bradshaw toss that was a bit off target, leaving him to adjust on the run and catch it almost without seeing it for a 73-yard touchdown. The Steelers never looked back.
22) 1969: Matt Snell, RB, Jets
Super Bowl III
Player Stats

Rushing: 30 Carries, 121 Yards, 1 TD
Receiving: 4 Receptions, 40 Yards

Original MVP: Joe Namath, QB
If the Jets won this game, Joe Namath was going to end up the MVP because of his pre-game guarantee that they would win. He cemented himself as a future Hall of Famer during that game even without throwing for a touchdown. On the other hand, the only Jets player responsible for any touchdown was the hard running Matt Snell and his 121 yards that went unnoticed in NFL history since then.
21) 1972: Duane Thomas, RB, Cowboys
Super Bowl VI
Player Stats

Rushing: 19 Carries, 95 Yards, 1 TD
Receiving: 3 Receptions, 17 Yards

Original MVP: Roger Staubach, QB
The Miami Dolphins had the league's eighth best rushing defense that season and Duane Thomas carved out 95 yards rushing including a score. Roger Staubach certainly did have a great game but when a player does not get noticed for rushing like Thomas did in the Super Bowl, they deserve a mention on our list.
20) 1970: Otis Taylor, WR, Chiefs
Super Bowl IV
Player Stats

Receiving: 6 Receptions, 81 Yards, 1 TD

Original MVP: Len Dawson, QB
Len Dawson does not win the MVP award without the amazing hands of his favorite wideout Otis Taylor. He cemented the Chiefs victory with a 46-yard score late in the game. Otis was responsible for more than 50% of Dawson's total yards.
19) 1977: Clarence Davis, RB, Raiders
Super Bowl XI
Player Stats

Rushing: 16 Carries, 137 Yards

Original MVP: Fred Biletnikoff, WR
Fred Biletnikoff won the Super Bowl XI MVP without ever scoring a touchdown but helping to setup the Raiders for three of them. Clarence Davis, although he also did not score, ran all over the Vikings for an amazing 137 yards.
18) 2007: Joseph Addai, RB, Colts
Super Bowl XLI
Player Stats

Rushing: 19 Carries, 77 Yards
Receiving: 10 Receptions, 66 Yards

Original MVP: Peyton Manning, QB
For awhile, it seemed as if Peyton Manning was never going to get a Super Bowl title, then came Super Bowl XLI. He finally got a win after throwing for 247 yards, 1 touchdown, and 1 pick. The Colts secret weapon, however, was Joseph Addai, who was dangerous both rushing and receiving, helping Peyton Manning move the ball, especially on clutch third downs. His 10 catches was a NFL record for a running back in the Super Bowl at the time.
17) 2002: Ty Law, S, Patriots
Super Bowl XXXVI
Player Stats

Defense: 8 Tackles, 1 Interception, 47 Yards, 1 TD

Original MVP: Tom Brady, QB
Super Bowl XXXVI reminded us that the MVP award usually went to the biggest name instead of the best performance. Tom Brady's 145 passing yards and a touchdown was his worst performance in a Super Bowl, and it's not even close. On the defensive side of the ball, Ty Law had the game of his life, highlighted by a 47-yard interception return for a touchdown in the early part of the first half.
16) 1999: Terrell Davis, RB, Broncos
Super Bowl XXXIII
Player Stats

Rushing: 25 Carries, 102 Yards
Receiving: 2 Receptions, 50 Yards

Original MVP: John Elway, QB
We will never know just how good Terrell Davis could have been if he hadn't dealt with multiple knee injuries which ended up costing him his career. Yes, John Elway was great in Super Bowl XXXIII, but it felt as though they gave it to him because he finally got over the hump and won one. With 152 total yards, Terrell Davis was a key player on the field at all times and it started in the regular season when he rushed for over 2,000 yards.
15) 2001: Jamal Lewis, RB, Ravens
Super Bowl XXXV
Player Stats

Rushing: 27 Carries, 102 Yards, 1 TD

Original MVP: Ray Lewis, LB
Maybe it was destiny, or maybe it was more about what he did during the season than in the Super Bowl. But statistically, Ray Lewis had an important game with his four passes defended and four tackles, but Jamal Lewis rushing for 102 yards and a score was a little more impressive given the fact that the New York Giants rushing defense was number two in the league that year, only giving up more than 100 yards three times in the season. Lewis made them look weak and defeated long before this one was over.
14) 1993: Thomas Everett, S, Cowboys
Super Bowl XXVII
Player Stats

Defense: 1 Sack, 2 Interceptions, 22 Yards

Original MVP: Troy Aikman, QB
Without Jim Kelly, Super Bowl XXVII turned into a video game for the Dallas Cowboys as they coasted to a dominating 52-17 win behind Troy Aikman's 273 yards and four touchdowns. But one of the key defensive stars was Thomas Everett, who had two timely interceptions and a key sack to lead the defense.
13) 1999: Rod Smith, WR, Broncos
Super Bowl XXXIII
Player Stats

Receiving: 5 Receptions, 152 Yards, 1 TD

Original MVP: John Elway, QB
Super Bowl XXXIII had so many amazing offensive performances, but we could not overlook Rod Smith's receiving performance. He helped John Elway get that MVP award with a few incredible catches.
12) 2000: Holt & Bruce, WR, Rams
Super Bowl XXXIV
Receiving Stats

Torry Holt: 7 Receptions, 109 Yards, 1 TD
Isaac Bruce: 6 Receptions, 162 Yards, 1 TD

Original MVP: Kurt Warner, QB
The choice was simple, give the MVP to the man responsible for Torry Holt and Isaac Bruce's amazing performances. After all, he did finish with 414 yards and two touchdowns. But we still felt as if the duo of Holt and Bruce, makes for an even more interesting MVP award.
11) 2009: James Harrison, LB, Steelers
Super Bowl XLIII
Player Stats

Defense: 4 Tackles, 1 interception, 100 Yards, 1 TD

Original MVP: Santonio Holmes, WR
Santonio Holmes probably made the greatest touchdown catch in Super Bowl history to send the Steelers home with a victory. He dominated the second half, and could not be stopped. Before the final game-winning drive, Holmes had 7 catches for 99 yards. In less than two minutes, and on one drive that ended with a score, he caught 4 passes for 73 yards and a touchdown. However, right before the half, the Cardinals got down to the Steelers one yard line with a first and goal situation, with only 18 seconds to go, and trailing 10-7. Instead of settling for a game-tying field goal before the half, or trying to run the ball in, Kurt Warner dropped back to pass.
That was the moment James Harrison intercepted the pass and, instead of going down and taking it to the half, he pushed himself to take it to the house. He used every ounce of strength to make it the length of the field for the score. That one play should have earned him the MVP because it turned the tide around and shifted the momentum to the Steelers.
10) 2016: Kony Ealy, DE, Panthers
Super Bowl 50
Player Stats

Defense: 4 Tackles, 3 Sacks, 1 Interception, 1 Forced Fumble, 1 Fumble Recovery

Original MVP: Von Miller, LB
Coming into Super Bowl 50, the Denver Broncos had one of the toughest defenses the NFL had seen since 2001. So it was only natural that Von Miller would lead them to victory with 2.5 sacks, 2 forced fumbles, and six tackles. But there was an even better performance that occurred on the other sideline, on the losing end.
Kony Ealy ended up with 3 sacks, 1 interception, 1 forced fumble, 1 fumble recovery, and 4 tackles. Did we mention he only played 23 snaps, of the 60 defensive plays? Talk about productive.
9) 1977: Dave Casper, WR, Raiders
Super Bowl XI
Player Stats

Receiving: 4 Receptions, 70 Yards, 1 TD

Original MVP: Fred Biletnikoff, WR
Dave Casper ended up becoming a member of the National Football Hall of Fame after an amazing career, mostly in Oakland. He was huge at 6'4″ and 240 pounds but was also quick and could break tackles. He ended up making four important catches during Super Bowl XI including a big touchdown early on.
8) 2017: James White, RB, Patriots
Super Bowl LI
Player Stats

Rushing: 6 Carries, 29 Yards, 2 TD
Receiving: 14 Receptions, 110 Yards, 1 TD

Original MVP: Tom Brady, QB
The Falcons led 28-3 with just 2:06 left in the third quarter of Super Bowl LI. That would be the last time they felt as if they had this game in the bag because Tom Brady led the Patriots to the biggest comeback in Super Bowl history. But the MVP award was definitely earned by the performance of James White. His excellent play, including his game-winning touchdown run in OT should have given him the MVP trophy.
7) 1967: Max McGee, TE, Packers
Super Bowl I
Player Stats

Receiving: 7 Receptions, 138 Yards, 2 TD

Original MVP: Bart Starr, QB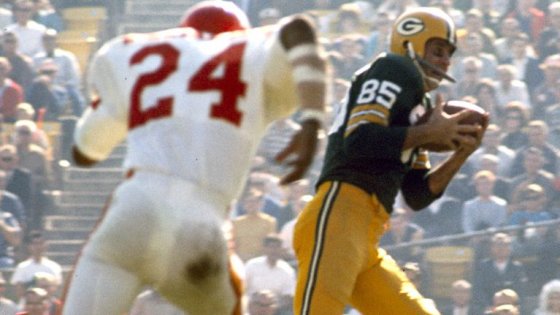 Sorry Max McGee but Bart Starr was the face of the league and the future of the Super Bowl back in 1967 leaving the coveted MVP award his to lose. They especially were not ready to give it to a man who wasn't even supposed to play. In fact, the legend goes, Max McGee partied with a couple of flight attendants while drinking heavily the night before the game because he wasn't expecting to play. He was hungover during the game and still exploded for a 7-138-2 stat line. Add it all up and he deserved that award more than people give him credit for.
6) 1990: Jerry Rice, WR, 49ers
Super Bowl XXIV
Player Stats

Receiving: 7 Receptions, 148 Yards, 3 TD

Original MVP: Joe Montana, QB
This was a great performance by Jerry Rice, better than Joe Montana's. But what is scary is that this is not his best performance in a Super Bowl. Look at his stat line and think about that for a second.
5) 1981: Rod Martin, LB, Raiders
Super Bowl XV
Player Stats

Defense: 3 Interceptions, 44 Yards

Original MVP: Jim Plunkett, QB
The Super Bowl record for interceptions in one game is three, owned by Rod Martin. He accomplished this during Super Bowl XV but went home without the MVP award he most definitely earned.
4) 2005: Rodney Harrison, S, Patriots
Super Bowl XXXIX
Player Stats

Defense: 7 Tackles, 1 Sack, 2 Interceptions

Original MVP: Deion Branch, WR
If you trust NFL scouts, then you should agree that Rodney Harrison being snubbed is one of the worst decisions in Super Bowl history. He had one of the highest rated Super Bowl games ever with a 90.6 score, blowing away the others. Deion Branch was excellent but Harrison was better.
3) 1995: Jerry Rice, WR, 49ers
Super Bowl XXIX
Player Stats

Receiving: 10 Receptions, 149 Yards, 3 TD

Original MVP: Steve Young, QB
Steve Young threw for 325 yards and six touchdowns while adding 49 yards rushing in a truly remarkable performance to win the MVP. But he can't take all the credit for it because Jerry Rice was there too. He had his best Super Bowl game ever with double-digit receptions and three scores.
2) 2003: Dwight Smith, DB, Bucs
Super Bowl XXXVII
Player Stats

Defense: 5 Tackles, 2 Interceptions, 94 Yards, 2 TD

Original MVP: Dexter Jackson, DB
You can choose either Dexter Jackson or Dwight Smith for the MVP of Super Bowl XXXVII and you would not go wrong, but the difference was Dwight Smith had two touchdowns.
1) 1991: Thurman Thomas, RB, Bills
Super Bowl XXV
Player Stats

Rushing: 15 Carries, 135 Yards, 1 TD
Receiving: 5 Receptions, 55 Yards

Original MVP: Ottis Anderson, RB
Chuck Howley won the Super Bowl V MVP award in 1971 despite his team, the Dallas Cowboys, losing to the Baltimore Colts 16-13. But his production was so amazing it was tough to pass on him when comparing his play to the rest of the players on the field that day.
Thurman Thomas had one of the greatest second half performances in Super Bowl history, turning himself into the clutchest running back in the NFL. He rushed for 78 of the 135 yards in the second half including an amazing 31-yard touchdown in the fourth quarter to give the Bills the lead. But because Scott Norwood missed a field goal and the Bills would end up losing the game, he became the forgotten man.