The 25 Most Decorated Summer Olympians of All-Time
Michael Phelps has crushed almost every single record in the aquatics center of three different venues since 2004. His record breaking performances have led to him becoming the owner of 22 Olympic medals, 18 of them Gold.
His dominance has made it tougher for the fans to understand just how tough it is to win an Olympic Gold medal. He makes it look easy, which might have something to do with his insane ability to transform his body into a dolphin when coming off the wall on turns. Phelps is a one-in-a-million type of athlete. There aren't many Olympians that come close to winning as many medals because it is tough to stay prepared, year after year after year after year. (He has a chance at 4 more medals in 2016)
It took Phelps three Olympic games to break the record of total medals, besting Larisa Latynina's record of 18 that has stood since 1964. As we begin the 2016 Rio Summer Olympic games, let's take a look at the top 25 most decorated Summer Olympians of all-time.
25. Gary Hall Jr., Swimming
Country: United States
Olympic Games: 3 (1996, 2000, 2004)
Total Medals: 10
Gold Medals: 5
Best Event (Medals): 4×100 m Freestyle (3), 50 m Freestyle (3)
Awards

2004 Golden Goggle Humanitarian Award Winner
United States Olympic Hall of Fame
24. Agnes Keleti, Gymnastics
Country: Hungary
Olympic Games: 2 (1952, 1956)
Total Medals: 10
Gold Medals: 5
Best Event (Medals): Floor Exercise (2)
Awards

International Gymnastics Hall of Fame
International Jewish Sports Hall of Fame
Hungarian Sports Hall of Fame
23. Vitaly Scherbo, Gymnastics
Country: Belarus
Olympic Games: 2 (1992, 1996)
Total Medals: 10
Gold Medals: 6
22. Akinori Nakayama, Gymnastics
Country: Japan
Olympic Games: 2 (1968, 1972)
Total Medals: 10
Gold Medals: 6
Awards

International Gymnastics Hall of Fame
21. Aladar Gerevich, Fencing
Country: Hungary
Olympic Games: 6 (1932, 1936, 1948, 1952, 1956, 1960)
Total Medals: 10
Gold Medals: 7
Best Event (Medals): Sabre Team (6), Sabre Individual (3)
20. Carl Lewis, Track & Field
Country: United States
Olympic Games: 4 (1984, 1988, 1992, 1996)
Total Medals: 10
Gold Medals: 9
Best Event (Medals): Long Jump (3), 100 m (2)
Awards

International Olympic Committee Sportsman of the Century
World Athlete of the Century, International Association of Athletics Federations
Sports Illustrated Olympian of the Century
19. Ryan Lochte, Swimming
Country: United States
Olympic Games: 3 (2004, 2008, 2012)
Total Medals: 11
Gold Medals: 5
Best Event (Medals): 4×200 m Freestyle (3), 200 m Medley (3)
18. Carl Osburn, Shooting
Country: United States
Olympic Games: 3 (1912, 1920, 1924)
Total Medals: 11
Gold Medals: 5
17. Viktor Chukarin, Gymnastics
Country: Soviet Union
Olympic Games: 2 (1952, 1956)
Total Medals: 11
Gold Medals: 7
Best Event (Medals): All-Around (2), Team Competition (2)
Awards
16. Vera Caslavska, Gymnastics
Country: Czechoslovakia
Olympic Games: 3 (1960, 1964, 1968)
Total Medals: 11
Gold Medals: 7
Awards

International Gymnastics Hall of Fame
International Women's Sports Hall of Fame
Order of the Rising Sun, 3rd Class
Olympic Order
1989 Pierre de Coubertin International Fair Play Trophy
Czech Republic's Medal of Merit
15. Matt Biondi, Swimming
Country: United States
Olympic Games: 3 (1984, 1988, 1992)
Total Medals: 11
Gold Medals: 8
Best Event (Medals): 4×100 m Freestyle (3)
14. Mark Spitz, Swimming
Country: United States
Olympic Games: 2 (1968, 1972)
Total Medals: 11
Gold Medals: 9
Best Event: (Medals): 100 m Freestyle (2), 200 m Freestyle (2), 100 m Butterfly (2)
Awards

International Swimming Hall of Fame
International Jewish Sports Hall of Fame
United States Olympic Hall of Fame
National Jewish Museum Sports Hall of Fame
Long Beach City College Hall of Fame
Indiana University Athletics Hall of Fame
ESPN SportsCentury Greatest Athletes: No.33
13. Natalie Coughlin, Swimming
Country: United States
Olympic Games: 3 (2004, 2008, 2012)
Total Medals: 12
Gold Medals: 3
Best Event (Medals): 4×100 m Freestyle (3) 100 m Backstroke (2)
Awards

World Swimmer of the Year: 1
American Swimmer of the Year: 3
12. Alexei Nemov, Gymnastics
Country: Russia
Olympic Games: 2 (1996, 2000)
Total Medals: 12
Gold Medals: 4
Best Event (Medals): All-Around (2), Floor (2), Vault (2)
11. Dara Torres, Swimming
Country: United States
Olympic Games: 5 (1984, 1988, 1992, 2000, 2008)
Total Medals: 12
Gold Medals: 4
Best Event (Medals): 4×100 m Freestyle (5), 4×100 m Medley (3)
Awards

International Jewish Sports Hall of Fame
10. Jenny Thompson, Swimming
Country: United States
Olympic Games: 4 (1992, 1996, 2000, 2004)
Total Medals: 12
Gold Medals: 8
Best Event (Medals): 4×100 m Freestyle (4), 4×100 m Medley (4)
Awards

USA Swimming Swimmer of the Year: 2
Swimming World Magazine Female World Swimmer of the Year: 1
Swimming World Magazine Female American Swimmer of the Year: 1
Women's Sports Foundation's Athlete of the Year: 1
9. Sawao Kato, Gymnastics
Country: Japan
Olympic Games: 3 (1968, 1972, 1976)
Total Medals: 12
Gold Medals: 8
Best Event (Medals): Team (3), All-Around (3)
Awards

International Gymnastics Hall of Fame
8. Birgit Fischer, Canoeing
Country: Germany
Olympic Games: 6 (1980, 1988, 1992, 1996, 2000, 2004)
Total Medals: 12
Gold Medals: 8
Best Event (Medals): K-4 500 m (5), K-2 500 m (4)
7. Paavo Nurmi, Track & Field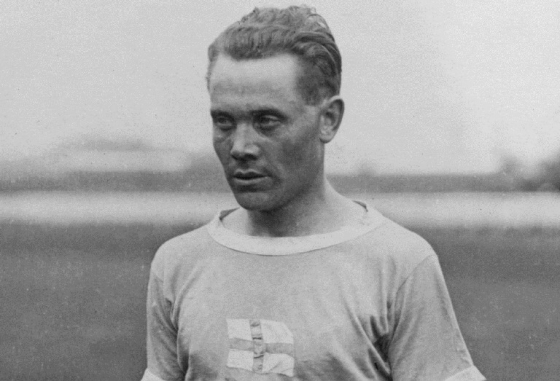 Country: Finland
Olympic Games: 3 (1920, 1924, 1928)
Total Medals: 12
Gold Medals: 9
Best Event (Medals): 5,000 m (3), Individual Cross Country (2), Team Cross Country (2), 10,000 m (2)
 Awards

IAAF Hall of Fame
Most Decorated Track & Field Male Athlete of All-Time
Most Decorated Track & Field Athlete of All-Time
6. Takashi Ono, Gymnastics
Country: Japan
Olympic Games: 4 (1952, 1956, 1960, 1964)
Total Medals: 13
Gold Medals: 5
Awards

International Gymnastics Hall of Fame
Flag Bearer for Japan at 1960 Olympics
5. Edoardo Mangiarotti, Fencing
Country: Italy
Olympic Games: 5 (1936, 1948, 1952, 1956, 1960)
Total Medals: 13
Gold Medals: 6
Best Event (Medals): Team Epee (5), Team Foil (4), Individual Epee (3)
Awards

Platinum Wreath Winner, IOC
Most Decorated Male Fencer of All-Time
Most Decorated Fencer of All-Time
4. Boris Shakhlin, Gymnastics
Country: Soviet Union
Olympic Games: 3 (1956, 1960, 1964)
Total Medals: 13
Gold Medals: 7
Best Event (Medals): Team Competition (3), Pommel Horse (2)
Awards

Red Banner of Labor
Order of Lenin
International Gymnastics Hall of Fame
3. Nikolai Andrianov, Gymnastics
Country: Soviet Union
Olympic Games: 3 (1972, 1976, 1980)
Total Medals: 15
Gold Medals: 7
Best Event (Medals): Vault (2), Floor Exercise (2)
Awards

Order of Lenin
Order of the Badge of Honour
Order of the Red Banner of Labour
"For Labour Valour" Medal
International Gymnastics Hall of Fame
Most Decorated Male Gymnast of All-Time
2. Larisa Latynina, Gymnastics
Country: Soviet Union
Olympic Games: 3 (1956, 1960, 1964)
Total Medals: 18
Gold Medals: 9
Best Event (Medals): Floor Exercise (3), Team (3), All-Around (3), Uneven Bars (3), Vault (3)
Awards

1989 Olympic Order, Silver
International Gymnastics Hall of Fame
Most Decorated Gymnast of All-Time
Most Decorated Female Gymnast of All-Time
1. Michael Phelps, Swimming
Country: United States
Olympic Games: 4 (2004, 2008, 2012, 2016)
Total Medals: 22
Gold Medals: 18
World Records: 9 (He originally owned 39 World records for swimming that have since been broken.)
Best Event (Medals): 4×200 m Freestyle (12), 4×100 m Medley (10), 4×100 m Freestyle (10), 200 m Butterfly (11), 100 m Butterfly (10), 200 m Medley (10)
 Awards

Swimming World Magazine American Swimmer of the Year: 9
Swimming World Magazine World Swimmer of the Year: 7
Golden Goggle Male Performance of the Year: 5
Golden Goggle Male Athlete of the Year: 6
Golden Goggle Relay Performance of the Year: 4
Gazzetta dello Sport Sportsman of the Year: 2
USOC Sportsman of the Year Award: 4
2012 FINA Swimmer of the Year
2003 James E. Sullivan Award
Associated Press Athlete of the Year: 2
2008 Sports Illustrated Sportsman of the Year