35 Professional Athletes Who Played Too Long
Many children start playing soccer when they are four years old. They can play tee-ball at five, basketball and football at six, and by the time they are seven, they may be playing hockey too. If they are talented enough, they will continue playing their favorite sport in high school and, if they are really lucky, college. Some kids might even get a full paid scholarship to play sports at the collegiate level.
For the majority of student-athletes, their athletic careers will end the moment they graduate from college. But for the select few that end up making it to the professional level, their careers are just beginning. For the top player in football, they could be playing for another 10 years before retiring. For baseball or hockey, it could be even longer. If it is basketball, the top players are looking at a career of 15 to 20 years.
If you add it all up, that means that when an elite NFL player turns 40, he has likely been playing football for close to 34 years. Between all the two-a-days, off-season workouts, mid-week practices, bus rides and flights for road games, he has done nothing but lived and breathed football. He has broken bones and bled for his teammates. He has fought through excruciating pain to stay in games because he knows that the fans will not understand if he misses playing time. He has become used to playing in front of 60,000+ screaming fans that either love him or hate him. He is addicted to the game and giving it up is not an easy call.
So how does he leave the game behind him and fill the void that is going to eat at him for the rest of his life? How can a man walk away from a game that he has given his life for?
Many professional athletes run into this predicament as their careers come to an end and most of them make the right decision, even if it hurts them to make it, to retire on a high note. Then there are those athletes that cannot let go and end up spending their last couple years struggling to play at the highest level. Those are the players we are here to discuss today. Here are 35 athletes who waited too long to retire.
35) Dikembe Mutombo, C, NBA
Year: 2008-09
Age at Retirement: 42
Team: Houston Rockets
Final Season (Avgs): 9 Games, 38.5 FG%, 1.8 Pts, 3.7 Reb, 1.2 Blk
34) Jason Giambi, DH, MLB
Year: 2014
Age at Retirement: 43
Team: Cleveland Indians
Final Season: 26 Games, 0.133 Avg, 3 R, 8 H, 2 2B, 2 HR, 5 RBI, 12 K, 9 BB
33) Ed Reed, S, NFL
Year: 2013
Age at Retirement: 35
Team: New York Jets
Final Season: 14 Games, 27 Tackles, 3 Int
32) Chipper Jones, 3B, MLB
Year: 2012
Age at Retirement: 40
Team: Atlanta Braves
Final Season: 112 Games, 0.287 Avg, 58 R, 111 H, 23 2B, 14 HR, 62 RBI, 51 K, 57 BB
31) Karl Malone, PF, NBA
Year: 2003-04
Age at Retirement: 40
Team: Los Angeles Lakers
Final Season (Avgs): 42 Games, 48.3 FG%, 13.2 Pts, 8.7 Reb, 3.9 Ast, 1.2 Stl, 0.5 Blk
30) Alonzo Mourning, C, NBA
Year: 2007-08
Age at Retirement: 37
Team: Miami Heat
Final Season (Avgs): 25 Games, 54.7 FG%, 6.0 Pts, 3.7 Reb, 1.7 Blk
29) Frank Thomas, DH, MLB
Year: 2008
Age at Retirement: 40
Team: Oakland A's
Final Season: 55 Games, 0.263 Avg, 20 R, 49 H, 6 2B, 5 HR, 19 RBI, 44 K, 28 BB
28) Jerry Rice, WR, NFL
Year: 2004
Age at Retirement: 42
Team: Seattle Seahawks
Final Season: 17 Games, 30 Rec, 429 Yds, 3 TD
27) Randy Moss, WR, NFL
Year: 2010
Age at Retirement: 35
Team: San Francisco 49ers
Final Season: 16 Games, 28 Rec, 393 Yds, 5 TD
26) Steve Carlton, LHP, MLB
Year: 1986-1988 (Final 3 seasons)
Age at Retirement: 43
Team: Five Teams (Philadelphia Phillies, San Francisco Giants, Chicago White Sox, Cleveland Indians, Minnesota Twins)
Final Season: 68 Games, 15-29, 5.72 ERA, 216 K, 177 BB, 1.651 WHIP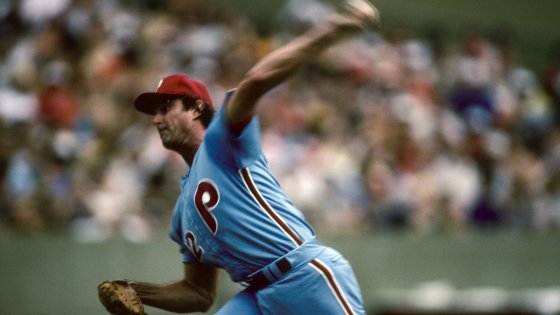 25) Chauncey Billups, PG, NBA
Year: 2013-14
Age at Retirement: 37
Team: Detroit Pistons
Final Season (Avgs): 19 Games, 30.4 FG%, 3.8 Pts, 1.5 Reb, 2.2 Ast
24) Omar Vizquel, INF, MLB
Year: 2012
Age at Retirement: 45
Team: Toronto Blue Jays
Final Season: 60 Games, 0.235 Avg, 36 H, 13 R, 5 2B, 7 RBI, 17 K, 7 BB
23) Dan Marino, QB, NFL
Year: 1999
Age at Retirement: 38
Team: Miami Dolphins
Final Season: 11 Games, 204-369 (55.3%), 2,448 Yds, 12 TD, 17 Int
22) Steve Nash, PG, NBA
Year: 2013-14
Age at Retirement: 39
Team: Los Angeles Lakers
Final Season (Avgs): 15 Games, 38.3 FG%, 6.8 Pts, 1.9 Reb, 5.7 Ast
21) Emmitt Smith, RB, NFL
Year: 2004
Age at Retirement: 35
Team: Arizona Cardinals
Final Season: 15 Games, 937 Yds, 9 TD, 15 Rec, 105 Yds
20) Gary Payton, PG, NBA
Year: 2006-07
Age at Retirement: 38
Team: Miami Heat
Final Season (Avgs): 68 Games, 39.3 FG%, 5.3 Pts, 1.9 Reb, 3.0 Ast
19) Dave Winfield, OF, MLB
Year: 1995
Age at Retirement: 43
Team: Cleveland Indians
Final Season: 46 Games, 0.191 Avg, 11 R, 22 H, 5 2B, 2 HR, 4 RBI, 26 K, 14 BB
18) Deion Sanders, CB, NFL
Year: 2005
Age at Retirement: 38
Team: Baltimore Ravens
Final Season: 16 Games, 27 Tackles, 2 Int, 1 FF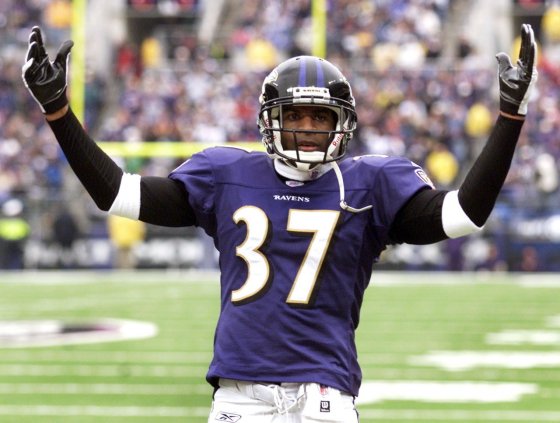 17) Roger Clemens, RHP, MLB
Year: 2007
Age at Retirement: 44
Team: New York Yankees
Final Season: 18 Games, 6-6, 4.18 ERA, 68 K, 31 BB, 1.313 WHIP, 6.2 K/9
16) Shaquille O'Neal, C, NBA
Year: 2010-11
Age at Retirement: 38
Team: Boston Celtics
Final Season (Avgs): 37 Games, 66.7 FG%, 9.2 Pts, 4.8 Reb, 1.1 Blk
15) Chris Chelios, D, NHL
Year: 2009-10
Age at Retirement: 48
Team: Atlanta Thrashers
Final Season: 7 Games, -2, 5 Shots
14) Willie Mays, CF, MLB
Year: 1973
Age at Retirement: 42
Team: New York Mets
Final Season: 66 Games, 0.211 Avg, 24 R, 44 H, 10 2B, 6 HR, 25 RBI, 47 K, 27 BB
13) Brett Hull, RW, NHL
Year: 2005-06
Age at Retirement: 41
Team: Phoenix Coyotes
Final Season: 5 Games, 1 Ast, 1 Pt, -3
12) Joe Namath, QB, NFL
Year: 1977
Age at Retirement: 34
Team: Los Angeles Rams
Final Season: 4 Games, 50-107 (46.7%), 606 Yds, 3 TD, 5 Int
11) Martin Brodeur, G, NHL
Year: 2014-15
Age at Retirement: 42
Team: St.Louis Blues
Final Season: 7 Games, 3-3, 17 GA, 169 SA, 152 SV (89.9%), 1 SO
10) Patrick Ewing, C, NBA
Year: 2001-02
Age at Retirement: 39
Team: Orlando Magic
Final Season (Avgs): 65 Games, 44.4 FG%, 6.0 Pts, 4.0 Reb, 0.7 Blk
9) Randy Johnson, LHP, MLB
Year: 2009
Age at Retirement: 45
Team: San Francisco Giants
Final Season: 22 Games, 8-6, 4.88 ERA, 86 K, 31 BB, 1.333 WHIP, 8.1 K/9
8) Jeremy Roenick, C, NHL
Year: 2008-09
Age at Retirement: 39
Team: San Jose Sharks
Final Season: 42 Games, 4 Gl, 9 Ast, 13 Pts, -1, 24 PIM
7) Grant Hill, SF, NBA
Year: 2012-13
Age at Retirement: 40
Team: Los Angeles Clippers
Final Season (Avgs): 29 Games, 38.8 FG%, 3.2 Pts, 1.7 Reb, 0.9 Ast
6) Johnny Unitas, QB, NFL
Year: 1973
Age at Retirement: 40
Team: San Diego Chargers
Final Season: 5 Games, 34-76 (44.7%), 471 Yds, 3 TD, 7 Int
5) Nolan Ryan, RHP, MLB
Year: 1993
Age at Retirement: 46
Team: Texas Rangers
Final Season: 13 Games, 5-5, 4.88 ERA, 46 K, 40 BB, 1.417 WHIP, 6.2 K/9
4) Gordie Howe, RW, NHL
Year: 1979-80
Age at Retirement: 51
Team: Hartford Whalers
Final Season: 80 Games, 15 Gl, 26 Ast, 41 Pts, +9, 42 PIM, 16.0 S%
3) Michael Jordan, SG, NBA
Year: 2002-03
Age at Retirement: 39
Team: Washington Wizards
Final Season (Avgs): 82 Games, 44.5 FG%, 20.0 Pts, 6.1 Reb, 3.8 Ast, 1.5 Stl
2) Rickey Henderson, LF, MLB
Year: 2003
Age at Retirement: 44
Team: Los Angeles Dodgers
Final Season: 30 Games, 0.208 Avg, 7 R, 15 H, 2 HR, 5 RBI, 3 SB, 16 K, 11 BB
1) Brett Favre, QB, NFL
Year: 2010
Age at Retirement: 41
Team: Minnesota Vikings
Final Season: 13 Games, 217-358 (60.6%), 2,509 Yds, 11 TD, 19 Int