The 42 Pro Sports Teams Without a Championship
How do we measure success? If you have a regular full-time job, working 40 hours a week, usually Monday thru Friday, than success to you is moving up in the company. Your company has its' own list of measurements they use in order to determine the level of your success and by getting that long overdue promotion, you feel like you reached some level of success.
In sports, however, success is not as concrete. The idea that there is only one way to measure the success of an organization is ridiculous. It all depends on who you ask. A great example is the debate about who is the greatest basketball player of all time, LeBron James or Michael Jordan. There have been many epic debates over this topic and, sadly, the most popular one is championships. Air Jordan has six and King James has just three.
But that is the world us sports fans now live in. The most popular way to determine whether a franchise has been successful over the course of their entire history is simply based on one category, World Title wins.
So we went out and did a little digging to find out how many franchises have never won a single title in their respective sports, which will also highlight why Championships, although very important to any organization, should not be the only measure for success in sports. In order to rank these teams, we needed to find a common ground for things like Games Played, Wins, and figuring out when to start tracking the data for the NBA and NFL. It took us awhile to construct a formula that was both fair and equal to all four major sports but we are sure that we got it right.
That is enough talking, let's get onto the list already, right? Here are the list of teams, from the four major professional sports (NBA, NFL, MLB, NHL), that have never won a title. Will the Eagles or Vikings finally win a Championship this year?
Note: Because the NBA and NHL are currently in the middle of their seasons, we only used their stats through the end of the 2016-17 seasons.
Also, the year in parentheses next to each franchise is referring to the year the team was established. However our data for the NFL begins with Super Bowl I (1967). The NBA teams begin with the first season following the NBA/ABA merger (1976-77). The other two leagues, MLB and NHL, date back to the beginning of their leagues.
42) Houston Texans (2002)
League: NFL
W-L: 110-146 (.430)
Division Titles: 4
Playoff Appearances: 4
41) New Orleans Pelicans (2002)
League: NBA
W-L: 562-652 (.463)
Division Titles: 1
Playoff Appearances: 6
40) Columbus Blue Jackets (2000)
League: NHL
W-L: 512-574 (.413)
Playoff Appearances: 3
39) Memphis Grizzlies (1995)
League: NBA
W-L: 737-1,019 (.420)
Playoff Appearances: 10
Hall of Famers: 1
38) Tampa Bay Rays (1998)
League: MLB
W-L: 1,500-1,738 (.463)
Division Titles: 2
Playoff Appearances: 4
World Series: 1 (2008)
Hall of Famers: 1
37) Jacksonville Jaguars (1995)
League: NFL
W-L: 165-203 (0.448)
Division Titles: 3
Playoff Appearances: 7
36) Minnesota Timberwolves (1989)
League: NBA
W-L: 878-1,370 (.391)
Division Titles: 1
Playoff Appearances: 8
Most Valuable Player: 1
35) Toronto Raptors (1995)
League: NBA
W-L: 785-971 (.447)
Division Titles: 4
Playoff Appearances: 9
Hall of Famers: 2
34) Minnesota Wild (2000)
League: NHL
W-L: 586-478 (.472)
Division Titles: 1
Playoff Appearances: 8
33) Charlotte Hornets (1988)
League: NBA
W-L: 952-1,214 (.440)
Playoff Appearances: 10
Hall of Famers: 2
32) Colorado Rockies (1993)
League: MLB
W-L: 1,871-2,117 (.469)
Playoff Appearances: 4
World Series: 1 (2007)
31) Nashville Predators (1998)
League: NHL
W-L: 663-549 (.471)
Playoff Appearances: 10
Stanley Cups: 1 (2017)
Hall of Famers: 2
30) Los Angeles Clippers (1971)
League: NBA
W-L: 1,318-1,996 (.398)
Division Titles: 2
Playoff Appearances: 13
Hall of Famers: 6
29) Los Angeles Chargers (1960)
League: NFL
W-L: 374-406 (0.476)
Division Titles: 10
Playoff Appearances: 13
Super Bowls: 1 (XXIX)
Hall of Famers: 9
Most Valuable Player: 1
28) Brooklyn Nets (1968)
League: NBA
W-L: 1,380-1,934 (.416)
Division Titles: 4
Playoff Appearances: 19
NBA Finals: 2 (2002, 2003)
Hall of Famers: 9
27) Florida Panthers (1993)
League: NHL
W-L: 720-751 (.403)
Division Titles: 2
Playoff Appearances: 5
Stanley Cups: 1 (1996)
Hall of Famers: 7
26) Atlanta Falcons (1966)
League: NFL
W-L: 339-400 (0.455)
Division Titles: 7
Playoff Appearances: 13
Super Bowls: 2 (XXXIII, LI)
Hall of Famers: 2
Most Valuable Player: 1
25) Arizona Coyotes (1979)
League: NHL
W-L: 1,201-1,310 (.413)
Division Titles: 1
Playoff Appearances: 19
Hall of Famers: 8
24) San Jose Sharks (1991)
League: NHL
W-L: 908-790 (.465)
Division Titles: 6
Playoff Appearances: 19
Stanley Cups: 1 (2016)
Hall of Famers: 5
Hart Memorial Trophies: 1
23) Cleveland Browns (1946)
League: NFL
W-L: 311-423 (.421)
Division Titles: 9
Playoff Appearances: 14
Hall of Famers: 16
Most Valuable Player: 4
22) Arizona Cardinals (1920)
League: NFL
W-L: 337-439 (.429)
Division Titles: 5
Playoff Appearances: 8
Super Bowls: 1 (XLIII)
Hall of Famers: 13
21) Orlando Magic (1990)
League: NBA
W-L: 1,091-1,157 (.485)
Division Titles: 5
Playoff Appearances: 14
NBA Finals: 2 (1995, 2009)
Hall of Famers: 4
20) Carolina Panthers (1995)
League: NFL
W-L: 183-184 (.497)
Division Titles: 7
Playoff Appearances: 8
Super Bowls: 2 (XXXVIII, 50)
Most Valuable Player: 1
19) Denver Nuggets (1968)
League: NBA
W-L: 1,603-1,711 (.484)
Division Titles: 7
Playoff Appearances: 24
Hall of Famers:  8
18) Detroit Lions (1930)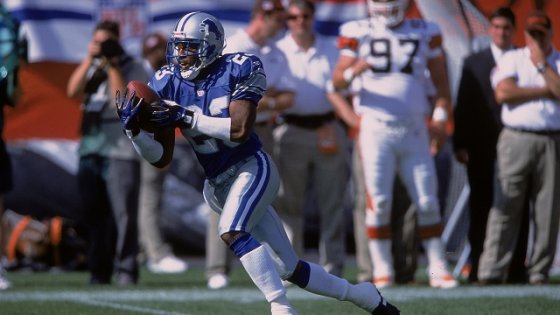 League: NFL
W-L: 329-448 (.419)
Division Titles: 3
Playoff Appearances: 12
Hall of Famers: 15
Most Valuable Player: 1
17) Vancouver Canucks (1970)
League: NHL
W-L: 1,508-1,595 (.416)
Division Titles: 10
Playoff Appearances: 27
Stanley Cups: 3 (1982, 1994, 2011)
Hall of Famers: 10
Hart Memorial Trophies: 1
16) Cincinnati Bengals (1968)
League: NFL
W-L: 351-417 (.455)
Division Titles: 10
Playoff Appearances: 14
Super Bowls: 2 (XVI, XXIII)
Hall of Famers: 1
Most Valuable Player: 2
15) Washington Nationals (1969)
League: MLB
W-L: 3,802-4,000 (.487)
Division Titles: 5
Playoff Appearances: 5
Hall of Famers: 7
14) Tennessee Titans (1960)
League: NFL
W-L: 374-407 (.476)
Division Titles: 6
Playoff Appearances: 18
Super Bowls: 1 (XXXIV)
Hall of Famers: 8
Most Valuable Player: 2
13) San Diego Padres (1969)
League: MLB
W-L: 3,611-4,201 (.462)
Division Titles: 5
Playoff Appearances: 5
World Series: 2 (1984, 1998)
Hall of Famers: 11
12) Milwaukee Brewers (1969)
League: MLB
W-L: 3,728-4,077 (.478)
Division Titles: 3
Playoff Appearances: 4
World Series: 1 (1982)
Hall of Famers: 5
11) Indiana Pacers (1968)
League: NBA
W-L: 1,648-1,665 (.497)
Division Titles: 6
Playoff Appearances: 24
NBA Finals: 1 (2000)
Hall of Famers: 8
10) Seattle Mariners (1977)
League: MLB
W-L: 3,062-3,455 (.470)
Division Titles: 3
Playoff Appearances: 4
Hall of Famers: 5
9) Buffalo Sabres (1970)
League: NHL
W-L: 1,702-1,415 (.466)
Division Titles: 6
Playoff Appearances: 29
Stanley Cups: 2 (1975, 1999)
Hall of Famers: 15
Hart Memorial Trophies: 2
8) Texas Rangers (1961)
League: MLB
W-L: 4,355-4,733 (.479)
Division Titles: 7
Playoff Appearances: 8
World Series: 2 (2010, 2011)
Hall of Famers: 6
7) Washington Capitals (1974)
League: NHL
W-L: 1,501-1,367 (.454)
Division Titles: 11
Playoff Appearances: 27
Stanley Cups: 1 (1998)
Hall of Famers: 8
Hart Memorial Trophies: 3
6) Buffalo Bills (1960)
League: NFL
W-L: 353-430 (.449)
Division Titles: 7
Playoff Appearances: 14
Super Bowls: 4 (XXV, XXVI, XXVII, XXVIII)
Hall of Famers: 10
Most Valuable Player: 2
5) Phoenix Suns (1969)
League: NBA
W-L: 1,852-1,462 (.559)
Division Titles: 6
Playoff Appearances: 29
NBA Finals: 2 (1976, 1993)
Hall of Famers: 6
Most Valuable Player: 3
4) Philadelphia Eagles (1933)
League: NFL
W-L: 396-380 (.504)
Division Titles: 10
Playoff Appearances: 21
Super Bowls: 2 (XV, XXXIX)
Hall of Famers: 9
3) Utah Jazz (1975)
League: NBA
W-L: 1,805-1,509 (.545)
Division Titles: 9
Playoff Appearances: 26
NBA Finals: 2 (1997, 1998)
Hall of Famers: 8
Most Valuable Player: 2
2) St.Louis Blues (1967)
League: NHL
W-L: 1,746-1,531 (0.454)
Division Titles: 9
Playoff Appearances: 41
Hall of Famers: 26
Hart Memorial Trophies: 2
1) Minnesota Vikings (1961)
League: NFL
Record: 441-339 (0.561)
Division Titles: 20
Playoff Appearances: 28
Super Bowls: 4 (IV, VIII, IX, XI)
Hall of Famers: 13
Most Valuable Player: 3