The 50 Best Holiday Movie Classics
In the United States, the "Holiday Season" is essentially November through January 1st, including Thanksgiving, Christmas, New Years, and for some people, Hanukkah. The holiday season is the best time of the year to watch movies, because people are off work, kids are home from school, and all the weekly shows are on hiatus until the holidays are over. So what better time to sit down and enjoy the best holiday movie classics ever made? We have spent countless hours and days dedicated to finding some of the best movies that come on TV each and every holiday season. Below we've ranked our top fifty.
50. Ernest Saves Christmas (1988)
The constant need for Ernest movies led to the creation of this cult classic. Ernest Saves Christmas is so ridiculous and so over the top that it is actually fun to watch. It makes the list because Douglas Seale's portrayal as Santa Claus is one of the best in cinema history.
49. Twas the Night Before Christmas (1974)
Twas the Night Before Christmas is the first of many made-for-TV holiday specials that have made the list. It originally aired on CBS back in 1974
48. Edward Scissorhands (1990)
This isn't the last time we will hear about Tim Burton today. In fact, as shocking as it is, Tim Burton has more holiday classics on this list than any other director.
47. Jingle All the Way (1996)
Arnold Schwarzenegger plays a father set out to find the most popular toy of the holiday season. The reason we love this movie is because this is exactly how holiday shopping can be, especially when there is a hot item like the superhero toy from this film. Black Friday is becoming one of the most dangerous shopping days of the year.
46. Little Drummer Boy (1968)
Romeo Muller is responsible for creating about 95% of the holiday stop motion animation classics that have been coming on TV every year for the last 30 years. He himself claims that this was his favorite one to write.
45. The Ref (1994)
Denis Leary, Kevin Spacey, and Judy Davis make The Ref one of the better adult holiday classics to enjoy. Not only is it funny, the majority of the movie takes place in the bedroom where husband and wife duo are tied up while the criminal, Leary, contemplates what his next move may be.
44. Emmet Otter's Jug-Band Christmas ('77)
The storybook adaptation of Emmet Otter's Jug-Band Christmas is one of Jim Henson's best works, ever. It is hard to find and even less popular among children these days but it shouldn't be. This is one of the best holiday classics in TV history and our children need to experience it.
43. The Family Man (2000)
Nicholas Cage starring in a modern day Christmas Carol only instead of a rich old man, he is a young Wall Street millionaire that dates supermodels. If you wanted to know whether or not he go nuts on screen at least once? The answer is an astounding yes indeed.
42. Arthur Christmas (2011)
What's not to enjoy from this holiday animation film? James McAvoy (Professor-X), Hugh Laurie (House), Bill Nighy (Davy Jones), Laura Linney, and Eva Longoria are all part of the cast of voices in Arthur Christmas.
41. A Charlie Brown Thanksgiving (1973)
Charlie Brown is to the holidays what Gisele Bundchen Brady is to modeling. Not only has everyone heard about it, they have seen it at least once, in action.
40. Babes in Toyland (1934)
It is old, it is classic, and it is Laurel and Hardy. If you have no idea who they are, please put down the electronic devices and go out and buy all their movies. Their comedy was as relevant then as it would have been today.
39. The Family Stone (2004)
An all-star cast does not necessarily mean that a movie will be amazing. (i.e. Valentine's Day, New Year's Eve) But when it does work, it ends up making something great. The Family Stone is shocking funny and also one of the better holiday movies you need to watch this year.
38. Santa Claus: The Movie (1985)
There was nothing Dudley Moore could do wrong in the 70's and 80's thanks to his incredible role as Arthur, drunk billionaire playboy. So he went ahead and played Patch, one of Santa's elves, in Santa Claus: The Movie. Sometimes people are just born to play certain roles and the casting in this film was about as perfect as Christmas morning.
37. Die Hard 2 (1990)
Yes, it is. In case you wanted to argue that Die Hard 2 is not a holiday classic, you might want to ask yourself why not? John McClain, Bruce Willis, is wearing a Christmas sweater for most of the movie while also killing terrorists. That should be good enough.
36. Just Friends (2005)
Just Friends is surprisingly one of Ryan Reynolds funniest movies thanks to his ability to use sarcasm in almost every line. Anna Faris and Amy Smart aren't too bad to look at either but the real star of this movie belongs to Chris Marquette and Julie Hagerty who play Reynolds little brother and mother in the movie.
35. Holiday Inn (1942)
Another really old film that most of you probably have not seen yet. Maybe it is time to expand your horizons and start enjoying the real holiday classics. You know, like when it was in black and white.
34. The Polar Express (2004)
Tom Hanks does not make too many mistakes and even though he is animated, it is still very much his voice. The Polar Express is one of the best Christmas books for children of all time and the movie does a great job of bringing that tale to life.
33. Gremlins (1984)
Don't feed them after midnight. And whatever you do, don't get them wet.
32. Mickey's Christmas Carol (1983)
The whole point of a holiday classic is that it brings us back to a specific time and place in our memory banks to relive our past holiday experiences. Mickey's Christmas Carol isn't for adults but it doesn't mean adults can't still enjoy it today.
31. Jack Frost (1979)
There are not too many villains in holiday movies but Jack Frost is the single greatest one ever created. The movie is part of the classic stop motion animated holiday films that came out in the late 70's and remain on TV every single holiday season.
30. Home Alone 2: Lost in New York (1992)
Sequels, especially for holiday films, are rarely worth watching. However, Home Alone 2 is one of the few we would watch again and again thanks to one scene, the hotel staff breaking into Kevin's hotel room to bust him as a fraud. Tim Curry and Rob Schneider are hilarious.
29. Miracle on 34th Street (1994)
The story of Santa Claus is told a million times during the holidays but this remake of one of the all-time classics is just another example of how much we love Christmas.
28. White Christmas (1954)
White Christmas is probably one of the most popular holiday classics that almost everyone has enjoyed. Did you know that it is loosely based on the original Christmas classic Holiday Inn, also on the list?
27. Lethal Weapon (1987)
If Die Hard is on this list, Lethal Weapon has to be, right?
26. How the Grinch Stole Christmas (2000)
Jim Carrey was the only reason this movie was successful. Without his amazing rendition of the classic Christmas icon, most people would have forgotten about this movie yesterday. He carried this film all the way to the 26th spot on our list.
25. The Santa Clause 2 (2002)
Tim Allen did it again in the sequel to the Santa Clause. Not only was the second one just as funny, it added a whole new depth to the idea of Santa Claus.
24. Bad Santa (2003)
Speaking of adding new layers to the Santa Claus idea, Bad Santa tears them all down and punches us all in the face. The movie is the exact opposite of a holiday family classic yet it is so funny and such a great story that you are almost required to watch this at least once, when you are old enough that is.
23. Funny Farm (1988)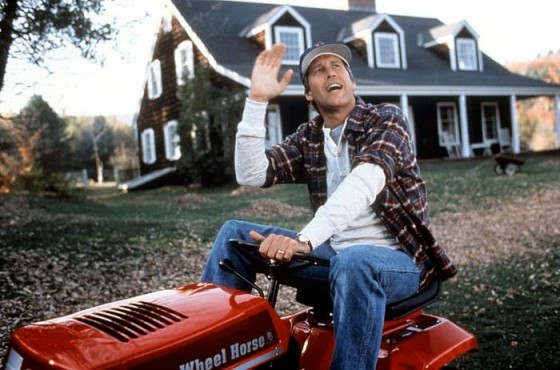 Chevy Chase has a reputation in Hollywood for being a douche bag. And not the likeable kind, the annoying and "wish you weren't here" kind. But when he was filming movies, he was comedy gold. Funny Farm is one of the most underrated comedies of all time and it just so happens to be a Christmas movie too.
22. Trading Places (1983)
Eddie Murphy is the best. He is the only reason you need to go and watch this movie. Go ahead, enjoy it.
21. Mister Magoo's Christmas Carol (1962)
If you enjoy anything that Leslie Nielsen does, you will love the Mister Magoo cartoons. Most people compare him to Pink Panther but we think he is too clever to be that guy.
20. Frosty the Snowman (1969)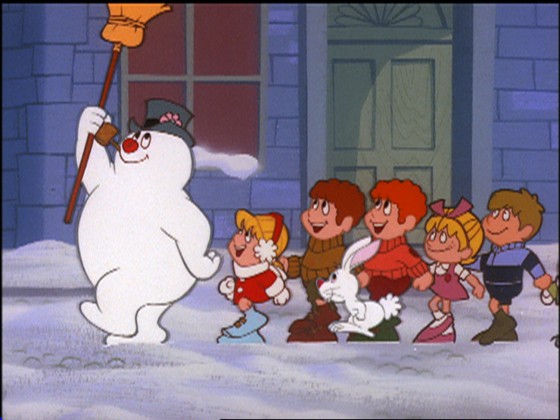 If you haven't seen this classic Christmas story, you can this year and every year after because it always comes on during the holidays.
19. Batman Returns (1992)
Bet you didn't think Batman Returns would have been considered a holiday film, right? It makes an appearance every single year on TV during the holidays, usually on TBS or TNT.
18. Elf (2003)
Will Ferrell isn't known for his amazing performances on the big screen. He is simply a terrific comedic actor that stole the show with his incredible portrayal of one of Santa's Elf's sent to New York to reclaim his birthright.
17. Frosty's Winter Wonderland (1976)
Frosty the Snowman isn't the oldest story we have heard during the holidays, it is just one of the best. You always want to route for an underdog and Frosty has always been just that, the underdog.
16. The Year Without Santa Claus (1974)
For every stop motion animated holiday classic that comes on TV this holiday season, take a shot. But slow down and make sure you don't blackout since there are several more.
15. The Santa Clause (1994)
Tim Allen turned the role of Santa Claus into a sarcastic middle aged man losing his mind. And it is just plain awesome. If you need a laugh, you need to watch this one and be prepared to start quoting this movie too.
14. Love Actually (2003)
Is Rick from The Walking Dead really in this movie?
13. Scrooged (1988)
In case you missed this classic holiday flick, you will have a chance to watch it this year when it makes its' way back onto TV. Bill Murray is just about great in everything he does but he truly earns his paycheck for his role in Scrooged.
12. Santa Claus is Comin' to Town (1970)
Nothing says holiday fun like the onslaught of stop motion animated Christmas TV specials. Santa Claus is Comin' to Town is just one of many that have aired since first landing on TV in the late 70's.
11. Miracle on 34th Street (1947)
Although it is extremely old and not in color, Miracle on 34th Street is one of our favorite holiday movies ever. The story, crazy old man claiming to be Santa Claus gets sent to a mental hospital before his lawyer begins to defend him and prove his innocence, was about 50 years ahead of its time.
10. The Muppet Christmas Carol (1992)
Michael Caine is as legendary as cheese pizza but when he signed on to play Scrooge for the Muppet Christmas Carol movie, fans were expecting greatness. And if you have seen it, as most of us already have, then you would agree. He was great.
9. Die Hard (1988)
Die Hard isn't a Christmas or holiday movie? Really?
One of the single greatest lines from one of the single greatest action movies ever made was when John McClane, played by Bruce Willis, meets Hans Gruber, played by Alan Rickman, for the first time. When Hans asks John why a cop from New York would be in LA, he replied, "Yeah, I got invited to the Christmas party by mistake. Who knew."
8. Nightmare Before Christmas (1993)
Once again, Tim Burton created an instant holiday classic with Nightmare Before Christmas. The story is original and the stars are lovable making it one of the best holiday films ever.
7.How the Grinch Stole Christmas (1966)
Of all the classic Dr.Seuss creations, the Grinch has to be the greatest. He is so evil and so heartless to begin the story that you have to hate him. But then something changes and he slowly begins to become someone you can feel bad for. Surprisingly, this is one of the most heartfelt Christmas movies ever made.
6. Home Alone (1990)
Nothing screams Christmas is coming like watching Home Alone on Thanksgiving night after watching football all day and stuffing your face like a fat squirrel.
5. A Christmas Story (1983)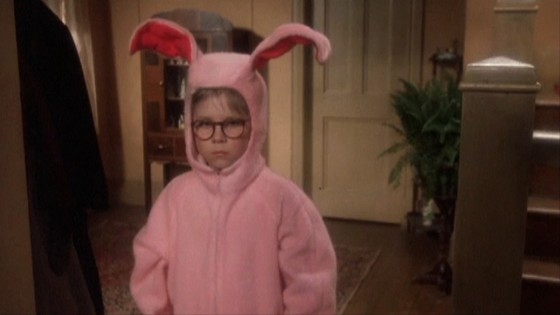 A Christmas Story is about as funny as it gets when it comes to Christmas movies starring kids. There are not too many children out there asking for bolt action rifles anymore but when this movie first came out, everyone did.
4. A Charlie Brown Christmas (1965)
Many of you probably weren't around to watch Charlie Brown Christmas back when it first came on TV in the 60's but this is your chance. No, we aren't suggesting you go back in time, we are simply letting you know that it will be on TV very soon and it will be the greatest thing you have seen this year.
3. Rudolph the Red-Nosed Reindeer (1964)
Rankin/Bass Productions can thank their lucky stars for hiring whoever came up with the idea for Rudolph the Red-Nosed Reindeer. It is the oldest holiday cartoon classic that continues to come on TV, every single year, since the 1960's. Not only is Rudolph a holiday classic, it helped pave the road for six of the others on the list today.
2. Christmas Vacation (1988)
There is not many holiday movies that are going to come close to the hilarity of National Lampoon's Christmas Vacation. Chevy Chase does what Chevy Chase does best and it works perfectly to create one of the most memorable holiday films ever.
1. It's A Wonderful Life (1946)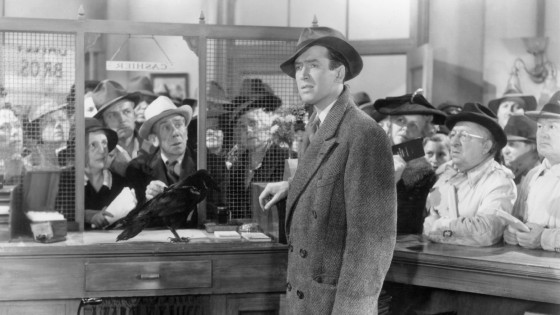 Was there ever any doubt? It's a Wonderful Life will forever be the most popular holiday movie that comes on TV every single year because it is also a great movie with an even better story for all ages. People do not even ask if it will be on TV anymore, they just ask when so they can plan for a quiet night in front the television with the entire family. This is Christmas/Thanksgiving and all the other holidays in a nutshell.