50 Coolest NBA Sneakers of All-Time
When Michael Jordan entered the NBA, he already had a shoe deal in place. He wore Converse in college, at University of North Carolina, but was a big fan of Adidas. However, Adidas was not in a place to offer Michael Jordan the same deal Nike was able to give him ($500,000/year for his first 5 years in the league). So he ended up signing with Nike and not long after, created the iconic Air Jordan brand.
During the early 80's, Nike changed the way sneakers were used in the NBA and was even banned from being worn in the league because of their shoe colors not matching the team uniforms. But that did not stop the Nike revolution and they paid the fine, made a commercial, and continued selling the Air Jordans at a rate that was never seen before. Nike was worth around $1 billion dollars in 1985 and $100 of it came from the Air Jordan franchise. In 2016, the Jordan brand reported a revenue of $2.8 billion.
Thanks to Nike and Michael Jordan, sneakers in the NBA have become their own fashion genre. Basketball sneakers have become so popular that people wear them without ever stepping foot on a basketball court, ever.
Some players can even end up signing a massive shoe endorsement deal without ever earning as much as an All-Star game appearance. "Big Country" Bryant Reeves (who actually had a deal with the same company, Warner Bros., that gave us Bugs Bunny and Wil E. Coyote), Bobby Hurley, John Wallace, Matthew Dellavedova, and Jimmer Fredette all had shoe endorsement deals and we all know about their NBA careers.
In 2019, Zion Williamson signed the largest-ever rookie shoe deal with Nike's Jordan Brand. Apparently he's over that busted sneaker incident from College. His contract inspired us to create our list of the Fifty Coolest Basketball Sneakers of All-Time. Enjoy.
50) Hakeem The Dream
Year: 1995
Brand: Spalding
Colors: Black/White/Red
Made Famous By: Hakeem Olajuwon
49) Shox BB4
Year: 2000
Brand: Nike
Colors: Black/Silver/Lapis
Made Famous By: Vince Carter
48) Big Fundamental
Year: 2010
Brand: adidas
Colors: Black/Running White/Metallic Silver
Made Famous By: Tim Duncan
47) Melo M10
Year: 2014
Brand: Jordan
Colors: Dark Powder Blue/Team Orange
Made Famous By: Carmelo Anthony
46) adiZero Rose 2
Year: 2010
Brand: adidas
Colors: Black/Red/White
Made Famous By: Derrick Rose
45) Answer IV
Year: 2000
Brand: Reebok
Colors: Black/White
Made Famous By: Allen Iverson
44) Jabbar Hi
Year: 1971
Brand: adidas
Colors: Blue/White
Made Famous By: Kareem Abdul-Jabbar
43) Curry 2.5
Year: 2016
Brand: Under Armour
Colors: Team Royal, Midnight Navy
Made Famous By: Stephen Curry
42) Air Zoom Huarache 2K4
Year: 2004
Brand: Nike
Colors: Navy Blue/White
Made Famous By: Kobe Bryant
41) Jordan 12 Retro "The Master"
Year: 2016
Brand: Jordan
Colors: Black/White/Metallic Gold
Made Famous By: Michael Jordan
40) Aero Jam
Year: 1992
Brand: Converse
Colors: Black/White/Multi-Colored
Made Famous By: Larry Johnson
39) Crazy 8 "University Red"
Year: 2013
Brand: adidas
Colors: Red/White/Black
Made Famous By: Damian Lillard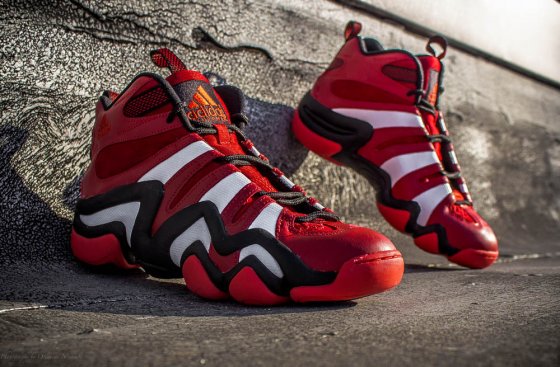 38) Jordan 11 Retro "Space Jam"
Year: 2016
Brand: Jordan
Colors: Black/Concord White
Made Famous By: Michael Jordan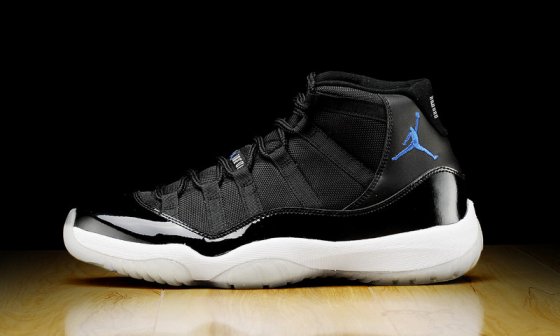 37) Shaq Attaq
Year: 1993
Brand: Reebok
Colors: White/Azure Steel/Black
Made Famous By: Shaquille O'Neal
36) Air More Uptempo
Year: 1996
Brand: Nike
Colors: Black/White
Made Famous By: Scottie Pippen
35) Answer I
Year: 1997
Brand: Reebok
Colors: Black/White/Metallic Gold/Red
Made Famous By: Allen Iverson
34) KB8
Year: 1997
Brand: adidas
Colors: Black/White
Made Famous By: Kobe Bryant
33) Air Penny I
Year: 1995
Brand: Nike
Colors: Black/Royal Blue/White
Made Famous By: Penny Hardaway
32) Air Jordan XIII
Year: 1997
Brand: Nike
Colors: Black/Varsity Red
Made Famous By: Michael Jordan
31) Zoom Flight V
Year: 1997
Brand: Nike
Colors: Black/White/Royal Blue
Made Famous By: Jason Kidd
30) T-Mac 2
Year: 2002
Brand: adidas
Colors: White/Royal Blue
Made Famous By: Tracy McGrady
29) Puma Clyde's
Year: 1973
Brand: Puma
Colors: Royal Blue/White
Made Famous By: Walt Frazier
28) Air Jordan IV
Year: 1989
Brand: Nike
Colors: Fire Red/White/Black
Made Famous By: Michael Jordan
27) Air Garnett III
Year: 1999
Brand: Nike
Colors: White/Black/Blue
Made Famous By: Kevin Garnett
26) Air Max2 CB34
Year: 1994
Brand: Nike
Colors: Black/White/Purple
Made Famous By: Charles Barkley
25) Kobe V
Year: 2010
Brand: Nike
Colors: Metallic Silver/Black Ice
Made Famous By: Kobe Bryant
24) Flight '98 "The Glove"
Year: 1998
Brand: Nike
Colors: Black/Red/White
Made Famous By: Gary Payton
23) Air Max LeBron VII
Year: 2009
Brand: Nike
Colors: Team Red/Black/Metallic Silver
Made Famous By: LeBron James
22) Shaqnosis
Year: 1992
Brand: Reebok
Colors: White/Black
Made Famous By: Shaquille O'Neal
21) D Rose 4.5
Year: 2014
Brand: adidas
Colors: Clear Grey/Light Scarlet/Dark Onyx
Made Famous By: Derrick Rose
20) Air Jordan XII
Year: 1996
Brand: Nike
Colors: White/Black
Made Famous By: Michael Jordan
19) Air Max Uptempo
Year: 1995
Brand: Nike
Colors: White/Black
Made Famous By: Scottie Pippen
18) Kamikaze II
Year: 1995
Brand: Reebok
Colors: White/Black/Racing Green
Made Famous By: Shawn Kemp
17) Air Zoom Generation
Year: 2003
Brand: Nike
Colors: Black/White/Varsity Crimson
Made Famous By: LeBron James
16) Kobe IV
Year: 2009
Brand: Nike
Colors: Black/Concord Blue/Gold
Made Famous By: Kobe Bryant
15) Flightposite II KG
Year: 2000
Brand: Nike
Colors: Black
Made Famous By: Kevin Garnett
14) Zoom KD 4 "Weatherman"
Year: 2011
Brand: Nike
Colors: Lush Green/Volt Black/Team Orange
Made Famous By: Kevin Durant
13) Air Jordan I
Year: 1985
Brand: Nike
Colors: Black/Varsity Red
Made Famous By: Michael Jordan
12) Pump
Year: 1989
Brand: Reebok
Colors: White/Blue/Orange
Made Famous By: Dominique Wilkins
11) Air Jordan VI
Year: 1991
Brand: Nike
Colors: White/Fire Red
Made Famous By: Michael Jordan
10) Kyrie 3
Year: 2017
Brand: Nike
Colors: White/Chrome
Made Famous By: Kyrie Irving
9) Air Foamposite I
Year: 1997
Brand: Nike
Colors: Dark Neon Royal/White/Black
Made Famous By: Penny Hardaway
8) Kobe VIII
Year: 2013
Brand: Nike
Colors: Orange/Galaxy/White
Made Famous By: Kobe Bryant
7) Air Jordan V
Year: 1990
Brand: Nike
Colors: White/Fire Red
Made Famous By: Michael Jordan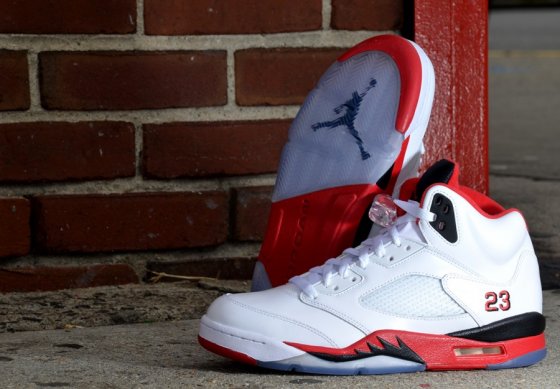 6) Question
Year: 1996
Brand: Reebok
Colors: White/Red Pearl
Made Famous By: Allen Iverson
5) Grant Hill's
Year: 1995
Brand: FILA
Colors: White/Royal Blue/Red
Made Famous By: Grant Hill
4) LeBron VIII
Year: 2010
Brand: Nike
Colors: Black/White/Red
Made Famous By: LeBron James
3) Air Jordan XI
Year: 1995
Brand: Nike
Colors: White/Black/Dark Concord
Made Famous By: Michael Jordan
2) Weapon "Magic"
Year: 1986
Brand: Converse
Colors: Purple/Gold/White
Made Famous By: Magic Johnson
1) Air Jordan III
Year: 1988
Brand: Nike
Colors: White/Cement Grey/Fire Red
Made Famous By: Michael Jordan