The 50 Greatest Fantasy Football Seasons in NFL History
Fantasy sports have become a lucrative business. It all started back in the fifties when an Oakland businessman by the name of Wilfred "Bill" Winkenbach started a game of fantasy golf where each playing member would select a group of professional golfers to their team and the person with the lowest stroke score at the end of a tournament, wins. That simple idea took another few years before Bill applied it to football in 1962.
The league was called the Greater Oakland Professional Pigskin Prognosticators League, or GOPPPL. But because there was no internet, no emails, and no social media, the invention of fantasy football took many years to grow in popularity. Unlike today, things prior to the internet took several years to grow into national phenomenons.
After many years of tweaks and changes to the rules, fantasy football was born and by 1997, CBS became the first company to launch a publicly available free fantasy football league that became an instant success and caught on to hundreds of other sites.
Today, nearly 75 million people play fantasy football around the world making it the most popular fantasy sport of all time. It has become so popular that even professional athletes play it. There are even television shows, podcasts, books, and websites that give expert opinions, detailed breakdowns of each week, and all kinds of information to help you win at fantasy football.
Since most websites don't keep track of fantasy data beyond a few years, we decided to go back and track NFL players performances before the days of fantasy football to see which players had the best single fantasy football seasons since the 1967 season and the first ever Super Bowl.
*NOTE : We used ESPN's Standard PPR League Scoring.
50. Calvin Johnson, WR, DET – 358.1 pts
Year: 2011
Receptions: 96
Receiving Yards: 1,681
Receiving TDs: 16
49. Tom Brady, QB, NE – 358.2 pts
Year: 2011
Passing Yards: 5,235
Passing TDs: 39
Interceptions: 12
Rushing Yards: 109
Rushing TDs: 3
48. Larry Johnson, RB, KC – 358.3 pts
Year: 2005
Rushing Yards: 1,750
Rushing TDs: 20
Receptions: 33
Receiving Yards: 343
Receiving TDs: 1
47. Jerry Rice, WR, SF – 359.2 pts
Year: 1994
Receptions: 112
Receiving Yards: 1,499
Receiving TDs: 13
Rushing Yards: 93
Rushing TDs: 2
46. Cam Newton, QB, CAR – 360.34 pts
Year: 2011
Passing Yards: 4,051
Passing TDs: 21
Interceptions: 17
Rushing Yards: 706
Rushing TDs: 14
45. Edgerrin James, RB, IND – 361.9 pts
Year: 1999
Rushing Yards: 1,553
Rushing TDs: 13
Receptions: 62
Receiving Yards: 586
Receiving TDs: 4
44. Emmitt Smith, RB, DAL – 362.5 pts
Year: 1994
Rushing Yards: 1,484
Rushing TDs: 21
Receptions: 50
Receiving Yards: 341
Receiving TDs: 1
43. Marshall Faulk, RB, IND – 368.7 pts
Year: 1998
Rushing Yards: 1,319
Rushing TDs: 6
Receptions: 86
Receiving Yards: 908
Receiving TDs: 4
42. LaDainian Tomlinson, RB, SD –
Year: 2007
Rushing Yards: 1,474
Rushing TDs: 15
Receptions: 60
Receiving Yards: 475
Receiving TDs: 3
41. James Wilder, RB, TB – 365.9 pts
Year: 1984
Rushing Yards: 1,544
Rushing TDs: 13
Receptions: 85
Receiving Yards: 685
Receiving TDs: 0
40. Eric Dickerson, RB, LA – 366.2 pts
Year: 1983
Rushing Yards: 1,808
Rushing TDs: 18
Receptions: 51
Receiving Yards: 404
Receiving TDs: 2
39. Brian Westbrook, RB, PHI – 368.4 pts
Year: 2007
Rushing Yards: 1,333
Rushing TDs: 7
Receptions: 90
Receiving Yards: 771
Receiving TDs: 5
38. Shaun Alexander, RB, SEA – 368.8 pts
Year: 2005
Rushing Yards: 1,880
Rushing TDs: 27
Receptions: 15
Receiving Yards: 78
Receiving TDs: 1
37. Ray Rice, RB, BAL – 368.8 pts
Year: 2011
Rushing Yards: 1,364
Rushing TDs: 12
Receptions: 76
Receiving Yards: 704
Receiving TDs: 3
36. Daunte Culpepper, QB, MIN – 369.28 pts
Year: 2004
Passing Yards: 4,717
Passing TDs: 39
Interceptions: 11
Rushing Yards: 406
Rushing TDs: 2
35. Emmitt Smith, RB, DAL – 369.80 pts
Year: 1992
Rushing Yards: 1,713
Rushing TDs: 18
Receptions: 59
Receiving Yards: 335
Receiving TDs: 1
34. Le'Veon Bell, RB, PIT – 370.50 pts
Year: 2014
Rushing Yards: 1,361
Rushing TDs: 8
Receptions: 83
Receiving Yards: 854
Receiving TDs: 3
33. Larry Johnson, RB, KC – 370.90 pts
Year: 2006
Rushing Yards: 1,789
Rushing TDs: 17
Receptions: 41
Receiving Yards: 410
Receiving TDs: 2
32. Isaac Bruce, WR, STL – 371.10 pts
Year: 1995
Receptions: 119
Receiving Yards: 1,781
Receiving TDs: 13
31. Herman Moore, WR, DET – 371.60 pts
Year: 1995
Receptions: 123
Receiving Yards: 1,686
Receiving TDs: 14
30. Jamaal Charles, RB, KC – 374 pts
Year: 2013
Rushing Yards: 1,287
Rushing TDs: 12
Receptions: 70
Receiving Yards: 693
Receiving TDs: 7
29. Randy Moss, WR, MIN – 376 pts
Year: 2003
Receptions: 111
Receiving Yards: 1,632
Receiving TDs: 17
28. O.J. Simpson, RB, BUF – 376.30 pts
Year: 1975
Rushing Yards: 1,817
Rushing TDs: 16
Receptions: 28
Receiving Yards: 426
Receiving TDs: 7
27. Marcus Allen, RB, OAK – 376.40 pts
Year: 1985
Rushing Yards: 1,759
Rushing TDs: 11
Receptions: 67
Receiving Yards: 555
Receiving TDs: 3
26. Roger Craig, RB, SF – 378.60 pts
Year: 1985
Rushing Yards: 1,050
Rushing TDs: 9
Receptions: 92
Receiving Yards: 1,016
Receiving TDs: 6
25. Ahman Green, RB, GB – 381 pts
Year: 2003
Rushing Yards: 1,883
Rushing TDs: 15
Receptions: 50
Receiving Yards: 367
Receiving TDs: 5
24. Terrell Davis, RB, DEN – 381.50 pts
Year: 1998
Rushing Yards: 2,008
Rushing TDs: 21
Receptions: 25
Receiving Yards: 217
Receiving TDs: 2
23. Marvin Harrison, WR, IND – 381.50 pts
Year: 2002
Receptions: 143
Receiving Yards: 1,722
Receiving TDs: 11
22. Antonio Brown, WR, PIT – 382.1 pts
Year: 2014
Receptions: 129
Receiving Yards: 1,698
Receiving TDs: 13
21. LaDainian Tomlinson, RB, SD – 382.2 pts
Year: 2002
Rushing Yards: 1,683
Rushing TDs: 14
Receptions: 79
Receiving Yards: 489
Receiving TDs: 1
20. Randy Moss, WR, NE – 2007
Year: 2007
Receptions: 98
Receiving Yards: 1,493
Receiving TDs: 23
19. Tom Brady, QB, NE – 386.04 pts
Year: 2007
Passing Yards: 4,806
Passing TDs: 50
Interceptions: 8
Rushing Yards: 98
Rushing TDs: 2
18. Antonio Brown, WR, PIT – 386.20 pts
Year: 2015
Receptions: 136
Receiving Yards: 1,834
Receiving TDs: 10
17. Cam Newton, QB, CAR
Year: 2015
Passing Yards: 3,837
Passing TDs: 35
Interceptions: 10
Rushing Yards: 636
Rushing TDs: 10
16. Drew Brees, QB, NO
Year: 2011
Passing Yards: 5,476
Passing TDs: 46
Interceptions: 14
Rushing Yards: 86
Rushing TDs: 1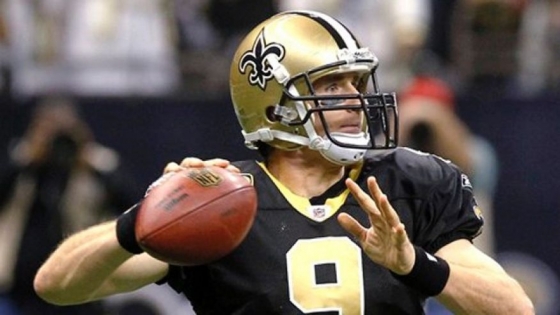 15. Arian Foster, RB, HOU – 390 pts
Year: 2010
Rushing Yards: 1,616
Rushing TDs: 16
Receptions: 66
Receiving Yards: 604
Receiving TDs: 2
14. Chris Johnson, RB, TEN – 392.90 pts
Year: 2009
Rushing Yards: 2,006
Rushing TDs: 14
Receptions: 50
Receiving Yards: 503
Receiving TDs: 2
13. Edgerrin James, RB, IND – 393.30 pts
Year: 2000
Rushing Yards: 1,709
Rushing TDs: 13
Receptions: 63
Receiving Yards: 594
Receiving TDs: 5
12. Aaron Rodgers, QB, GB – 395.42 pts
Year: 2011
Passing Yards: 4,643
Passing TDs: 45
Interceptions: 6
Rushing Yards: 257
Rushing TDs: 3
11. Marshall Faulk, RB, STL – 399.90 pts
Year: 1999
Rushing Yards: 1,381
Rushing TDs: 7
Receptions: 87
Receiving Yards: 1,048
Receiving TDs: 5
10. Jerry Rice, WR, SF – 400.4 pts
Year: 1995
Receptions: 122
Receiving Yards: 1,848
Receiving TDs: 15
9. Steven Jackson, RB, STL – 411.4 pts
Year: 2006
Rushing Yards: 1,528
Rushing TDs: 13
Receptions: 90
Receiving Yards: 806
Receiving TDs: 3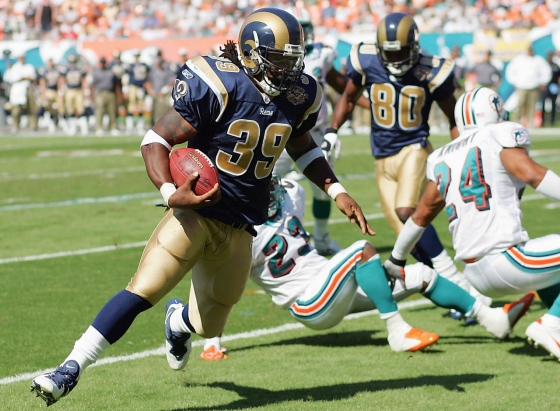 8. Emmitt Smith, RB, DAL – 412.8 pts
Year: 1995
Rushing Yards: 1,773
Rushing TDs: 25
Receptions: 62
Receiving Yards: 375
Receiving TDs: 0
7. Marshall Faulk, RB, STL – 419.7 pts
Year: 2001
Rushing Yards: 1,382
Rushing TDs: 12
Receptions: 83
Receiving Yards: 765
Receiving TDs: 9
6. Peyton Manning, QB, DEN – 421.98 pts
Year: 2013
Passing Yards: 5,477
Passing TDs: 55
Interceptions: 10
Rushing Yards: (-31)
Rushing TDs: 1
5. LaDainian Tomlinson, RB, SD – 439.8 pts
Year: 2003
Passing Yards: 21
Passing TDs: 1
Rushing Yards: 1,645
Rushing TDs: 13
Receptions: 100
Receiving Yards: 725
Receiving TDs: 4
4. Priest Holmes, RB, KC – 440.7 pts
Year: 2002
Rushing Yards: 1,615
Rushing TDs: 21
Receptions: 70
Receiving Yards: 672
Receiving TDs: 3
3. Priest Holmes, RB, KC – 445 pts
Year: 2003
Rushing Yards: 1,420
Rushing TDs: 27
Receptions: 74
Receiving Yards: 690
Receiving TDs: 0
2. Marshall Faulk, RB, STL – 459.9 pts
Year: 2000
Rushing Yards: 1,359
Rushing TDs: 18
Receptions: 81
Receiving Yards: 830
Receiving TDs: 8
1. LaDainian Tomlinson, RB, SD – 479.1 pts
Year: 2006
Rushing Yards: 1,815
Rushing TDs: 28
Receptions: 56
Receiving Yards: 508
Receiving TDs: 3