The 50 Greatest Female Athletes of the Past 20 Years
Prior to the late 1700's, women did not participate in sports very often, if ever. Elizabeth Wilkinson, a female British boxer, stepped into the ring to become the first woman to box. That was just one of many first's for women in sports over the following 300 years.
From Helen Hicks, the first professional female golfer, to May Sutton Bundy, the first professional female tennis player, women have come a long way since the late 1800's and are now some of the most popular athletes in all of sports. But it wasn't until the turn of the century that female athletes began to gain notoriety thanks to a little thing called sex appeal. And not to sound sexist but thanks to sex appeal, popularity began to grow for female sports and athletes.
In honor of the success of many of today's most popular female athletes, here is a list of the Best of the Best female athletes over the past 20 years.
HM. Sarah Thomas – NFL Referee
Let's kick things off with an honorable mention for the first female referee in the history of the NFL. Sarah Thomas might look familiar to the hardcore NFL fans as she was a referee during a preseason game in 2014. Congratulations Sarah, we wish you the best of luck in your future with the NFL.
50. Danica Patrick – Racing
Her list of accomplishments are not that impressive but she did not come here for the free pizza. Sure, she is constantly made fun of for never having won a single race or even finishing in the top 5 but she is not on the list because of how many wins she might one day obtain, she is on the list for being the first woman in a sport dominated by men. She will one day win a race and it will be great but until then, she deserves respect for busting into NASCAR and remaining there for four consecutive seasons.
49. Nastia Liukin – Gymnastics
Most college students ditch class to go down to the beach and get wasted while partying with the hottest chicks around. Not Nastia Liukin. She took time off class to go win five Olympic medals in Beijing, one of them being a gold for the All-Around back in 2008. Her five medals in Beijing tie an Olympic record for most gymnastic medals by an American gymnast. People forget that she is only 25 years old today and has more accomplishments in her life than half the state of Texas.
48. Skylar Diggins – Basketball
In 2009, Skylar Diggins was named Indiana's Miss Basketball, likely the biggest award given to a female high school basketball star, and became one of the biggest Notre Dame recruits in a long time. She became an instant star and owns a multitude of records at Notre Dame. She was drafted by the Tulsa Shock in 2013 and struggled her first year in the WNBA but that changed in 2014. She averaged 20.1 points per game and 5.0 assists per game earning several accolades including WNBA's most improved player.
47. Missy Franklin – Swimming
Before Missy's 18th birthday, she won four Olympic gold medals and a bronze during the 2012 London Summer Olympics. What have you been doing with your life? Not only did she win five medals during the Olympics, she instantly became America's favorite person. Her quiet small-town life is a blip in the rear-view mirror. Her career is just beginning. Since London, she has dominated 2013 World Championships and won a few more in 2014 but was hampered with a back injury which has slowed her down. Next summer, she will be back for another Olympic appearance.
46. Kristine Lilly – Soccer
With 352 appearances in International play, also known as a Cap, Kristine Lilly owns a record that stretches over both men's and women's soccer. There has never been another soccer player with more Caps in the history of the sport and she played for Team USA for 24 years to reach that level. She owns two Olympic gold medals, one silver medal, two FIFA World Cup championships, and three third place finishes at the World Cup. She also has 130 international goals, behind Mia Hamm and Abby Wambach.
45. Svetlana Khorkina – Gymnastics
One gold and one silver in 1996. One gold and two silver in 2000. One silver and a bronze in 2004. After three Olympics games, Svetlana Khorkina won a total of seven Olympic medals to become one of the greatest of all-time. Not since Nadia Comaneci won nine medals in the late 70's had any female won that many total medals. It was quite the accomplishment for a Russian gymnast as she is the only multiple medal winning gymnast from Russia, ever.
44. Brittney Griner – Basketball
In the four years Brittney Griner played for Baylor, she set the career record for blocks with 736, that is a record for both men and women. Let's go ahead and add a 44 game winning streak during which she led the Lady Bears to a National Championship. The Dallas Mavericks asked her to tryout back in April of 2013 which could have made her the first female to play in the NBA.
43. Rechelle Hawkes – Field Hockey
There aren't many international sporting events that Australia dominates but Field Hockey was one for about 12 years. Recehelle Hawkes led the Hockeyroos from Aussie country to three Olympic gold medals, among many other awards, and is one of only two Australian women to ever achieve this feat. She is one of the most popular female athletes to ever come out of Australia. They love her down under. As do we.
42. Hope Solo – Soccer
Soccer is a sport loved by millions but hated by, well, millions. Hope Solo was part of the American soccer revolution and has been a huge contributor to current US Women's team, helping them win two Olympic gold medals and finishing 2nd and 3rd in consecutive World Cup's. Not only was she the goalkeeper for one of the most feared lineups in women's soccer, she has been named WPS Goalkeeper of the Year, 2011 World Cup Golden Glove winner, and about ten thousand other awards. If you think you can score on her, nice try. She also owns the record for shutouts with 82. 82 games without giving up a goal? That is insane!
41. Ranomi Kromowidjojo – Swimming
We will give $20 to the first person to successfully say Ranomi Kromowidjojo without adding 29 extra vowels. (Disclaimer: We will not give you anything)
Ranomi is an athlete only feared in the aquatic center during Olympic years and only by other swimmers. She has never truly experienced becoming a famous athlete and being an international star. Most of you have probably never even heard of her until today. She owns 26 career gold medals, three of which are from the Olympics, and another five silver, and eight bronze. (One of the silver medals was obtained in London during the 2012 Olympic games)
She makes freestyle swimming look easy and has shattered a billion records along the way. Not only is she one of the best in the world, she is beautiful too!
40. Candace Parker – Basketball
Candace Parker was the first woman to dunk during the NCAA tournament. She is also the first woman to dunk twice in the same game. She followed that amazing feat with another, becoming the number one overall draft pick in the 2008 WNBA draft. It didn't take her very long to figure out the WNBA and she averaged 18.5 points per game and 9.5 rebounds per game during her rookie year on her way to the Rookie of the Year award. If that wasn't enough, she won the WNBA MVP award in 2008 as well.
She is a defensive beast that dominates the paint on both ends of the court and she probably belongs higher on this list.
39. Natalie Gulbis – Golf
Yes, it is true. Natalie Gulbis is one of the sexiest female golfers of all time. Better yet, she is one of the most beautiful female athletes, not just golfer, of ever. But she is more than just looks, she has skills on the greens.
Although she has only one career LPGA tour victory, she made this list because of what she did for the sport. It takes more than winning to become a role model. Natalie Gulbis used her beauty to her advantage and became the biggest name on the LPGA for several years. Her iconic statue was embraced with both arms and she rode that horse until it ran out of land to ride. She inspired millions of young women who want to be an athlete and a beautiful woman but couldn't figure out how to do both and be taken serious.
38. Allison Schmitt – Swimming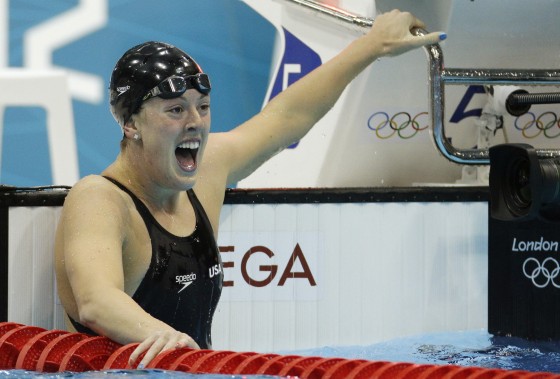 The ones we forget are usually the ones that are the greatest. No one said that, I made it up. But Allison Schmitt is one of them. She was one of the biggest names in London back in 2012 when she won 5 Olympic medals, 3 of them Gold. We remembered her dominance then but have forgotten about her now.
She not only won five medals in London, she has won a total of 14 medals in international competition during her short-lived swimming career. And when you watch the 2016 Olympics, look out for the 200m freestyle, she is the American record holder.
37. Hilary Knight – Hockey
If someone asked you to name a female hockey player, who would you name? For the 90% of you that follows sports as a whole, Hilary Knight should be an easy one. She is the single most famous name in a sport few watch and even less care about. But that does not stop her from being the best of the best.
At 17 years old, she was playing for Team USA. By the time she graduated college, University of Wisconsin, she had already become a superstar in hockey. She only needs an Olympic gold medal to complete her trophy case. (She currently owns 2 Silver medals)
36. Gabby Douglas – Gymnastics
The road to glory, for every Olympic athlete, begins and ends with an Olympic gold medal. If you spend your entire life training for one shot at greatness and make one minor slip-up, game over. You go home with nothing but a free trip to London.
Gabby Douglas didn't want a free trip to London, she wanted a gold medal. But when she ended up winning the Team Gold medal, she had an even bigger thirst for more and ended up winning the All-Around Gold too. Not only was she the first non-white female to win both medals at the same Olympics, she is the only American to do so, men or women.
35. Libby Trickett – Swimming
That name sounds familiar, right?
Libby Trickett is an Australian swimmer with a name that makes everyone think long and hard about where they remember hearing it. We will help you if you can't recall. Libby is the current World record holder in the 100m freestyle and a seven time Olympic medalist, with four of them being Gold, over the course of three separate Olympic games. She also managed to rack in another 34 international swimming medals in her career. (20 of those were Gold)
34. Cat Osterman – Softball
Cat Osterman was born to pitch. She started playing softball in 1st grade and quickly became a legend at every level. In high school, she once struck out 33 batters in one extra-innings game. When she finished high school, she ended with an average of 2.29 strikeouts per inning. During her Senior season she did not give up a single earned run and finished the year with a 0.00 ERA.
By the time she arrived at the University of Texas, she was already one of the best in the NCAA. She graduated with a 0.50 ERA, 2,265 strikeouts in 1105.2 innings, 136 wins, 121 complete games, 20 no-hitters, 7 perfect games, and 85 shutouts. Wow!
33. Marta – Soccer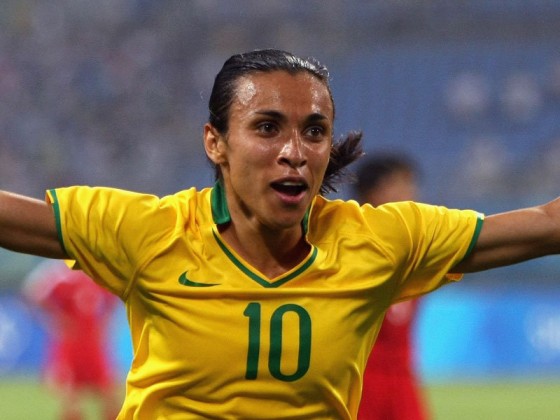 Mia Hamm, Birgit Prinz, Homare Sowa, and Abby Wambach are easily four of the top five greatest female soccer stars of all time. Yet not a single one of them has ever won 5 FIFA Player of the Year awards. Marta, however, did. She also finished in second place, four times. The greatest part about the five wins is that they happened in consecutive order from 2006 to 2010.
They love her in Brazil. So much so that most of the Brazilian soccer fans refer to her as the female Pele.
32. Dana Vollmer – Swimming
When it comes to the butterfly, there isn't a single woman in history that can do the 100m faster than Dana Vollmer, current World record holder. Along with her World record, she owns four Olympic gold medals.
For a career full of winning, Dana also owns 15 more Golds in International competition. But her most impressive stat has to be her Olympic comeback. She won a gold medal in 2004 but then missed the 2008 team only to bounce back and win three more in London.
31. Ireen Wust – Speed Skating
Short track speed skating is fun. Long track speed skating is just plain brutal. Ireen Wust, however, has made that brutality look like a Saturday morning cartoon. She has dominated the sport for quite some time and in 2014 during the Sochi Winter Olympics, she took home two gold medals and three silver ones.
Since most people measure success in Olympic medals, they usually stop reading past that. If they kept reading they would see that Ireen Wust has won 40 more medals to go along with her Olympic dominance.
30. Gina Carano – MMA
In only 8 career mixed martial arts matches, Gina Carano won 7 of them. That is all it took for Gina to become a legend in her sport. But then she fell off the map after several injuries forced her away from the sport. When she returned, she was never the same. Hollywood took her in and she made a few movies but her biggest accomplishment was paving the road for future female MMA fighters to become stars.
29. Caroline Wozniacki – Tennis
Caroline Wozniacki has been in the top ten globally for several years now and is currently in the top five. She has 451 career match victories and 23 championships. The one place she has not won is a Grand Slam final. She has played in two and took home second place twice.
However, at only 24 years old, she has plenty more time to improve and win a Grand Slam title, maybe even complete the entire Grand Slam. Her roof is much higher than most other women. For the tennis lovers out there, sure, Victoria Azarenka possibly should be here since she has more Grand Slam wins but when it comes down to longevity, Carolina Wozniacki will retire with a better overall. You just wait.
28. Lindsey Vonn – Skiing
Lindsey Vonn is more than just Tiger Wood's girlfriend. For those of you removed from society, she was once an Olympic gold medal skier and World Cup champion three years consecutively.
But the most impressive statistic of her career is her 67 wins in 13 World Cup seasons in which she also won four overall titles. Her 113 Podiums and the 19 career titles over all disciplines are both records. She is tied with Ingemar Stenmark for the latter.
27. Natalie Coughlin – Swimming
Any woman who can win 12 Olympic medals, three gold and four silver, in only two Olympics and then retire and become a food critic, has a special place in our hearts for life. Natalie Coughlin was once one of the best in the world in the backstroke and has now become one of the greatest celebrity food critics on the Food Network. Not only is she a decorated female Olympian, she is beautiful, talented, and an amazing cook.
26. Lisa Leslie – Basketball
Lisa Leslie is the Queen pioneer of the WNBA. She was the first woman to dunk in a game. She was then the first woman to score 3,000 points in a career, two years later she became the first woman to score 4,000 career points. She finished her career with 6,623 points, 3,307 rebounds, 874 assists, and 822 blocks.
Then comes her list of awards. She is a four-time Olympic gold medalist, eight time WNBA All-Star, eight time WNBA First Team, two-time WNBA champion, three-time WNBA MVP, and she also owns the USC record for blocks in a season with 95.
25. Sue Bird – Basketball
Lisa Leslie was the first in many categories in the WNBA. Sue Bird, however, was the second. She dominated the sport for so many years and she is still playing, 13 years after being drafted number one overall in 2002.
Her eight WNBA All-Star selection is among a few others to reach that many. She also owns two WNBA championships, four WNBA First Team selections, three gold medals, and was also named to the WNBA all decade team.
24. Rebecca Soni – Swimming
Everyone remembers Michael Phelps, right? He dominated swimming for three Olympic competitions. Well, then there was Rebecca Soni. She does not own as many gold medals but when it comes to females in the pool, she is one of the best in the world.
Her six Olympic medals, three of them Gold, are impressive but the greatest stat of her career is her eight World Records she owns. That in itself is more impressive than any medal record because she is marking her territory by becoming the fastest swimmer in the world in her discipline.
23. Venus Williams – Tennis
Venus Williams has been a professional tennis player since she was only 14 years old. That means she was making more money playing tennis than any of her classmates parents. Can you imagine going to class in middle school and one of the kids in your class made more money than all the teacher, the principal, and anyone else old enough to work?
So she has been around since 1994 and her career records speak for themselves. Five of her seven Grand Slam titles came from Wimbledon where she regularly matched up against her sister, Serena. She has amassed 46 career wins in singles, 21 in doubles, and 2 more in mixed doubles.
She is and always has been more than just that woman who wears lingerie during a tournament. She has mad tennis skills too!
22. Jennie Finch – Softball
Jennie Finch became popular because of her beauty. That is not to be taken as an insult, rather, a compliment because she used her beauty to help a sport that needed it.
But let's not forget that she was great too! That pretty face and gorgeous body is not the best quality about her. Her pitching skills is some of the best the sport has ever seen.
At the University of Arizona, she won 119 games, struck out 1,028 hitters, and had an ERA of 1.08. She also had a WHIP of 0.84. She was also a hitter, much like Lisa Fernandez was, and she was all about the long ball. She hit 50 Home Runs, had 195 RBIs, and finished her career with a 0.301 batting average.
21. Luciana Aymar – Field Hockey
Luciana Aymar is the Michael Jordan of women's field hockey. The only difference is that he won an Olympic gold medal and she has four medals but none of them gold.
She was named the World Cup Player of the Tournament twice, is an eight time FIH Player of the Year (Record), and is the happy owner of nine Champion's Trophy Player of the Tournament. She also has 14 gold medals in International competition. If you were in a fantasy Field Hockey league, she would be the first player off the board, easily.
20. Ellen Hoog – Field Hockey
If you aren't a true fan of female athletes than chances are you have never heard of Ellen Hoog outside of a few Maxim spreads. Sure, she is beautiful. But her talent speaks for itself.
She is the owner of nine gold medals in the sport, two of them from the Olympics. She is also the only female athlete to ever win a major championship match by a penalty shootout. She hit the winning goal against New Zealand at the 2012 Summer Olympics.
She is only 29 years old and has much more left to prove. Do not be shocked if she makes this list much higher next time.
19. Birgit Prinz – Soccer
Birgit Prinz is the German equivalent of Mia Hamm in America. She dominated the sport of soccer in Germany since she could stand up and kick a ball. She won three consecutive FIFA World Player of the Year awards and finished second four more times. She isn't a joke, she was as good as they got in women's soccer.
She owns two FIFA World Cup titles, nine German Cup championships, eight Bundesliga titles, and is tied with another soccer star for most goals in the history of the World Cup.
Germany will miss her now that she has long since retired but they are still well on their way to a long run at the 2015 World Cup Finals.
18. Laura Berg – Softball
Laura Berg is one of only four women in history to win four Olympic medals in softball. (three gold and one silver) And with the sport being eliminated from the Olympics until at least 2020, that record should remain intact for a very long time.
She was never a power hitter, she does not pitch, and she did not get too many RBIs. But what she lacked in offensive power, she made up for it with speed and hitting. She is second all-time in NCAA hitting with 396 hits and a career batting average of 0.414. She was as savvy as they came and she stole bases, hit doubles, and clawed her way into hitting over 0.400 three consecutive seasons.
It isn't always about home runs and strikeouts, sometimes it is simply being the woman on the team that you can guarantee is going to get on base.
17. Cynthia Cooper – Basketball
If the WNBA would have been around when Cynthia Cooper graduated from USC in 1986, she would be the top basketball star ever.
Her career accolades are sick because she did not even begin her WNBA career until she was 34 where she went on to win four consecutive WNBA titles, two WNBA MVPs, four WNBA Finals MVP, and three WNBA All-Star selections.
Imagine if she started playing when she was 22?
16. Monica Abbott – Softball
Softball players throw almost twice as many innings per season than any collegiate baseball pitcher but the stats are still impressive when you break it down mathematically in comparison to baseball.
In her four years at University of Tennessee, Monica Abbott pitched herself into stardom. Since accolades and awards seem to be the norm around here, we will give you some more to read about Monica.
Owns Seven NCAA pitching records
Career Stats: ERA – 0.79, WHIP – 0.59, K's – 2,440, Shutouts – 112, Complete Games – 178 (253 games), No-Hitters – 23, Perfect Games – 6
In 2007, Monica completely destroyed the NCAA. She finished with an 0.68 ERA, 50-5 record, and 724 strikeouts (NCAA record, second place is nearly 50 behind)
She won 50 games in a season twice (Only person to ever reach that number)
15. Sheryl Swoopes – Basketball
Let's just justify this selection with her stats.
Four time WNBA Champion
Three time WNBA MVP
Three time WNBA Defensive Player of the Year Awards
Two time WNBA Scoring Champion
Do you get the idea? She is not good, she was great. She could defend a polar bear from getting into an igloo in the snow. (Keep that metaphor for later)
14. Jenny Thompson – Swimming
Michael Phelps won 18 Olympic gold medals during his career. A record that might not be reached in a very long time. But before Phelps, there was a woman in the pool that was just as dominate named Jenny Thompson.
Her skill set led her to an Olympic record for female swimmers with 8 Olympic gold medals, 12 total medals in four separate Olympic games.
Over her entire career, she took home 45 gold medals and about 1,000 others. If you saw her swim, you would think she had fins.
13. Valentina Vezzali – Fencing
Every sport should have a World Cup. Fencing's FIE World Cup happens once a year and has both men's and women's competitions in three separate categories. Valentina Vezzali fights in the Foil category. That is simply the type of sword she uses.
She has won the FIE World Cup in Foil 11 times. Not once, eleven! That is saying she is the best to ever fight using a Foil sword. She has 41 gold medals overall during her incredibly dominating career. No woman has ever won three consecutive Olympic gold medals in Foil, she did.
Who is the greatest male athlete ever? She is close to that guy but in fencing.
12. Birgit Fischer – Canoeing
Canoeing is a fun sport to watch especially during the Olympics because it usually is the only thing on at 2am that is Live on NBC.
Birgit Fischer is the best there ever was in Olympic canoeing. She is the only athlete, male or female, to ever win more than 10 total Olympic medals, she has 12 and 8 of them happen to be Gold which is also double the second best female in Olympic canoeing, fellow German Katrin Wagner-Augustin. She has four.
11. Tamika Catchings – Basketball
The WNBA just does not get the love it deserves. Tamika Catchings, former U-of-Tennessee star, is one of the best players to wear a WNBA jersey and was named to the All-Decade team and the Top 15 WNBA players of all time list.
We could waste your time and run off a list of her awards and honors but then you would wonder why she didn't reach the top of this list. And we have an answer to that…
She is the second best to ever play in the WNBA. The best is below. Keep reading.
10. Lorena Ochoa – Golf
When Lorena Ochoa retired from professional golf and the LPGA tour back in 2010, the field took a big hit. It was the same thing Broncos fans felt when John Elway retired. It hurt. Especially the fans from her home in Mexico. She was that good.
She won 27 LPGA titles, two of them were Majors. She was also named both Futures Rookie of the Year and LPGA Rookie of the Year in consecutive years. Then she just plain took over in 2006.
From 2006 to 2009, she won four LPGA Player of the Year awards and four Vare Trophies. She also won the Heather Farr Player of the Year award in 2007 and the prestigious Bob Jones Award in 2011.
9. May-Treanor & Walsh – Beach Volleyball
As we enter the top ten, you might have noticed the level of talent has jumped 400%. So it comes as no shock that Misty May-Treanor and Kerri Walsh are this high on the list. It's impossible to separate them, so we have listed the pair together. They have changed the sport of beach volleyball in the Olympics. If you needed some help learning what the word domination meant, look up these two in the dictionary. They owned the sport. It was so bad at one point that they didn't lose a single game, not a match, but a game at the Olympics. #Insanity
8. Ronda Rousey – MMA
Ronda Rousey is the first U.S. female athlete to win any medal in the Olympic judo competition during the Summer Olympics. After that, she decided to turn her talents into a career and became a mixed martial artist. Two years after her Olympic medal, she made her first MMA debut, winning by submission in only 23 seconds.
By 2011, she was fighting for Strikeforce and remained unbeaten in her MMA career. It wasn't long before UFC President, Dana White, called on her to sign with his company and become the first female to sign with the UFC.
She is currently the UFC Women's Bantamweight Champion and World #1 consensus pound-for-pound female MMA fighter. There is not a place on the Earth where you could find her ranked second in MMA, you just can't. She is so good, she has been rumored to want to fight in the men's division of UFC to make things a little more fair. Now that would be amazing.
7. Lisa Fernandez – Softball
Lisa Fernandez proves just how much fun softball can be. When she was in college, at UCLA, she led the Bruins to four consecutive National title games, winning two of them. She is one of the few athletes you can give all the credit to. She was not only a dominate pitcher, she could hit the ball. She won 93 games (NCAA record for winning percentage with 0.930), hit 0.382 for her career (0.510 in her senior season), had 11 no-hitters (had a NCAA best 0.93 ERA in her senior season), broke seven school records, was a four-time All-American, and won the Honda-Broderick award three times. That is the award given to the best overall female athlete in college in any sport. And that's just college.
She won three Olympic gold medals, owns multiple American Softball Association (ASA) awards and records, and we forgot to mention she holds nearly 20 high school softball national records.
There has never been a female softball player that could dominate from both sides of the ball as Lisa Fernandez did during her amazing career.
6. Abby Wambach – Soccer
Women's soccer has gone from boring to watchable in ten years. One of the reasons is Abby Wambach. She has made the sport exciting to watch thanks to her unmatchable ability to score goals. She is not just a great female athlete, she is one of the best soccer players, men or women, ever to walk this Earth.
And we all remember the World Cup game against Brazil when she headed in the tying goal in the 122nd minute when all hope was lost and America was about to hit the road. (Video above)
She has 178 International goals, which is a record for both men's and women's soccer. But she is better known for being a leader then just a goal scoring robot. She has led Team USA to several honors including two Olympic gold medals and two second place finishes in the World Cup. She has also won the U.S. Soccer Athlete of the Year award six times.
She has changed the game of soccer much like Mia Hamm before her. She has become an inspiration for any athlete and has proven that hard work pays off.
5. Maria Sharapova – Tennis
When Maria Sharapova was 14 years old, she officially began her professional tennis career. And it did not take that long for her to start winning Grand Slam tournaments as she won Wimbledon at only 17 years old. That was in 2004, the same year she beat Serena Williams for the WTA Tour Championship. It was the first time in her very successful career that we were introduced to the phenom.
Over the course of her career, she has 34 tournament titles, five Grand Slam victories including winning all four of the Grand Slam tournaments with her French Open win in 2012. She is the sixth person in history to complete a career Grand Slam.
4. Mia Hamm – Soccer
There has never been a female soccer star that has had a bigger impact on female athletes than Mia Hamm. She was not just good, she was great. She won two Olympic gold medals and two World Cups to go along with her 158 goals for the US Women's National Team.
She also showed millions of female fans, mostly young girls, that they could be anything they wanted to be if they worked hard. She was an inspiration to so many female athletes that if you asked any female soccer player who inspired them to play today, we bet the majority of them would say Mia Hamm.
3. Diana Taurasi – Basketball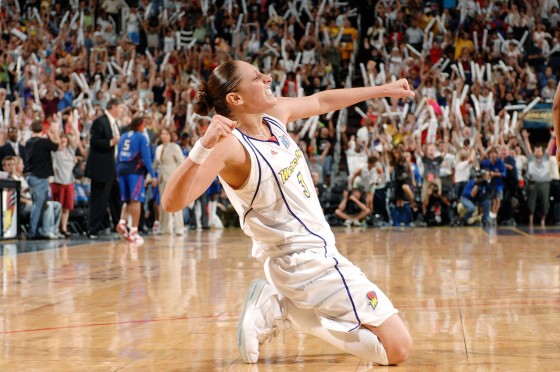 What can you say about Diana Taurasi that does not include the term best ever? It started in high school when she probably should have been playing against the boy's teams because no one, and we mean no one, could stop her. Much like Lebron James was in high school, so was Diana Taurasi. Then she went to UConn and won three National Titles while winning 139 games and only losing 8. Do we need to say that again? She won 139 out of 147 games. Was the WNBA ready for her? No!
She won another three championships, this time they were the professional kind. On top of the three WNBA Titles, she was named the WNBA's scoring champion 5 times, Finals MVP twice, WNBA 1st Team nine times, and was also the WNBA Rookie of the Year.
2. Serena Williams – Tennis
Serena Williams has outperformed just about every female tennis player over the past 15 seasons. Just look at her numbers and you tell us she does not belong up here:
23 Grand Slam finals
19 Grand Slam Wins (6 US Open Titles, 6 Australian Open Titles, 5 Wimbledon Titles, and 2 French Open Titles)
266 Grand Slam Tournament match wins
93 Career Tournament Championships (114 Finals)
13 Women's Doubles Grand Slam Wins
4 Olympic Gold Medals
34 Match Winning Streak
And on, and on, and on…
1. Annika Sorenstam – Golf
Golf looks easy. So much so that anyone with two arms and legs thinks they can do it. Unfortunately for most of you out there, a 103 isn't going to get you into Augusta anytime soon.
Annika Sorenstam changed the game of golf for women. She won 89 times, 72 on the LPGA tour and 10 Major Championships, owns 8 Rolex Player of the Year awards, 6 Vare Trophy awards, and a Rolex Rookie of the Year title. She has a career earnings over $20 million becoming the first woman in the history of the sport to surpass that mark. In 2003 she was inducted into the World Golf Hall of Fame, while she was still actively playing on the tour.
Her 72 LPGA wins is 3rd best of all-time. The 10 Major titles is 4th best. She is also the only professional female golfer to shoot a 59 when she did it back in 2001. (It was also 13-under par for the round, another tour record) Our favorite record is the 29 consecutive rounds under par. (Second place is about 11 strokes back, it was that dominate)
Her domination of the sport played by many made Annika an easy choice for the best female athlete of the past 20 years. Did we miss some of your favorites? Let us know in the comments below. For more great coverage of women in sports, visit our friends at WSN247.com