501st Legion: Vader's Fist Clone Trooper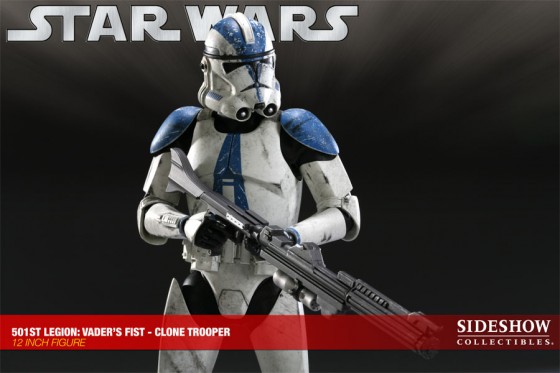 Check out this bad boy, available from from Sideshow Collectibles.
The 501st Legion: Vader's Fist Clone Trooper 12 inch Figure features:
Fully articulated male body (armored body) with 30+ points of articulation
Bodysuit
Fully detailed armor set with helmet
Clone Trooper Carbine Blaster
Clone Trooper Long Rifle
12-inch Figure Display Base with Star Wars Logo
Sideshow Exclusive: 501st Legion 12-inch Figure Display Base
An elite unit of clone troopers, and later stormtroopers, that came to symbolize the might of the Galactic Empire, the 501st Legion were the soldiers under the command of Darth Vader, Dark Lord of the Sith. Also known as "Vader's Fist," they continued to enforce order and Imperial rule well after the death of Vader.
The 501st began just as any of the other initial clone units that blazed across the rocky deserts of Geonosis in the first historic battle of the Clone Wars. They seemed identical to the other clones that infiltrated the Separatist stronghold and pushed the Confederacy forces off-planet.
The 501st Legion was split into special mission groups, often to supplement other clone missions. In some cases, they operated independent of the command structure already in place. There were 501st troopers protecting the skies over Coruscant during General Grievous' bold strike against the capital. Others provided support to clone units on worlds such as Felucia, Mygeeto, Utapau and Kashyyyk.