A Celebration Of "Green" At The Movies
Happy St. Patrick's Day! If you're not drunk and projectile vomiting a plume of green beer into a sewer grate, then you need to stop dragging those tootsies and get busy destroying the lining of your esophagus. To loosely connect the holiday with my love of film, here are ten uses of the color green at the movies that shake my shillelagh.
10
Kryptonite Ray
Superman III
Superman III is hardly a piece of cinema platinum, but it's so damn ridiculous, I find it oddly brilliant. Richard Pryor as a computer programming genius? Awesome. Napoleon Solo as a corporate douche bent on ruling the world? Double awesome. A giant kryptonite ray gun fired at the Man of Steel? Triple awesome.
9
El Corazon Emerald
Romancing the Stone
I dig Romancing the Stone a whole bunch. They just don't make action comedies set in the jungles of Colombia like that anymore. It has an unctuous Danny DeVito, a supercool Michael Douglas, Kathleen Turner before she changed into a man and one handsome green emerald worth some serious coin.
8
Soylent Green
Soylent Green
No list of green at the movies would be complete without inclusion of this science fiction classic starring Charlton Heston. I won't ruin the payoff just in case you haven't seen the flick yet (for shame), but the small wafers at the heart of the story aren't made from high-energy plankton. "Soylent Green is…"
Swords kick ass. This much we know. A sword in the hands of a Wudang warrior who can float among the bamboo treetops while fighting kicks major ass. The Green Destiny isn't just finely crafted steel. It's the embodiment of an ancient discipline few have mastered.
The gorgeous fairways of Bushwood and those who inhabited them on a daily basis can't help but conjure memories of green. Carl Spackler's war against gophers, Al Czervik's pointed barbs, Judge Smails' hysterical pomposity and Lacy Underall's beautiful breasts are all holes in one.
5
Martian War Machine
The War of the Worlds (1953)
I was around eight years old when I first saw The War of the Worlds. It scared the piss out of me. Specifically, the neon green alien War Machines and their deadly Heat-Rays. Whenever those pterodactyl-like ships appeared on the horizon, I reached for the nearest blanket to shield my frightened eyes.
4
The Green Door
Behind the Green Door
I was much older than eight when first introduced to this hardcore porn classic. Needless to say, it and Marilyn Chambers left a lasting impression on me. It's widely considered to be one of the more sophisticated adult films ever produced, and still holds its own when stacked up against today's cheaper offerings.
I've probably seen this a dozen times and it never gets boring. Truck driver Jack Burton's adventures in the bowels of San Francisco's Chinatown include an Egg, a Wang, the Lords of Death and a decrepit sorcerer named Lo Pan. And to think all this hullabaloo started over a Chinese chick with green peepers.
2
1968 Ford Mustang GT Fastback
Bullitt
Staying in the city by the bay. Steve McQueen is tough-as-nails cop Frank Bullitt, whose choice of vehicle is the classic green '68 Mustang Fastback. In my mind, the greatest car in the history of motorized transportation. Sorry Porsche, but there is no substitute for the Fastback.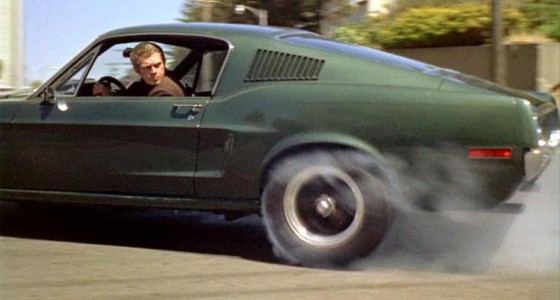 The moment green code cascaded down the screen at the beginning of The Matrix, I knew I was in for a ride unlike any other I had experienced. Everything that followed blew my mind. I'm rarely surprised at the theater, so when it happens, I make like an elephant and don't forget.