A Look at Super Bowl Betting Odds
As NFL Training Camp approaches, it seems like a good time of year to start thinking about the Super Bowl. We're not talking about just picking a winner though, we're looking for some value at the Sports book. So for your NFL betting needs, we provide the current lines for Super Bowl XLV. Oh, and we've included some Cheerleaders, because we're customer-focused.
The Favorites :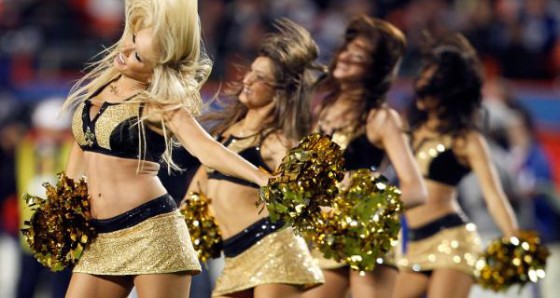 Boring, Safe picks. You really don't get any credit from your boys at the end of the season when you say, "I picked the Colts to win the Super Bowl! I'm a genius!" Chances are one of these teams will be in the big game, but show some sack, and take some longer odds.
Indianapolis Colts – 8/1
New Orleans Saints – 9/1
San Diego Chargers – 9/1
Dallas Cowboys – 10/1
The Playoff Teams:
If you get one of these teams right, you'll get some respect and a better pay-day. The Ravens and Packers are right in the sweet spot in our opinion, and seem poised to take it to the next level.
New York Jets – 12/1
New England Patriots – 12/1
Baltimore Ravens – 14/1
Minnesota Vikings – 14/1
Green Bay Packers – 14/1
Philadelphia Eagles – 18/1
Pittsburgh Steelers – 20/1
The Value Picks:
Here is where fortunes are made. Hit on one of these value picks, and you'll really have something to celebrate about. Its not too difficult to picture any of these teams winning, so just tell your wife its not really "gambling."
New York Giants – 25/1
Atlanta Falcons – 25/1
Cincinnati Bengals – 25/1
Tennessee Titans – 30/1
Miami Dolphins – 30/1
Houston Texans – 30/1
San Francisco 49ers – 30/1
You're Starting to Reach:
To me, these are teams whose lines have been propped up by over exuberant fans. You could probably double any of these lines, and be closer to their actual chances of winning the Super Bowl. We don't recommend you reach this far.
Chicago Bears – 35/1
Washington Redskins – 35/1
Carolina Panthers – 45/1
Denver Broncos – 50/1
Jacksonville Jaguars – 60/1
Seattle Seahawks – 60/1
Let's Get Nuts!
Are you serious? These are the worst franchises in the league. Bet on one of these teams, and you just might be crazy enough to work for the organization. They can't spot talent either, so you'll fit right in.
Buffalo Bills – 100/1
Cleveland Browns – 100/1
Oakland Raiders – 125/1
Detroit Lions – 150/1
Tampa Bay Buccaneers – 150/1
Kansas City Chiefs – 150/1
St Louis Rams – 200/1