A Salute to Friday the 13th
What exactly is Friday the 13th? Well, long before it was a horror movie franchise, it was just a day on the calendar that people attributed to bad luck and misfortune. Thankfully, we can at least predict when a 13th will fall on a Friday so one can be reasonably prepared: if the month begins on a Sunday, your 13th day will be a Friday. So avoid ladders and black cats. Oh, and by the way, there actually is a word for nervous folks like this: here's your fear – friggatriskaidekaphobia. Yep. But that's really not what we're here to discuss. Oh no, this is all about the amazing and storied film franchise featuring everyone's favorite burlap-sack-come-hockey masked-killer, Jason Voorhees.
So what could we possibly do an homage to that Gunaxin hasn't already touched on? Let's see, we've done a tribute to hockey masks, Horror flicks done in LEGO, a look at the comely lasses who lost their asses thanks to big J, a look at Horror cinema's best serial killers, and of course a peek a 2010's continuation of the franchise. We've even looked at the simple fact that Jason never stays dead, employs a vast and increasingly silly array of weapons, is a constant subject of artists, and gave an homage to the Gloved One Jason himself fought to the death in Jason vs. Freddy. So where does this leave us? Well, I see no reason not to have an all-out tribute featuring toys, posters, beach towels, hats, and T-Shirts, do you? Yeah, I thought not.
Jason is fun to Play With
Some Standard Toys:
When shopping for a Jason toy that truly grasps the pure terror and spine-tingling fear of an unstoppable juggernaut in filthy clothes, it's hard to go beyond the beautiful designs of MezzCo's 'Cinema of Fear' collection. These fine folks have issued a toy design of our titular slasher from each and every one of his big movies. Here are just a few samples:
Some Not-So-Standard Toys (As in 'Oddly Cute')
One of the best things about Toy companies is there innate senses of humor. When the crazily popular Mini-Figures of such tried and true toy lines like Star Wars, Marvel Heroes, G.I. Joe, and Transformers hit the stores, it was only a matter of time before Horror Icons got their due. I have a few of these and I have to say they are really cool and in constant battle with my Dr. Who Time Squad! And since there are no real available LEGO horror killers yet, Mee-Zits and Mezco have released some very well done similar toys.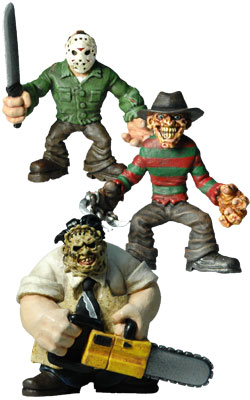 Have a Killer Time Playing Dress-Up
Who doesn't secretly want to don a gashed-up hockey mask, snatch a machete, and go on a murderous rampage through a summer camp? Oh, just me. Forget I said that. Well, even if you don't actually want to act out your deep-seeded resentment towards all things camp counselors, at the very least you can get you a pretty nice Halloween (or, Friday the 13th) get-up! Let's all dress up for Friday!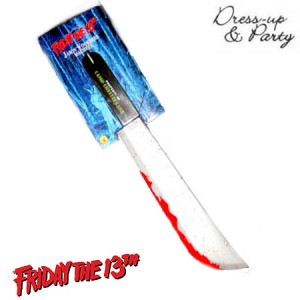 Movie Posters
The Movie Poster is quite possibly cinema's most perfect and honest piece of preview artwork. Not quite as filling as an actual preview, and often the very first thing you see that gives a slight glimpse into the actual film itself. Posters used to be quite a bit busier than they are now, and, strangely, since Friday the 13th flicks have spanned several decades, it's easy to see how the pictures themselves have changed. Here are posters of every film Jason has graced. A total of… you guessed it: 12. Had ya going there for a second, didn't I?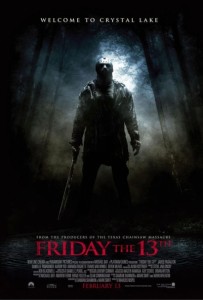 The Foreign Fare
Even other countries love to get in to the gory glory that is JASON!
Novelty Items and Jason Go Hand in Hand!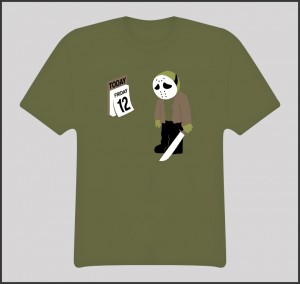 Friday The 13th Part Ta-Two! Ha! Get it?
Though I do sport quite a few tats, I have yet to branch off into the horror market. Probably because I know that 20 years from now I'll still have the tattoo. I'm not too sure how I feel about that. Anyway, all of these are really cool and very well done. Almost makes me rethink my future with tattoos… Almost.