A Tribute to Biff Tannen
On this, the 25th anniversary of Back to the Future, I figured it only be right to throw up a tribute to one of the greatest movie assholes of all time: Biff Tannen (played by Thomas F. Wilson).
I shouldn't have to tell you why Back to the Future is the greatest trilogy ever; I already did that here, but one of the main reasons is because Biff Tannen is such a great jackass. Let's look fondly back now on Howard "Biff" Tannen.
Biff Tannen – Through the Years:
How the apple doesn't fall far:
One of the best dickhead moves ever:
The many insults of Biff:
Some great Biff Tannen T-Shirts: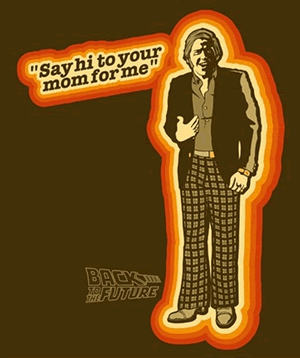 On July 3rd, 1985 the world was introduced to Back to the Future for the very first time. 25 years later it still remains as one of the greatest movies ever to be released. We here at The Gunaxin Show are huge fans of the movie so we decided we'd give it a nice big silver anniversary tribute with a bunch of articles, a Back to the Future themed Gunaxin Show, as well as an interview with Doctor Emmitt L. Brown himself – Christopher Lloyd. That's right we pull out all the stops on this one.
The Gunaxin Show is classified as Explicit, so probably NSFW, unless you work here.
Links :
Lorraine McFly – Timeless MILF