A Tribute to Goodnight Moon
Since being published in 1947, Goodnight Moon by Margaret Wise Brown has sold over four million copies, which proves that piracy has been going on since before the internet because there are 300 million people in America and I'm fairly certain more than 4 million of them have read this book.
It has been translated into five different languages, including Hebrew:
Notice the differences between this version and the English version. You'd think that this one is just flipped, right? Look at the picture of the cow in both images. He's going the same direction. They drew a completely new picture just to switch everything around on their version. This all gives credence to my theory that ISRAEL IS BACKWARDS.
Arabic, on the other hand, is not one of the five languages into which Goodnight Moon has been translated. This is because of a different theory that I have, which is SAUDI ARABIA HATES CHILDREN.
In addition to being probably the shortest book to have a "plot Summary" section on Wikipedia, Goodnight Moon has defied rational logic in its sales record for the last five decades, because its annual sales grew by about a thousand copies per year from when it was published until it was selling 20,000 annually in 1970, and has continued to grow since then. HBO did a kids special (HBO Children's Special is kind of an oxymoron, right?) named Goodnight Moon and Other Sleepytime Tales, and the toy and game company BriarPatch produced the Goodnight Moon Game: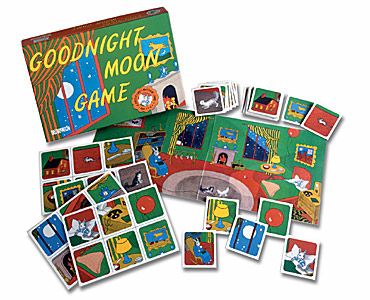 Apparently, it's a memory-building match game, which is stupid because kids are just gonna get Alzheimer's anyways, so they could have made "Goodnight Clue" instead. By the way, a "Goodnight Moon" version of Clue would be absolutely awesome.
As I was Googling, and by Googling, I mean researching, I came across something called "Goodnight Moon Movielink Exclusive," which made no sense to me for reasons I'll explain later; I nonetheless clicked on it hoping to see some sort of weird indie film version of a childhood classic, and instead I got this (NSFW). Basically it's a short film where Pete Wentz from the quasi-talented band Fallout Boy makes out with a hot chick, and there's an old man tied up in a corner, and someone gets shot. Maybe I'm not doing the film justice by giving such an uninformative description, but then again maybe they shouldn't have named their movie after a book from my childhood.
Whatever that YouTube video is a trailer for only bolsters my dislike of Fallout Boy, which would be as much as my dislike of the Jonas Brothers, except for their name. Fallout Boy is actually the name of Milhouse's character in The Simpsons episode "Radioactive Man."
I really hope the band knew that when they chose their handle because it's a really stupid name if there's no reason behind it.
The reason a movie version of Goodnight Moon makes no sense is that it's not a story. It's just a rabbit's ritual of saying goodnight to things around the house. Frankly, I can't imagine a plot that would fit. Unless there was a terrorist plot to blow up the moon. Unless the rabbit killed the cow! I wonder if we could get Air to do the soundtrack?
Given its observation-based structure, Goodnight Moon does make for good satire. For example:
And I think that there is always more room for different versions of Goodnight Moon, so here's "Goodnight Dood."
Yeah, I'm not gonna finish that, but you get the idea. So now that you've been reminded of the existence of the book Goodnight Moon, buy it and read it to your kids. Or, if you're lazy, go buy the audio version and have someone else read it to your kids.