A Tribute to Ken Ober & MTV's Remote Control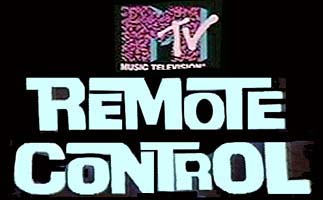 When director John Hughes passed away unexpectedly a few months ago, it was a sucker punch to the gut, like the kind that killed Houdini, only this punch killing a piece of my childhood.  When I heard last week that Ken Ober, host of MTV's much loved Remote Control game show had died, it was like an accidental poke in the eye, just as unexpected and still causing some bodily discomfort.
Remote Control is my favorite game show of all time.  It was the first game show aimed at the MTV demographic.  Sure I was only 11 at the time it came out in 1987, but I was wise beyond my pop culture years, just as much a child of the boob tube as the Quizmaster of 72 Whooping Cough Lane, Ken Ober. The premise was that the host turned his love of TV into a game show in his own house.  "It's his basement, it's his rules, it's his game show," was the opening proclamation, growled by a young Colin Quinn, who while looking like Kenickie from Grease, sounded like a 75 year old with a three pack a day smoking habit.
The set was made to look like Ken's Basement, with college-aged contestants sitting in brightly colored La-Z-Boys with seatbelts and armed with remotes, there was a washer and dryer on one side, Ober's podium was surrounded by his game show host 8×10 collection and watching over it all was a six foot Pez dispenser of Bob Eubanks, whose head, I believe, was actual size.  To Ken's right was his motley crew of Quinn, music director Steve Treccase, and a revolving door of hostesses, the most popular of which was redheaded sex kitten Kari Wuhrer, who went on to a fulfilling career starring in Skinemax classics with one word titles like Luscious, Boulevard, and Poison.
The vibe of the show was what made it so great. It was loose, fun, self-deprecating, goofy, and still managed to parody game shows and current pop culture.  Ober was a brilliant ad-libber and master ringmaster, reigning deftly over his cast and the mostly Greek-letter adorned college student contestants who would hit each other with pillows and talk trash.  Remote Control was the only game show to ever have an announcer who smoked on-screen giving wet willies to the contestants, a dude playing TV theme songs on a Casio keyboard, and the host's 'mother' yelling down from upstairs in the middle of the show with a lame joke. In this insane clip, a young and wacky Red Hot Chili Peppers are guest contestants and Denis Leary plays an animal trainer who threatens a pig with a meat grinder at one minute and 40 seconds in.
The quiz portion of the show consisted of two rounds of questions broken into categories like "Inside Tina Yothers" and "Dead or Canadian" plus bit-based categories like "Beat The Bishop," where a contestant would have to do a simple math problem before a guy in a Bishop costume completed a lap around the studio .  Other characters and guest stars would also pop in to help out such as Stud Boy- a young Adam Sandler who would describe which celebrity he was banging for the contestants to guess, game show stalwart Nipsey Russell who recited limericks missing their punchlines, and other guests like Jerry Mathers (the 'Beav') and LL Cool J.
Other awesome Remote Control signatures included Snack Time, where the contestants would hold a bowl on their heads and snacks would rain down from above and then promptly be used for food fights.  When it was time for losing contestants to go 'Off The Air', the middle recliner would fly backwards and smash through the wall for the student to be terrorized by hand puppets, stagehands in monster masks and sometimes even 'Weird' Al Yankovic.  One section of the back wall would spin around like a secret bookshelf in a mystery movie to eliminate another, and the coolest game show sendoff ever was the chair that would flip backward and upside down into the wall.
The winner of rounds 1 and 2 and the 'Think Real Fast' lightning round went on to the final challenge of naming the artists in nine music videos in 30 seconds.  In the regular version they would be playing simultaneously on nine TVs turned sideways and upside down, and later on the syndicated version there were two monitors, but the contestant was strapped to a big metal wheel that was spun the whole time (by Quinn, in true low-budget fashion).  Naming all nine was a lot harder than it sounds.  Not even I, as a kid who just got cable and spent most waking moments watching MTV, could pull this off very often, and most of the college kids ended up walking away with nothing more than a pair of Ray-Bans, a few CDs, a light up phone and some L.A. Gear sneakers.
Original Final Round

Final Round with Wheel

While many seem to only vaguely remember it, Remote Control was big enough back in the day to spawn not only versions of it in other countries, but tons of merchandise, from t-shirts and sweatshirts to actual Remote Control remote controls, plus several home versions in the form of a board game, a computer game and a Nintendo version. Naturally, none of the home games came close to replicating the awesomeness of the original.  There just isn't a way for an 8-bit Colin Quinn to hurl insults at you while smoking, a pixelated Ken to acknowledge a heckler from the audience or Kari to seductively pose next to a word processor, with turkey timers letting us all know Thanksgiving dinner is ready.
Ober's passing was way worse for me than the modern day dismemberings of my other childhood favorites like Transformers and the upcoming A-Team.  At least those carry on in one horribly mutated form or another.  Remote Control and Ober, unfortunately, do not.  Doesn't MTV have a 'Classic' channel yet?  Game Show Network has got to have an open late night slot somewhere for Remote Control.  Where's the DVD anthology?  If I don't get some answers soon, I'm going to have to call Michael Bay.  But I'd really prefer Kenny rest in peace.
For more Remote Control check out:
Remote Control Video Clips