A Tribute to Sloth From 'Goonies'
June 17, 2009 marks the 20th anniversary of the death of football player/actor/strongman John Daniel Matuszak, best known to us kids at the time as the forsaken and deformed Lotney 'Sloth' Fratelli, from the 1985 film The Goonies. For those of you who don't know, Sloth's deformity is the result of being dropped by Ma (the ravishing Anne Ramsey) several times when he was a baby. He is friends with Chunk (see Gunaxin's Tribute to Chunk).
I was disappointed to learn that Matuszak doesn't really look like that. It's makeup. To me, that's like learning Santa Claus wears a fat suit. Here are some photos from thegoonies.org that shows Matuszak turning into Sloth: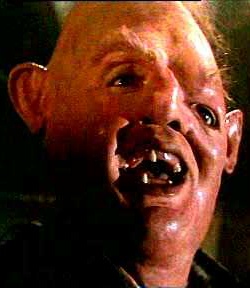 (I'm assuming the first three photos are flipped) The makeup was created by The Burman Studio team.
Here are my five favorite Sloth quotes:
"Mama, you've been bad."
"Hey, you guys!"
"Rocky Road? Heh Heh!"
"Ruth! Ruth! Baby! Ruth!"
"Sloth love Chunk!"
Here's what Sloth looks like as a cartoon character:
Now, let's go shopping for Sloth stuff:
If you don't like the 7 inch version, buy the 12 inch one:
Comic Con 2008 Exclusive 12 Inch Deluxe Figure Sloth

This one comes with a cloth coat and shirt (with a hidden secret beneath), a removable pirate hat, a sword, and of course, a pint of Rocky Road ice cream. There's also a limited edition 12 inch vinyl designer figure for a hell of a lot more money.
But why stop with Sloth when you can get Data, Mickey, Mouth and Chunk, too?
The Goonies Action Figures Set of 5
And of course, you need to get this:
I Love Sloth Sticker

But if your interested in Goonies stuff other than Sloth (and why would you be?), find it here: Amazon.com Goonies stuff.
By the way, there are rumors that Goonies II coming out. No word yet on who plays Sloth.
Now, let's watch some of Sloth's greatest moments:

Sean Astin (Mickey) on John Matuszak