Absinthe: Sucks or Rules? – Masters of None

Absinthe- A mysterious liquid that has a legendary history. Some of the most creative minds in history swore by this beverage and some can even blame it for their ultimate mental demise. Vincent Van Gogh, Oscar Wilde, Edgar Allen Poe, and Ernest Hemingway are just a few of the notable people who imbibed in the green liquid exclusively. At this point we figured – why not us? We can't get any less creative. On this week's show, we try and rate absinthe with our patented "Sucks or Rules" debate.
Since absinthe has been legal in America, we have flooded the absinthe market with more absinthe mixed drinks than you can shake a stick at. If you are so inclined to take a walk to the emerald city and enjoy what some people call "The Green Devil," here are a few ways you can enjoy it.
Van Gogh's Garden
1.5 oz Lucid Absinthe
.5 oz simple syrup
club soda
kiwi fruit
cucumber
Muddle two cucumber wheels & two peeled kiwi wheels with the simple syrup in a double rocks glass. Fill with ice and add the Lucid Absinthe. Top with club soda. Garnish with an unpeeled kiwi wheel on rim of the glass.
Awakening
1 oz Lucid Absinthe
1 oz coffee liqueur
1 oz crème liqueur
In a rocks glass combine Lucid Absinthe,
coffee liqueur and crème liqueur.
Hypnosis
1 oz Lucid Absinthe
1.5 oz Hpnotiq
.5 oz lemonade or sour mix
2 oz lemon-lime soda
1 lemon wedge
Fill a tall glass with ice and add Lucid Absinthe, Hpnotiq, lemonade and fill with lemon-lime soda. Garnish with a lemon wedge.
[podcast]http://www.podtrac.com/pts/redirect.mp3/traffic.libsyn.com/mastersofnone/MON_6_4.m4v[/podcast]
Masters of None – 6.4 – Absinthe: Sucks or Rules?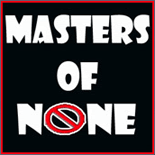 Gunaxin is proud to be partnering with Masters of None, and featuring their content here on our site. Masters of None are former radio guys Mike, Art & Jay, who debate and answer mankind's most important questions each week. Along the way you'll encounter unsustainable amounts of movie quotes, horribly tasteless jokes, TV references, offensive comments, old radio bits, biting insults, tall tales, unsportsmanlike conduct, raping and pillaging of all things pop culture. It's a comedy podcast that doesn't suck.
---