Five Actual Facts About Chuck Norris
Chuck Norris is a myth, a legend, an Internet meme.. in the past, he's also been a Republican spokesman, a movie star, a martial arts champion, and more. We've all seen them. The memes still pop up. Chuck Norris won American Idol with sign language. The flu gets a Chuck Norris shot. They found Chuck's diary.. it is now known as the Guinness Book of World Records.
Well, in real life, Chuck Norris is actually pretty damn badass, even without the memes. Here's five facts about him that you may not have known.
1) His Name Isn't Chuck
The name "Chuck" isn't short for "Charles," it's short for "Carlos." Norris' full name is Carlos Ray Norris. Which itself is a pretty kick-buttocks name anyway, but it would be more suited for the "lover and fighter" type rather than the "fighter and more fighter" type that Norris build his reputation on.
2) Chuck Norris Was The First Western Taekwondo Grand Master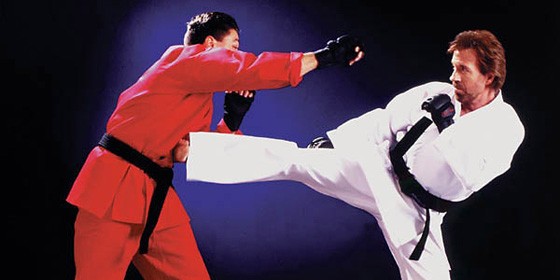 Norris is known primarily for karate, but he's put his hands (fists?) to a variety of martial arts, which he eventually blended into his own. On-screen, of course, Chuck is best known for his roundhouse kick, but on the mat in tournaments, he was better known for his fast twists and throws. Many of those he learned in his journey towards one of the greatest achievements he's ever made. That's according to Chuck himself, who considers his title as an 8th degree Black Belt Grand Master of Taekwondo to be one of his life's greatest feats. He was the first person in the Western Hemisphere to ever achieve that honor in the 4,500-year history of the martial art.
3) Chuck Norris Taught Bob Barker How To Beat Up Happy Gilmore
This might sound like another meme, but it's actually true. Well, sort of. Like most well-known martial artists who have worked the transition into Hollywood fame, Norris had several famous martial arts students before hitting the big time on the big screen. Included in that list was Bob Barker, who later had a cameo in Happy Gilmore alongside Adam Sandler, where he beat him senseless on-screen. We're just putting two and two together, folks. Other famous students in Norris' history include fellow badass Steve McQueen.
4) Chuck Norris Didn't Invent the Special Forces, But He Is a Veteran
Rumors of Norris and his movies being the impetus for the Green Berets, Navy SEALS, and Delta Force are false. Norris was, however, once in the Air Force, which he joined immediately after graduating high school. Since then, Chuck has been named "Veteran of the Year" for his work with the Veteran's Administration to bring awareness about health care for military veterans. He's also been made an honorary Marine. Rumors that he's the reason Mexico is afraid to invade Texas, however, may be exaggerated.
5) Chuck Norris Has His Own Martial Art
As we hinted at before, Norris has his own martial arts style. Called Chun Kuk Do, the art focuses on developing the student's potential by fostering love, happiness and loyalty in the family. The martial art uses a mixture of styles Chuck learned over the years to build goal-oriented workouts and self-defense techniques for the student. Chun Kuk Do flourishes in Texas and California with many of Chuck's original students now teaching others.