Adrian Peterson's Orange Peanut
The brilliant folks at Bad Lip Reading produced their funniest video to date when they released their take on the NFL. You've likely seen it by now (as it has nearly 25 million views) but if not, we have embedded it below for your amusement :
One of the more hilarious parts of the video features Adrian Peterson showing childlike wonder at the prospect of receiving an Orange Peanut. You remember those right, otherwise known as Circus Peanuts?
That portion (and the video in general) even inspired a catchy remixed version, entitled "Orange Peanut."
So fast forward to this week in Hawaii for the Pro-bowl, and a Reddit user created an Orange Peanut, just for Adrian Peterson. Upon being presented with the over-sized circus peanut he beamed, "An orange peanut? For me?"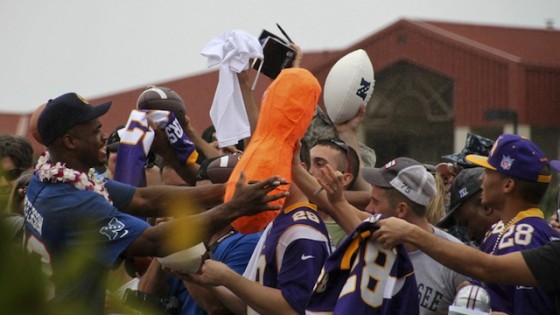 Peterson then proceeded to autograph the peanut and give it back to the fan, who was left with a one of a kind piece of sports memorabilia, and some awesome photos.