Affliction: Fedor Vs Arlovski Pre-Fight Analysis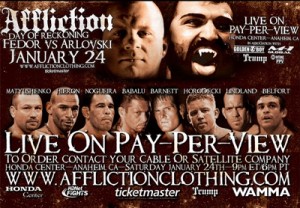 After the collapse of Pride Fighting Champship in 2006, Fedor Emelianenko had been standing on the sideline for quite some time. In 2007, there were Matt Lindland, who was considered as the top middleweight fighter of the world at that time, and Hong Man Choi, a 7'2" giant who knew nothing about fighting, challenged the best heavyweight fighter to ever step onto this planet. But none of those two posed any danger to the Sambo fighter, as both men almost lost an arm to Fedor. Then last year, Affliction Entertainment put up a great event for all the MMA fans around the world, with former UFC heavyweight champion Tim Sylvia versus Fedor as the main event. Sylvia was supposed to be a threat, a tough challenge that Fedor hadn't faced for few years since he last fought Cro Cop in 2005. As we were anxiously watching as soon as the fight started, Fedor dropped Sylvia with hard punches coming from left and right, then jumped on his back and finished him with a RNC. All that happened in just 36 seconds.
This Saturday, we are going see Fedor fight another former UFC heavyweight champion, Andre Arlovski, in Affliction – Day of Reckoning. This fight is going to be a good test for Fedor, at least this is what I believe. If Andre can stay on his feet, with his good counter-fighting ability and athleticism, he should be able to survive the onslaught for more than 36 seconds. Let's just hope Andre could put up a great fight for the fans, because I'm sure no one wants to see Fedor walks out of the ring in less than a minute again.
[poll id="14″]
Affliction – Day of Reckoning L.A. Press Conference