Ah, Uma Thurman… How You've Fallen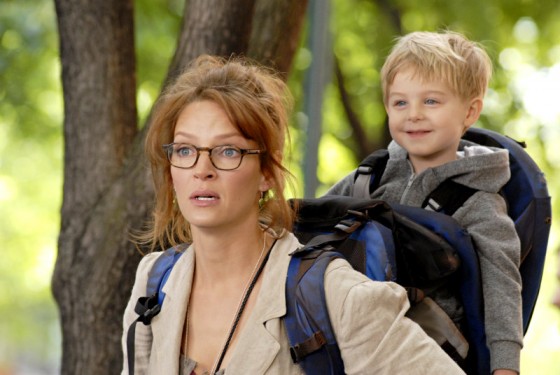 It seems that lately, horrible movies have been what's up in the news. First, we have Kevin Smith's directed-but-not-written stumble, Cop Out. Oh sure, it had funny moments, but it certainly didn't make up for the disaster that was Zack and Miri (I write these words with heavy heart since I love Kevin Smith). Then, Oscar winner Sandra Bullock receives her Razzie award for her outright flop, All About Steve. Next comes the apology for what is largely considered the biggest big-budget box office disaster of all time: Battlefield Earth. And now, we have word that once Hollywood powerhouse and wielder of the Hattori Hanzo sword has collapsed under the weight of a poorly reviewed and generally ignored film in which she plays what might be the origin of Poison Ivy, judging by her hair. Yes, Uma Thurman's newest movie, Motherhood -that just recently debuted, and was subsequently nearly completely ignored, in the UK- was, without a doubt, the least money-making film ever. According to Yahoo, this is hilarious:
"According to box office estimates, "Motherhood," which follows a red-headed, harried mom who tries to hold on to her "creative" side while raising kids, made just $130.00 in its UK opening weekend. To break down the math even further: of the 12 people who attended the film on its first weekend in theaters, 11 went on Saturday and just one bought a ticket on Sunday. To put it in industry analysis terms: word of mouth on this film could not have been good."
Wow. That's just stunning and outright hysterical at the same time. Ah but one can't really complete this FAIL cake without frosting injury with insult. Apparently, while all this was going on, other stuff that was ruining Uma's life was happening in the wings:
"… London's "Daily Mail" published emails in which rocker and constant tabloid presence, Courtney Love, claims to be dating Thurman's ex, hotel mogul, Andre Balazs."
Oh Uma… we're so sorry. We'll just get by remembering all the great times we had watching you kick acres of ass in Kill Bill. We'll be fine, we promise.