All-New Lexus GS 350 Sport Sedan is Coming
For the second year in a row, Gunaxin is participating in the launch of a new vehicle during the Super Bowl. This past year, you may remember that we went on the Chrysler 200 Road Trip which ended up at the Super Bowl, where they first aired that sweet Eminem commercial. This time we've been invited to help celebrate the launch of the All-New Lexus GS 350 Sport Sedan, and its Super Bowl commercial. Here is a bit of info from the press release :
Bringing sophisticated style, exciting performance and advanced technology to the luxury sport sedan segment, the new 2013 Lexus GS 350 comes to dealer showrooms in February 2012. Its arrival will be heralded by Lexus' first-ever Super Bowl commercial, followed by Lexus being the Official Automotive Marketing Partner of the Sports Illustrated swimsuit issue.

"The launch of the all-new Lexus GS is so big that nothing short of the Super Bowl and the Sports Illustrated swimsuit edition would do it justice," said Mark Templin, Lexus group vice president and general manager. "We'll also support the launch with a strong presence across all media, including a Consumer Performance Drive tour to encourage hands-on experience with the 2013 Lexus GS."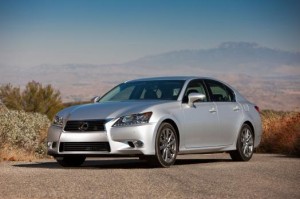 So how are we participating in this exciting news? We're heading to Las Vegas, where we'll have the opportunity to learn about the vehicle and then test drive that puppy on the Las Vegas Speedway. Yeah, that doesn't suck, at all. But it gets better. The GS is inspired by Lexus' supercar, the LFA, which is pictured below. They'll have the LFA on-site so we can feel the rush of a few speed laps while riding in this $375,000 car:
So look out for much more on the new Lexus this winter, including a chance for you to win a prize pack inspired by Lexus Enform® – a safety, navigation, entertainment and communication system that includes apps from partners like Pandora, MovieTickets.com and OpenTable.