Archer: The Complete First Season On DVD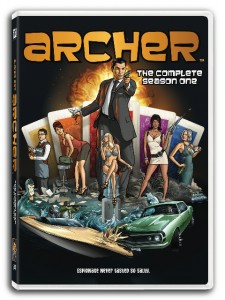 Archer The Complete First Season arrives on DVD December 28, 2010. FX's original animated half-hour comedy series premiered January 14, 2010. The show is set at the International Secret Intelligence Service (ISIS), a spy agency where espionage and global crisis are merely opportunities for its highly trained employees to confuse, undermine, betray and royally screw each other.
The series features the voices of H. John Benjamin (Family Guy) as suave master spy Sterling Archer, whose less-than masculine code name is "Duchess"; Jessica Walter (Arrested Development) as his domineering mother and boss, Malory Archer; Aisha Tyler (24) as his ex-girlfriend, Agent Lana Kane; George Coe as his aging-but-loyal butler, Woodhouse; Chris Parnell (30 Rock, SNL) as ISIS controller and Lana's new love interest, Cyril Figgis; Judy Greer as Malory's lovesick secretary, Cheryl; and Amber Nash as Pam, the director of human resources for ISIS.
Exclusive DVD extras including un-aired Archer pilot, "Making Of" production shorts, & deleted scenes. The  2-Disc DVD sells for $29.98 and can be picked up at Amazon.com. You can also be entered to win a copy of the first season by following us on Twitter!