Armor All Ultra Shine Wash Wipes : Review
This is a sponsored post written by me on behalf of Armor All.
All opinions are 100% mine.
Even before we could drive, we were using Armor All products to help our fathers to clean the family car. Now we've been driving for over two decades, and have been using Armor All to keep our own vehicles clean ever since. So when we were asked to try out the latest product from Armor All, we were happy to share the experience with our readers. Armor All Ultra Shine Wash Wipes let you wash your car anytime, anywhere, without water. According to the packaging, they offer "Fast 1-Step Cleaning." We don't want to rush past our favorite step though, so for us, it is more of a 2-Step process.
Step #1 – Get Vehicle Dirty!
Our favorite way to get a vehicle dirty is always to take it off-road, but there are many ways you can accomplish this step. Driving on salted and sanded roads during the winter? Dirty. Working near a dusty construction site? Dirty. Parking near pollen dropping trees? Dirty. Splashing in a puddle on your way to work? Dirty. Bird droppings on your hood right after you pull out of the gas station car wash? DIRTY!
Step #2 – Wipe, Wipe, Wipe
Ultra Shine Wash Wipes are extra-large, pre-moistened wipes that allow you to remove soils like dirt, dust, bird droppings, road grime and more, all without using water. So they couldn't be any easier to use. Just pull the wipe from the package, and wipe, wipe, wipe.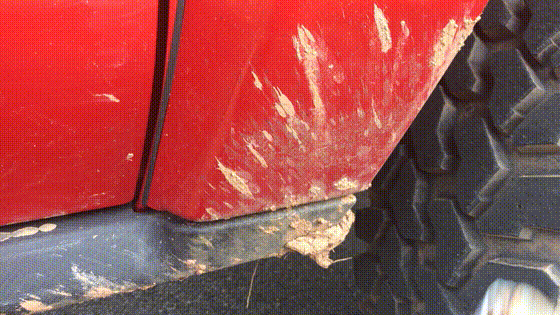 As you can see, we were quickly able to clean the dried up mud off a portion of our vehicle. The amount of time it takes and the amount of wipes that you use is really going to depend on how large your vehicle is, how dirty it is, and how clean you want to make it.
These wipes probably weren't made for cleaning up your entire truck after a day of serious off-roading, because the wipes will quickly become covered in mud. However they are perfect for those instances when you just splash some mud behind the wheels in a few places, and you want a touch up.
After a few minutes working on cleaning the truck, we turned our attention towards our long-term loaner sedan. It was covered in pollen, some bird droppings, and other typical road dirt. It's a bit difficult to see in this animated GIF, but the wipe made quick work of this more typical level of dirt.
It really was just as easy as wiping, no real elbow grease required. We took the picture below to show you clearly what it looks like before and after using the Ultra Shine Wash Wipes. That's what we call working smarter, not harder.
Twelve XL wipes come in each package, which should be more than enough to clean a typical car with a typical level of dirt. If you live in an area that is water restricted due to drought, this is definitely a viable way to wash your entire car. However we think the best use case for this product is to use it for small areas, and touch-ups in between full traditional car washes. Of course you're also going to want something to help you clean the tires & trim, and even wax the vehicle when you're done.
We were delighted to discover that Armor All has a full range of products to clean, shine and protect your vehicle. Visit their online Product Advisor at armorall.com to find the right Armor All product for your car care needs.