As if the Minnesota Timberwolves Weren't Pathetic Enough…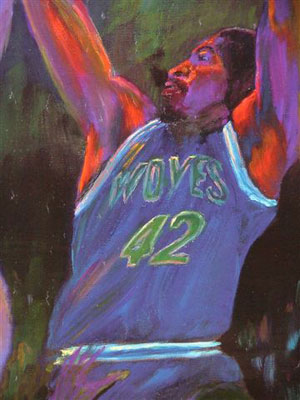 Oh, cruel irony. The Minnesota Timberwolves don't exactly have a lot going for them. The franchise has a career 669-929 record or a .419 winning percentage. They've made it past the first round of the playoffs exactly once. They traded star Kevin Garnett only to see him promptly win a championship with the Boston Celtics. Basically, nothing good goes their way.
But this season marks their 20-year anniversary as a team, and they're trying hard to honor their history, as pathetic as it may be. Sunday night was Sam Mitchell appreciation night, with the first 5000 fans to receive a poster of Mitchell as a memento (see picture to the right). Now Mitchell is no star, but he was a long time Timberwolf and one of the franchise's better players.
Just one problem. The poster is supposed to show Mitchell in his "Wolves" Minnesota jersey. Except there's no "L". That's right, he's wearing a jersey that is misspelled, saying "Woves." How a team that racks up more Ls than most in the league can forget that letter is difficult to understand. And to add insult to inury, it was not only Sam Mitchell night, but it was also one of two "Read to Achieve" nights on the season. Stay in school kids!
Chalk another one up for Minnesota in their efforts to be the laughingstock of the league.
[HT: TWolves Blog]