Badass Vehicles of Jurassic World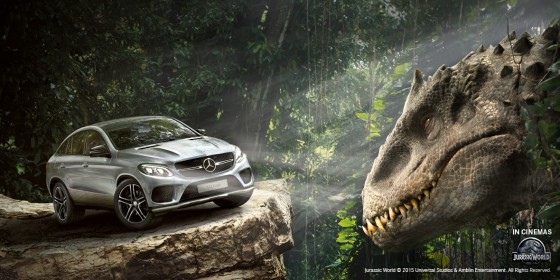 Product placement was fairly prevalent and blatant in Jurassic World, with the new 2016 Mercedes-Benz GLE Coupe receiving some lingering shots and flattering camera angles. The image above confirms that indeed Mercedes knew exactly what they were doing, and if you noticed it during the film, that was intentional. Check out this "Making of" video from Mercedes for more background on their vehicles featured in Jurassic World…
While the GLE Coupe looks nice (and even nicer with Bryce Dallas Howard behind the wheel), there were plenty of other vehicles in starring roles.
The graphic above was created by Baptiste Colidert, who has literally hundreds of images of vehicles and toys from the film on his Flickr page. For this feature though, we're going to highlight three of our favorites from Jurassic World…
1) Gyrosphere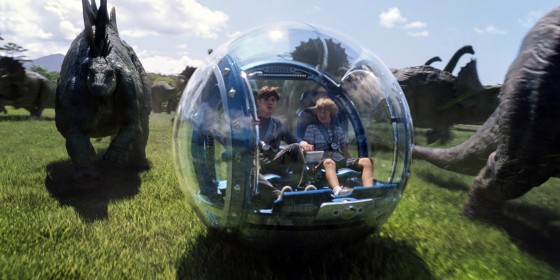 By far the coolest vehicle in the film was this fictional creation, the Gyrosphere:
The Gyrosphere reaches speeds of 5 mph and has a built-in computer monitor to identify the prehistoric wildlife that can be observed. To prevent harassing the animals, the vehicle will automatically roll backwards toward a safe distance if it is too close to an animal. According to Jimmy Fallon in the Gyrosphere instruction video, the glass is able to stop a 50 caliber bullet and can protect the guest from the venom spit of a Dilophosaurus.
…apparently an Indominus Rex is more powerful than a 50 caliber bullet, and can wipe the smile right off that kids face.
2) Mercedes G63 AMG 6×6
The Mercedes G63 AMG 6×6 is used as a troop carrier in the film, and things don't end well for its payload. This truck offers two driven rear axles, four locking differentials, 536 hp and 561 lb-ft of torque from a hand-built twin-turbo V-8 and 37-inch military-style tires. If you're looking to purchase one of these, you'll need more than $630,000. The bad-ass image above was concept art, but in the film it actually looked much more stock (followed by a custom Sprinter Van) :
They actually featured the 6×6 on TopGear last year, if you want to see what it can really do off-roading with Richard Hammond :
3) Triumph Scrambler
The Scrambler is made by the popular British company, Triumph Motorcycles. The scenes featuring Chris Pratt riding this bad boy through the jungle with his pack of Raptors were fairly ridiculous, but that doesn't diminish how awesome this bike is. Unlike the other vehicles featured in the film, a Triumph is quite affordable, starting at around $9k for a stock Scrambler. Check out this video of Pratt discussing his stunts: