Bahama Breeze is Your Summer Destination for Good Times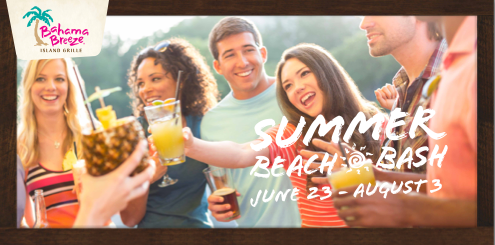 This post brought to you by Bahama Breeze. All opinions are 100% mine.
Summer is definitely heating up, which means it's time for summer fun in the sun: good friends, live music, cold drinks, and great food. This summer, Bahama Breeze is your destination for good times with the Bahama Breeze Summer Beach Bash. We're talking live music that will bring the sounds of the Islands to the patio and a mojito bar where you can choose your fruit and rum, then watch the bartender muddle a sweet summer cocktail. They're also featuring the must have frozen drink of the summer served in a fresh cut pineapple. They call it the Ultimate Pineapple, and it's made with Bacardi Oakheart, Coco Lopez and Myers's Original Dark Rum. Check it out :
The Summer Beach Bash started this week, and runs till August 3rd. We can't wait to join the party, so we'll be hitting our local Bahama Breeze in Towson, Maryland this Saturday night. We'll be sharing some photos on social media so you can follow along, but we want you to get out of the house and enjoy the bash too. Come introduce yourself, and we'll buy you an Ultimate Pineapple! See the Bahama Breeze website for other locations and the music lineup so you can join the Summer Beach Bash in your city. While you're there, take a selfie and enter the #MyBBSelfie Instagram contest for a chance to win a $25 #BahamaBreeze gift card!
** UPDATE ** : Check out the recap of our recent visit to Bahama Breeze, and enter to win a $50 Gift Card to help get your visit to the Summer Beach Bash started!