Ballpark Grub at Miller Park
Miller Park opened in 2001 and is the home of the Milwaukee Brewers. It's one of our favorite ballparks in the league, so we were delighted to get a chance to catch a game there as part of the Kia Turbocharged Weekend with Men Who Blog. The Brewers haven't been very good this year, but we saw an awesome victory for the home team… well the first half of it anyways. What happened after that was a smorgasbord of ballpark grub that left us in a sausage coma.
Tailgating isn't typically something you see at a baseball game, but Miller Park is well-known as the most tailgate friendly park in all of Major League Baseball. So we made sure to take advantage of the opportunity, and packed up the Kia Optima and Kia Sorento with eight guys and everything we needed for the pre-game festivities.
The parking lot was abuzz with cornhole, ladder ball and kids playing catch while grills were set ablaze to prepare various meats for fan consumption. Our hosts from DriveShop grilled up a great spread of typical Milwaukee favorites, with some brats and local brews. If we had known what was coming though, we definitely wouldn't have filled up outside the stadium.
Halfway through the game we were greeted at our seats by the Concessions Manager from Delaware North Sportservice. They handle all of the concession catering for Miller Park (and many other venues) and heard our MenWhoBlog group was at the game. For the next several innings he treated us to a culinary tour around the ballpark, where we tasted many diverse offerings available at Brewers games. Below we've highlighted three of our favorites, which are all new this season from Delaware North. They're definitely bringing the creativity in an effort to capture the imagination (and dollars) of baseball fans.
The "Down Wisconsin Avenue" Brat
It's a good thing they photographed this sandwich with some baseballs for scale, otherwise you may not realize just how big this thing is. That's 18 inches of sausage, and they top it with pretty much every ingredient you can think of; Shoestring Fries, Gravy, Cheese Curds, Frizzled Sauerkraut, Cheese Sauce, Fried Jalapenos, Sour Cream, and Chives. It'll set you back $20, but will easily fill up two people for dinner. It's absolutely ridiculous, but that's why we love it. The Down Wisconsin Avenue Brat looked even bigger in person…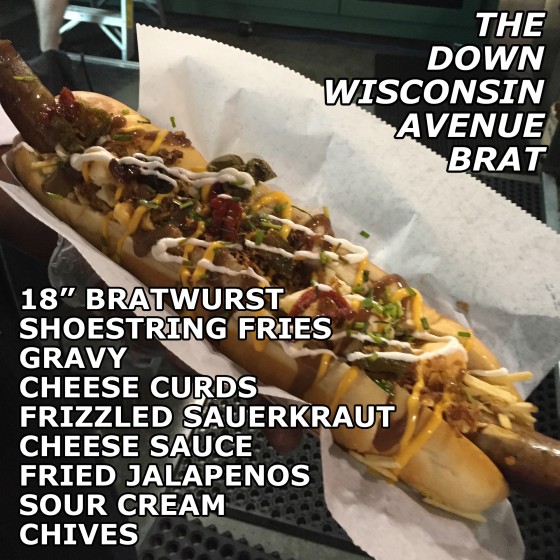 Inside the Park Nachos
The Inside the Park Nachos are essentially deep-fried nachos on a stick. Inside is taco flavored beef, but it's been crusted with Doritos. It's honestly a combination that you wouldn't think would work all that well, but it's surprisingly successful. We would order ours without sour cream, but then we'd eat the hell out of these things. We can easily see these arriving on the state fair circuit this summer.
Bratchos
Bratchos are definitely the most brilliant thing we encountered at Miller Park, even better than the "Bud Selig Experience." Bratchos are essentially Wisconsin in a bucket. We're talking kettle chips smothered in three types of sausage and sauerkraut and then covered in other typical nacho ingredients. Get yourself a bucket of happiness and cheer on the Brew Crew!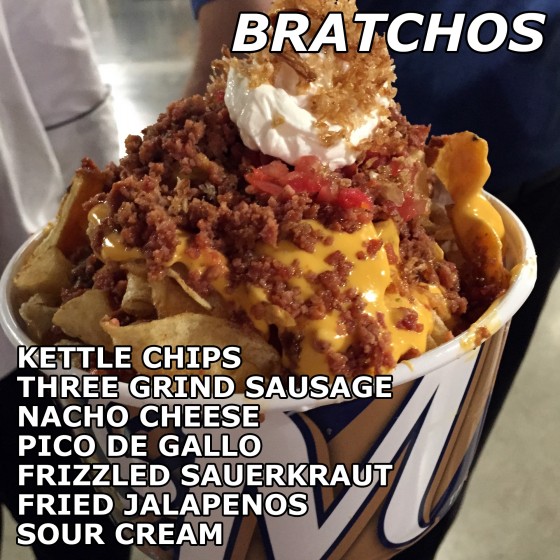 It was definitely a sausage filled day at the ballpark, so what better way to end the festivities than to meet the famous racing sausages from Miller Park? We were escorted to the underbelly of the park (check out all of those kegs!) where the Klement's Famous Racing Sausages were preparing to do their thing. They were gracious enough to pose with us for this amazing photo. It was a real Sausage Party in more ways than one.