Best of the 2014 Chicago Auto Show
Manufacturers often announce new models or special editions at press conferences before the doors open to the public at Auto Shows. They'll also put together special vehicles for shows like SEMA, CES, or even Comic-Con. As the largest in North America, the Chicago Auto Show is no different. But unless you stay on top of the news constantly, it's tough to sort out what's new, from what was released within the past few months.
So for our Best of the 2014 Chicago Auto Show, we're not really going to focus on what specifically was unveiled over the past two days of media previews at the event, we're instead going to just highlight the coolest things we saw (and photographed) on the floor. These are our highlights, that we recommend enthusiasts check-out when they attend the show over the next week. We've narrowed the list down to fifteen, and have ordered them alphabetically, rather than use some arbitrary ranking…
BMW Electric Vehicles
The All-Electric BMW i3, due later this year, has an entirely carbon fiber bodyshell and a 6-month waiting list. We had a chance to test-drive one of these beauties last month at CES, and we can see why they are already so popular. It offered an amazingly fun ride with instant torque, and eco-friendly materials throughout. The styling is unique and upscale, and the i3 seems poised to become the vehicle of choice for folks looking to upgrade from their Prius.
The 2015 BMW i8 is so sporty and futuristic, it seems like the ideal challenger to the Tesla Model S. Although both of these vehicles are hidden at the back of the BMW display, they are probably BMW's two most impactful new products, and deserve a visit if you're heading to the show.
Camp Jeep
One of the highlights of any Auto Show is Camp Jeep. While they keep you clean and dry, Jeep brings the thrills with a 35° incline and decline. Professional and knowledgeable drivers take you through the challenging course like it was nothing, and their very capable vehicles are put on glowing display. It's just a preview of what owning a Jeep could be like, if you want to push your rig to the limits. While you're likely to encounter a line, the experience is worth it.
Chevrolet Corvettes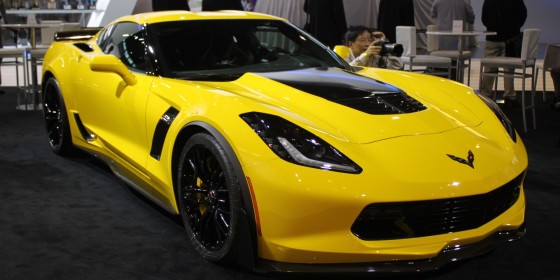 Chevrolet turned some heads with the introduction of the new 2015 Corvette Z06 in Detroit last month. But if you haven't seen it in person yet, it's new to you. They followed it up in Chicago by unveiling the Corvette Stingray that will be Scarlett Johansson's vehicle in Captain America : The Winter Soldier. Sadly she wasn't there to show of her new wheels, but it's still pretty sweet. Also keep an eye out for the Corvette C7.R Racer.
Fiat Chrysler Booth Babes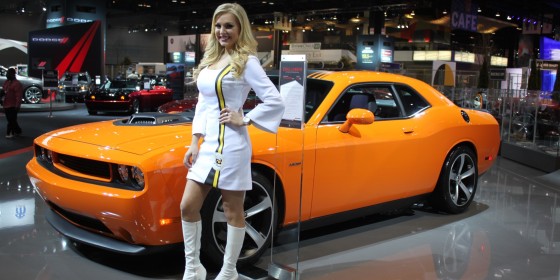 The newly cemented company, Fiat Chrysler Automobiles, were the only ones to station models in front of their vehicles. We have to admit, we stopped to take some photos, and you can see them all in our disappointingly small gallery of The Girls of the 2014 Chicago Auto Show.
Ford Mustang
The 2015 Ford Mustang was unveiled last month in Detroit, but she is still looking pretty fresh in Chicago. Nearby you'll find some newly released Mustang Pinball machines from Stern Pinball which may prove to be an even more popular attraction. And for those who like to compare the new model to the old one, Ford generously places them side by side so you can do just that. You can even compare it to a 1964 Mustang which is part of the same display.
Hyundai Zombie Survival Machines
Hyundai's Zombie Survival Machines have been around for a couple of years now, but this is the first chance we've had to see them in person, and they are definitely a must visit if you're going to the show. The Santa-Fe version above is the latest to join the fleet, with the Veloster and Elantra pictured below. Just yesterday, Hyundai was presented an award by WOMMA (Word of Mouth Marketing Association) for "Driving Engagement" with their Chop Shop social media campaign.
Kia Niro Concept
Making its North American début during the first press conference of the Chicago Auto Show, the Kia Niro stole our hearts immediately. The stainless steel roof fits beautifully with the futuristic design, and those vertical doors unveil the cockpit of a space ship inside. We're particularly fond of the wheels, but honestly there isn't a thing on this vehicle that doesn't scream cool. While it probably looks more like something out of a movie or toy shop, Kia did make a point of mentioning that they've been known to produce vehicles that are remarkably close to their concepts. We can't wait to see some version of the Niro on a showroom floor.
Kia Soul EV
The more practical of Kia's two announcements came in the form of the 2015 Kia Soul EV. It is Kia's first entry into the electric market, and piggybacking off the already very successful Soul seems like a brilliant move. They even had a hamster on hand to pose with the Soul EV, which borrows some styling cues from the folks at Mini with that white roof and mirrors. We love the entire package, and think it'll be a big hit for Kia, who have been on a roll in recent years.
Lexus IS 250 F-Sport
This Lexus IS250 F Sport was originally unveiled by Lexus at SEMA last fall. Lexus fielded over 600 submissions to a design contest, and then created the vehicles of the five finalists. This specific model is by Paul Tolson and Gabriel Escobedo, and although we found it stunning (we're a sucker for orange), it stood out for other obvious reasons. As you'll notice in the photo, nearly everything around it is white, as Lexus decided to go monochrome for the show. So something named "Glasurit Orange Mercury and Galaxy Root Beer" was bound to make an impact.
Mini in Various Flavors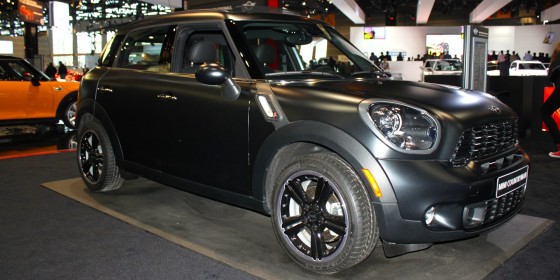 Mini has yet to make a car that we don't love, at least to look at. The bold styling and color options are what we wish more manufacturers would offer, and their booth at an Auto Show is a work of art. The matte-black Countryman above stood out, but we also were digging the orange Roadster below, along with the more classic yellow. Designing your Mini is like picking a flavor of ice cream, they're all so damn good.
Mopar Fiat 500L and Jeep Cherokee
Let's face it, the body shape on the Fiat 500L just doesn't turn heads the way its little brother does. So kicking it up a few notches with a Mopar makeover is the perfect solution for this otherwise fine automobile. We also enjoy the Mopar spin on the new Jeep Cherokee picture below. Both of these designs were unveiled at SEMA, but are still worth a look in Chicago.
Nissan Frontier Cummins Diesel Runner
Nissan pulled back the cloth to unveil a new Cummins Diesel powered Frontier in Chicago, and is looking to the public to see if it's viable for production. The Frontier Diesel Runner is considered a "technical study" and they intend to beat the hell out of it in testing. Nissan is proud to still be offering a small pick-up, and noted that other manufacturers are now looking to get back into the market that they never left. While the styling is likely only for the unveiling, Nissan is definitely interested in hearing your feedback on a possible diesel engine.
Nissan GT-R Nismo and Juke Nismo RS
Although both of these were unveiled late last year, they are clearly the stars of the Nissan display at the Chicago Auto Show. The amazing matte silver paint job draws you in, and then the performance of Nismo takes over. Photographs hardly do these vehicles justice, you must check them out in person.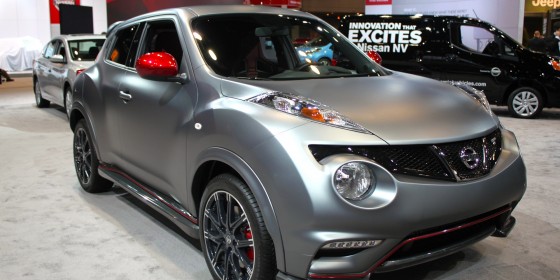 SRT Viper
This Stryker Green SRT Viper was unveiled in Detroit, and although hidden in the back of McCormick Place, you can probably see it when you walk in the front door. Honestly, if you're going to drive a Viper, you may as well go all the way and get an amazing color like this. Also on display is the #91 SRT Viper from the American Le Mans Series, which we saw in action first-hand at the Baltimore Grand-Prix.
Toyota TRD Pro
If we were going to rank this list, Toyota TRD Pro would likely be at the top. We're partial to vehicles with off-road capabilities over sports cars, so this massive test track to demonstrate three new Toyotas painted in our favorite color nearly made us giddy with excitement. With rugged skid plates, high-performance off-road tires, improved suspension and beastly power, TRD Pro is set to take Toyota to the next level of off-road performance. Sadly the FJ Cruiser was excluded from the collection and will soon be discontinued, but that didn't stop us from having fun riding on the test circuit. Notably the course includes a ton of dirt and water, so keep in mind you might get a bit dirty.
Adding to our excitement level even further was discovering that Toyota had licensed our favorite classic arcade game, Super Off-Road, and is hosting their owned customized version at www.toyotasuperoffroad.com.
Toyota FT-1 Concept
We'll close our list of Chicago Auto Show highlights with another recent announcement from the Detroit show, the Toyota FT-1 Concept. Given a place of honor and spinning around on a platform, it is clearly the star of the Toyota display. The Toyota FT-1 is widely expected to preview a new Toyota Supra successor. Whether that is true or not, it's tough to deny the drawing power of this amazing looking sports car. You must see it in person to truly appreciate its impact.