Best of the 2015 Chicago Auto Show
The Chicago Auto Show is currently underway in the frigid cold temperatures of the windy city, and for the second year in a row we were pleased to be able to experience media day at the show. While CAS has the largest square footage footprint of any auto show in the country, it's probably the 4th largest when it comes to revealing new vehicles. If you visit the show, you'll be able to see everything that was unveiled at the Detroit Auto Show this year, but new releases from Chicago are fairly limited. There was still a bit of news to break though, and below we have ranked our favorite vehicle debuts from the Chicago Auto Show…
9) 2016 Chevrolet Equinox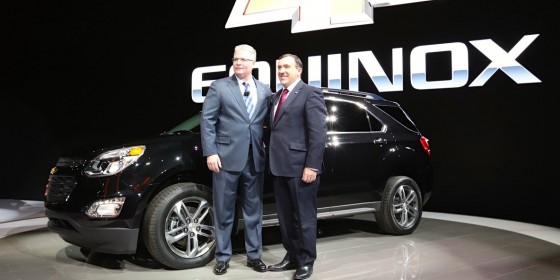 This may very well be a fine automobile, but the reveal was a debacle. We couldn't even see the new Equinox during the press conference due to the ridiculous layout to the Chevrolet Auto Show stage that severely limits the field of view to the audience. Once we were able to sneak a peek of this new Chevy crossover, we noticed the puzzling decision to début the vehicle in black, with a black background. Why is Chevy trying to hide the new Equinox?
8) 2016 Toyota Avalon
This updated Toyota Avalon features updated styling, a retuned suspension, and upgraded convenience features. It's a refresh of the 4th generation Avalon which according to the presentation was the first vehicle to meet Toyota President Akio Toyoda's challenge to create cars that spark people's emotions. Honestly our emotions were distracted from the Avalon by the TRD Pro display adjacent to the stage. This year's reveal fell flat to us compared to the spark that TRD Pro created at the 2014 show.
7) 2016 Acura RDX
Coming off its best sales year ever, the luxury crossover from Acura gets a minor facelift and some new technology.
"The 2016 RDX gets a major infusion of Acura brand DNA including enhancements to styling, driving performance, and exciting new luxury feature-content, further solidifying its place as the one to beat in the entry luxury SUV segment."
The most noticeable visual difference comes on the front with Jewel Eye LED headlights and additional chrome. Overall the updates are minor but positive.
6) 2016 Ram 1500 Laramie Limited
If you like your heavy-duty pickup truck with some bling, then Ram has the vehicle for you. The RAM Laramie Limited has a ton of attention-grabbing chrome and badging, but still maintains the functionality of the Ram 1500. Pricing starts at over $50,000 so buyers may not want to get this truck scratched or dented. We have a feeling that this truck is meant more for the owner of a ranch than for a ranch hand. It's a very nice truck with luxurious finishes filling the interior cabin, but we think Ram Rebel is more our style.
5) 2016 Honda Pilot
This all-new 2016 Honda Pilot was probably the most important reveal at the 2015 Chicago Auto Show and should be available in showrooms this summer. The Pilot was reengineered and redesigned in America and delivers more family-friendly utility, more advance technology and more premium attributes and amenities than ever before. With three rows of seating, the Pilot grows in length by 3 inches to accommodate more cargo in the rear. New amenities include an optional heated steering wheel and heated second-row seats. Under the hood is a new 3.5-liter, direct injected V-6 engine with start-stop technology to save on fuel. It has also been re-styled to match the look of the CR-V.
4) 2016 Ford Police Interceptor Utility
The Police Interceptor Utility from Ford wins the prize for best reveal with the help of a police dog named Keegan. These Interceptors are built at Ford's Chicago Assembly plant and members of their Ford Police Advisory Board were flown in for the unveiling. While most of us hope to never ride in one of these vehicles, we enjoyed the reveal and certainly wouldn't mind a chance to drive one. The best-selling police vehicle in America will be available with a 3.5L EcoBoost V-6 that produces 365 horsepower and 350 lb.-ft. of torque.
3) 2016 Hyundai Veloster Rally Edition
The Hyundai Veloster Turbo has been refreshed with a new seven-speed dual-clutch transmission and styling updates. At the Chicago Auto Show Hyundai took the wraps off this limited Rally Edition Veloster that is sure to catch the attention of the enthusiast market with its amazing matte blue paint. Based on the Turbo R-Spec, the Rally Edition adds more performance-tuned suspension, 18-inch Rays lightweight wheels, faux carbon fiber aero accents, and unique badging. This Veloster Rally Edition hot-hatch will be limited to 1200 units and will arrive at dealers in May.
2) Nissan 370Z Nismo Roadster Concept
What can we say, we're a sucker for a hot looking roadster. This concept from Nissan combines performance, style and technology with an open-air driving experience. The NISMO roadster boasts a 3.7 liter V6 engine that produces 350 horsepower and a custom carbon fiber body. For now this vehicle is just a performance study, but we certainly wouldn't be surprised to see it made available to the public. It essentially combines the existing Nissan 370Z Roadster with the interior and performance of the 370Z NISMO Coupe.
1) Kia Trail'ster Concept
By far our favorite reveal at the Chicago Auto Show, this Kia Trail'ster Concept essentially adds AWD and rugged features to the existing Kia Soul. While this exact configuration is a concept, an AWD Soul is a no-brainer and is likely to happen relatively soon. The Trail'ster features an innovative hybrid e-AWD engine, retractable canvas panel roof, and enough lighting to illuminate any terrain. The designers obviously had fun with this concept, equipping it with Pirelli Winter Carving 245/45-19 snow tires, KSport coilover shocks, aluminum cross roof rails, and brown leather trimmed seats. The Kia Trail'ster Concept is clearly the best of the 2015 Chicago Auto Show and you can find full details about it, along with some amazing press kit photographs in our full feature.