Best of the 2015 New York Auto Show
The New York International Auto Show (NYIAS) is currently underway in the concrete jungle of Manhattan. While it's tough to find more frustrating streets to drive on in this country, for the next week the Javits Center will be an oasis of automotive excellence that will remind New Yorkers how much fun driving can be when you get out of the city. It was our first time at NYIAS, and we were far from disappointed by the variety of new vehicles unveiled during press days earlier this week. This was certainly a tough job to narrow the list, but below we've selected our ten favorite world premieres to share with you.
10) 2016 Nissan Maxima
For the 2016 Maxima, Nissan has gone with a dramatic redesign that looks notably similar to their popular Sport Sedan Concept that was unveiled last year. We definitely applaud the willingness to create something different and we'll be interested to see if customers embrace the change.
9) 2016 Range Rover SVAutobiography
Normally we like our SUVs to be more rugged and less luxurious, but it's tough to ignore a new Range Rover with a $200,000 price tag that is destined to become a new favorite of European soccer WAGs. The SVAutobiography comes with a 5.0-liter supercharged V8 that produces 550 horsepower, and we're not entirely sure why it doesn't come standard with a space between SV (Special Vehicle?) and Autobiography.
8) Subaru STI Performance Concept
The Subaru STI Performance Concept gives New Yorkers a glimpse of what Subaru has been offering in Japan. The BRZ-based concept is race ready with high performance parts and head turning style. It's hiding down in the North Hall at the Javits Center, but it's worth the walk.
7) 2016 Kia Optima
The Optima is our favorite Kia, and also their best selling model, which may explain why this all-new 2016 Optima doesn't immediately appear dramatically different from the outgoing model. The 2016 Kia Optima was purposely designed to retain its signature personality while maturing with "more space, better ride and handling, more technology and greater refinement."
6) 2016 Cadillac CT6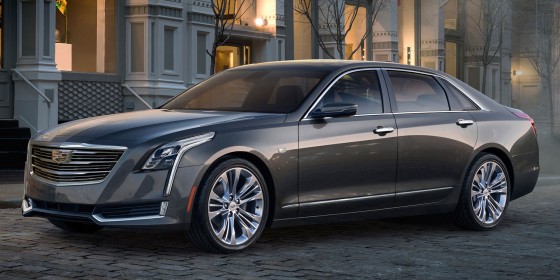 The CT6 is Cadillac's new top of the line vehicle that builds upon their popular existing lineup with an even higher standard of excellence. For a massive luxury sedan, the CT6 is notably light thanks to an aluminum-intensive chassis and advanced automotive body materials. It's expected to come fully loaded with technology and exquisite materials for about $80,000.
5) 2016 Lexus RX
The Lexus RX is the best-selling model in their portfolio, which makes this update very important to the brand. Lexus didn't hold back, as they pushed the spindle grille styling on the RX to match the boldness shown by other recent updates to their lineup. The distinctive blacked-out C-pillars provide an illusion of a floating roofline that is similar to effects we've seen utilized by other manufacturers recently. The days of Lexus playing it safe are clearly behind them.
4) Honda Civic Concept
Honda dropped this beauty as a complete surprise to the automotive media, and it definitely made an impact. Sure the color is stunning, but that choice was also a metaphor for Honda taking risks with the new Civic. They've clearly heard the critics and have pushed the limits with this concept design that has delighted Honda fans. Now the question remains, will they put it into production?

3) 2016 Porsche Boxter Spyder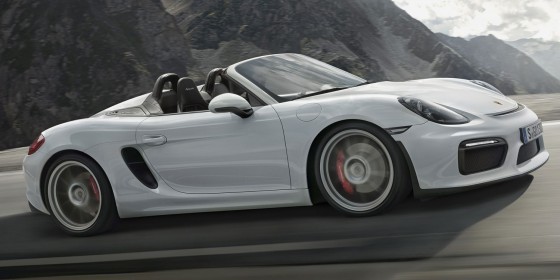 The 2016 Porsche Boxter Spyder definitely isn't for everyone, but if you're a Porsche purist, you're likely to love it. The Spyder is only offered in a six-speed manual transmission and comes stock without air conditioning or a radio. Apparently those features are available if you'd like to sacrifice performance for your own comfort. It weighs less, and is more powerful than previous models, so we'll let you do the math on that.
2) Lincoln Continental Concept
When your new luxury concept captures the attention of Bentley designers, you've clearly done something right. Sure it has several notable similarities to a Bentley, but the automotive industry has always been built on shamelessly stealing design cues and killer features from other models. This Continental Concept is absolutely stunning, and the best thing to come out of Lincoln in some time.
1) 2016 McLaren 570S
When we heard there was an all-new Sports Series model from McLaren on the floor with gorgeous orange paint, we knew it would likely be at the top of our list. The 570S is the lowest priced McLaren offered in the US at about $185,000. While its the most day-to-day usable, practical and attainable McLaren ever made, it still retains the core design and dynamic focus that makes it worthy of the name. It's also even more beautiful in person, and clearly the best new car unveiled at the 2015 New York Auto Show.