The Best 30 NBA Athletes Over 30
What is more impressive, Brett Favre playing in the NFL until he was 40 years old or an NBA athlete that is still playing after 30 years old? If you said Brett Favre, you are wrong. The NFL is a very physical sport, in fact, it is probably the most physical sport ever. These athletes get beat up daily and they keep coming back for more. Brett Favre did it for 20 seasons. So yes, you could make an argument that what he did by playing until he was 40 is very impressive but think about the NBA for a second instead.
Not only do NBA players have to be in the best shape of their lives to be able to make it a full season, but they play until their late 30's. Remember running suicide's at basketball practice? It sucked, right? Imagine having to do that for 40 minutes a night, 82 times a season, for 20 years. These guys make it look so easy but we don't see the hard work they put in at the gym or in practice. Running up and down a court is exhausting but in the NBA, you have to be able to do it, every night. And in a league where the average player age is getting lower each season, 26.7, the older players need to work twice as hard.
In honor of the hard work of the older athletes of the NBA, here are the top 30 NBA players over 30. Enjoy.
30. Jason Terry, SG/SF, Houston Rockets
It is rare for an NBA player to last 10 seasons and still remain an active player in the rotation. Jason Terry has done it for 16. The former Hawk, Maverick, Celtic, and Net is now a member of the high scoring Houston Rockets. But the main reason he has remained relevant for so long is thanks to his perimeter shooting off the bench. When it comes to a sixth man, Jason Terry is one of the best the NBA has ever seen.
29. Tony Allen, G, Memphis Grizzles
Tony Allen isn't a leading rebounder nor will not be dishing out too many assists. The only time he averaged double digits in scoring was in the 2006-07 season when he averaged 11.5. So how does an athlete start 318 games over 11 seasons when he doesn't score, pass, block, or rebound? Defense! Tony Allen can guard anyone in the NBA. He is the Darrelle Revis of basketball.
28. Manu Ginoboli, SG, San Antonio Spurs
For 13 seasons, Manu Ginoboli has been a huge reason the San Antonio Spurs have become a dynasty. Greg Popovich has figured out how to masterfully use Manu to the best of his abilities. If Manu played anywhere else, he would be a starter and who knows. But at San Antonio, he comes off the bench and covers the floor while the starters rest. He isn't a true sixth man but he is the closest thing to it.
27. David Lee, F/C, Golden State Warriors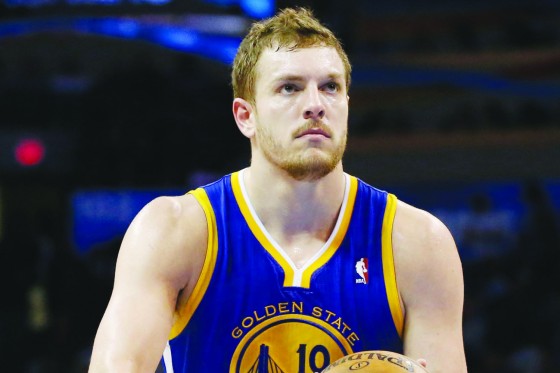 David Lee has experienced bad luck recently when he began this past season hurt and missed enough games to be removed from the starting lineup and lose a lot of playing time along the way as well. He is now the guy wearing a suit on the sidelines during the Warriors playoff run because he got hurt again. Normally he is a 20-10 guy that every team wants in their lineup.
26. Luol Deng, SF, Miami Heat
Luol Deng is no Lebron James. In fact, he probably could not afford tickets to the ballpark where they compare the two players. However, he has become a solid NBA player with double digit scoring throughout his entire career. Miami had D-Wade and Chris Bosh, all they needed was someone to replace Lebron. Deng was not the answer but that doesn't seem to be fair to a newly turned 30 year old NBA player.
25. Kyle Korver, G/F, Atlanta Hawks
The average NBA 3-point FG percentage in 2014-15 was 35%. In 2014, it was 36%. It was also 36% and around that percentage every season since 1998-99. What does this mean?
Kyle Korver's worst season from beyond the arc was in 2007-08 season when his percentage was 37.5%. His numbers are usually above that mark and closer to the 50% range. That is about as amazing as it gets from the 3-point line.
24. Nene Hilario, C, Washington Wizards
At the age of 32, Nene has made a career of being consistent. From consistently putting up double digit points and rebounds to getting injured, he has remained a player that you can depend on one way or the other. The difference is that when he is healthy, he is a dangerous Center.
23. Carlos Boozer, PF/C, Los Angeles Lakers
Carlos Boozer is a career 16.2 points per game big man. He brings in another 9.5 rebounds making him a player any team would want for their PF or Center.
22. David West, F, Indiana Pacers
When David West left the New Orleans Hornets, fans were angry. And fans do not get upset over bad players. They were mad because he is a brilliantly talented Forward. He has fit in pretty good with the Pacers and has helped them get to the playoffs a few times.
21. Andrew Bogut, C, Golden State Warriors
In 2005, Andrew Bogut was drafted 1st Overall by the Milwaukee Bucks. It took him a few years to get going but when he finally did, he wasn't as great as the World was expecting. However, he is still a guy you want on your team. His current team, the Warriors, have used him perfectly and have helped him develop into the dominating Center he is today.
20. Chris Bosh, PF/C, Miami Heat
When Lebron James left, Miami Heat fans did what they do best, went back to their beautiful beach houses and pretended they don't have an NBA team. Meanwhile Chris Bosh continues to be better without Lebron, as he was in Toronto. He only played 44 games this past season but averaged 21 points a game with 7 rebounds a game too.
19. Kevin Martin, G, Minn. Timberwolves
After leaving Sacramento, Kevin Martin has become a journeyman. He has made stops in Houston, Oklahoma City, and now, Minnesota. He isn't a big rebounder, just under four a game, nor does he dish out too many assists, slightly more than two a game. But he can use that ugly shot of his to put up some points. That is about it. He drops 20 points a night. But you know that is what he can do and that's what makes him so valuable.
18. Joakim Noah, C, Chicago Bulls
Joakim Noah is as mean as he is ugly. Opponents don't like him because he manages to find a way to get under their skin. However, he is one of the best defenders in the NBA, every year. Maybe that's why they don't like him. Because he stops them from scoring.
17. Mo Williams, G, Charlotte Hornets
Who would have thought that at 32 years old, and after seven teams, Mo Williams would finally start to find his shot. He was traded to Charlotte midway through the season and played in 27 games where he averaged 17.2 points a game, third best of his career. It will not be long before he goes somewhere else and scores 20 a night.
16. Zach Randolph, PF, Memphis Grizzles
Why would you want this guy? Oh maybe it is because you would be guaranteed 20 points and 10 boards a game. He has done this for the past 14 seasons. He isn't flashy and he currently plays for one of the best teams in the Western Conference, Memphis Grizzlies, but the man can straight up ball.
15. Jamal Crawford, SG, L.A. Clippers
It does not take a player 15 years to become great. But at 29 years old, after spending most of his career as a starter in New York and Chicago, he made it to Atlanta and became a true sixth man. Since then, he has won the NBA's 6th Man of the Year award twice, in six seasons.
14. Paul Pierce, SG/SF, Washington Wizards
It is tough to believe that Paul Pierce is going to be 38 in October. He has been around for 17 seasons and has turned in some pretty impressive numbers. In Boston, he brought them another title in 2008. Now he is in Washington where the Wizards are quickly becoming a favorite in the Eastern Conference.
13. Tony Parker, PG, San Antonio Spurs
The San Antonio Spurs are going to eventually fall. When Tim Duncan retires, then the domino effect will happen and many others will follow suit. Greg Popovich, Tony Parker, and Manu Ginoboli should all go riding peacefully into the night as one of the last dynasties of the past thirty years.
12. Al Jefferson, PF/C, Charlotte Hornets
Crazy? That is exactly what fans said when Al Jefferson decided to sign with the Charlotte Hornets. Why go to a team that has not been anywhere? He could have gone to just about any team and he went to one that was struggling. Well, it didn't take long for them to build a solid core that should be in contention next season for a run. Maybe not a title, but def a deep playoff run.
11. Pau Gasol, C, Chicago Bulls
Pau Gasol was in Memphis for 7 seasons, than he went to the Lakers for 7 more. Now he is with the Chicago Bulls for his 15th season and he is still one of the best Center's in the NBA. In fact, he seems to be even better. He finished the 2014-15 season with 11.8 rebounds per game, a career high. His 18.5 points per game is the highest scoring output from him since 2011. Don't forget his 1.9 blocks per game, third highest average in his career.
10. Joe Johnson, SG/SF, Brooklyn Nets
Give him the rock. That is all. Joe Johnson can score on the back of a Navy cruise ship in the middle of a thunderstorm, blindfolded. He makes it look so easy too.
9. Marc Gasol, C, Memphis Grizzles
Talk about defense. Marc Gasol seems to understand that you can score much easier the closer you are to the goal.
8. Dwyane Wade, SG, Miami Heat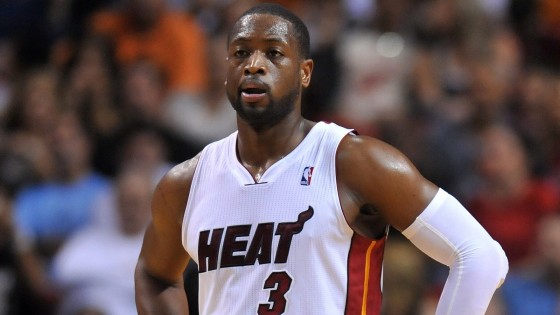 Lebron James went back home and left D-Wade wondering if it is time to hang up the shoes. He has already won three NBA titles and will be entering his 13th season next year. He has little left to prove and he is set to marry the hottest woman in the world, Garbrielle Union. What is there left to do? Retire?
7. Dirk Nowitzki, PF, Dallas Mavericks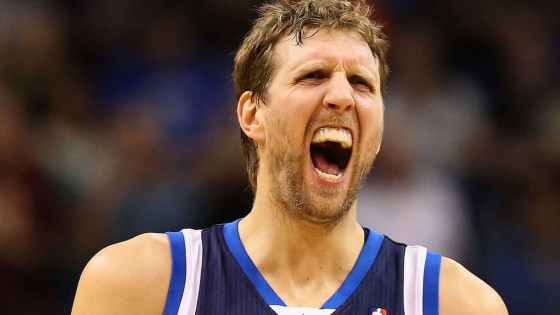 We are not saying Dirk Nowitzki was the first big man to be able to score from anywhere on the floor, but name one other player that can do what the seven foot German All-Star has done before 1998. Name one.
6. Carmelo Anthony, SF, New York Knicks
In Denver, Carmelo Anthony was one of the best in the NBA. The only problem was he could not win them a title. He then went to New York where the expectations are even higher and has done the same thing. His numbers are incredible and he is one of the best all-around players in the NBA, but he cannot win in the postseason.
5. Tyson Chandler, C, Dallas Mavericks
This isn't going to be a popular pick but Tyson Chandler is one of the best Centers the NBA has seen in quite some time. Not only can he lock up the basket, he can also help win some games. No matter where he goes, he finds ways to get wins.
4. Deron Williams, PG, Brooklyn Nets
Don't be alarmed by Deron Williams numbers slowly starting to decrease. Since he now has Brook Lopez and Joe Johnson, he does not need to score as much and can play the position he is best at, running the offense. (Point Guard)
3. Tim Duncan, PF, San Antonio Spurs
It is hard to believe that Tim Duncan has been in the NBA since 1997. At 39 years old, he is still a guy you want on your roster. (13.9 ppg, 9.1 rpg, 3.0 apg, 1.9 bpg) A kid out of college would win the Rookie of the Year award if he put up those type of numbers. Did we mention the 5 NBA titles, 2 NBA MVP awards, and 3 NBA Finals MVP awards?
2. Kobe Bryant, SG, Los Angeles Lakers
Kobe Bryant is one of the best players in NBA history. Whether he is the best, is debatable. But the one thing he is the best at that no other player can surpass him is scoring. Kobe is one of the best, most clutch, scorers of all-time. He is 36 years old and still putting up 22 points a night with a team full of knuckleheads that were in diapers when he was winning NBA titles, which he has 5 of.
1. Lebron James, SF, Cleveland Cavaliers
After Lebron James won his first and second championships in Miami, he decided to go back home and win a few more in Cleveland. It took him a few seasons to win the first but it could be the beginning of a run that goes down as the greatest of all-time. He's currently dominating the Finals, so there is no doubt he belongs at the top of this list.