Best All-Time "Under 24" MLB Post-Season Lineup

Consider this scenario for a second. You're a Chicago Cubs fan and your team is sitting in 3rd place in the National League Central division behind two of the best teams in baseball, the St.Louis Cardinals and Pittsburgh Pirates on July 26th, 2015.
The Cubs finish the season 97-65 (46-19 after July 26th), in 3rd place in the NL Central while still holding the 3rd best overall record in baseball. They take out the Pirates in a one game playoff to advance to the National League Divisional Series against the St.Louis Cardinals, who just so happen to own the best record in baseball. But with an amazing roster of young talented future stars, the Cubs defeat the Cardinals and move onto the NLCS. They did it with 7 players under 25 years of age (three of them under 22).
The Cubs were not the only MLB team in the post-season this year to unleash the future of baseball. The Astros, Mets, Rangers, Pirates, and even the Cardinals gave us all hope for the future of the sport.

If you were worried about baseball now that Derek Jeter and Mariano Rivera retired, don't be. This youth movement is bringing a whole new fan base to the sport along with fans in the stands. They are making the game fun again.
Let's take a journey back over the past 100 years to put together the best MLB Post-Season Lineup with the only stipulation being that every player must be under 24 years of age the year they were in the playoffs.
(Statistics Updated as of 10/19)
C – Kyle Schwarber, Cubs (2015)
The 2015 playoffs are still going as we speak, however, Kyle Schwarber is doing something no one expected he would be doing at 22 years old. He is taking advantage of each and every at bat of the postseason and has put up some insane numbers based on age, experience, and how many playoff games he has played in his career.
Age: 22 Years Old
Games: 7
Batting Avg: .381
On-Base Pct: .435
Slugging Pct: .952
Hits: 8
Home Runs: 4
RBIs: 6
Runs: 5
1B – Albert Pujols, Cardinals (2004)
When the Cardinals defeated the Houston Astros in 7 games in 2004, it wasn't easy. It was one of the best postseason series of all time but it took a toll on the players and especially Albert Pujols. His numbers were ridiculous and he did everything imaginable for that team but the Red Sox swept them 4-0 in the World Series. As a young man, this was the moment everyone realized he was going to be amazing.
Age: 24 Years Old
Games: 15
Batting Avg: .414
On-Base Pct: .493
Slugging Pct: .793
Hits: 24
Home Runs: 6
RBIs: 14
Runs: 15
Walks: 8
2B – Roberto Alomar, Blue Jays (1992)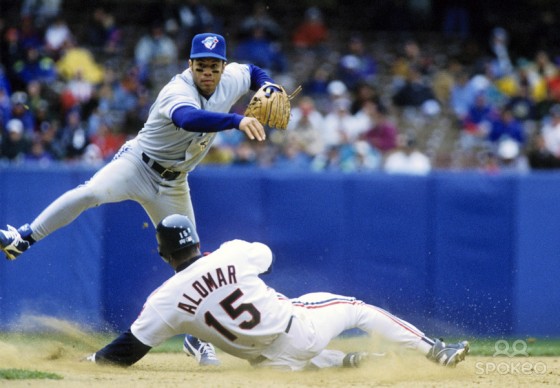 During the 1992 World Series, Roberto Alomar hit a single in the top of the 11th of Game 6 to start a rally that scored two runs and secured the Blue Jays their first World Series title in franchise history.
Age: 24 Years Old
Games: 12
Batting Avg: .320
On-Base Pct: .382
Slugging Pct: .480
Hits: 16
Home Runs: 2
RBIs: 4
Runs: 7
Stolen Bases: 8
SS – Alex Rodriguez, Mariners (2000)
Even though A-Rod has grown a reputation for not being a postseason performer, back in 2000 he was leading the Seattle Mariners to within 2 games from a World Series and he was doing it before he turned 25.
Age: 24 Years Old
Games: 9
Batting Avg: .371
On-Base Pct: .421
Slugging Pct: .600
Hits: 13
Home Runs: 2
RBIs: 7
Runs: 4
Walks: 3
3B – George Brett, Royals (1976)
George Brett was one of the greatest 3B to ever live but before he won a World Series in 1985, he was busting his tail to get the Royals there when he was only 23. Although they didn't make it to the World Series in 1976, he started moving them in the right direction for the future with the young man's performance that year.
Age: 23 Years Old
Games: 5
Batting Avg: .444
On-Base Pct: .476
Slugging Pct: .778
Hits: 8
Home Runs: 1
RBIs: 5
Runs: 4
LF – Jorge Soler, Cubs (2015)
Of the Chicago Cubs 7 games so far in the 2015 postseason, Jorge Soler has played in 5 of them. He is getting on base a sick amount of times plus he continues to hit for power making him a very dangerous at bat.
Age: 23 Years Old
Games: 5
Batting Avg: .455
On-Base Pct: .647
Slugging Pct: 1.091
Hits: 5
Home Runs: 2
RBIs: 4
Runs: 3
Walks: 6
CF – Andruw Jones, Braves (1996)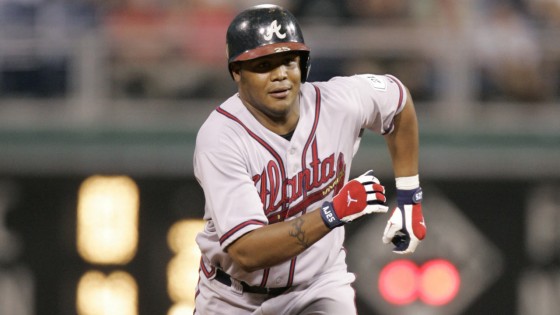 Andruw Jones lived up to the hype but he unfortunately never helped the Braves to win the World Series. In 1996, his first season in the league, he did his best especially in Game 7 of the NLCS when he helped them win easily to move on to face the Yankees. Then he exploded in Game 1 of the World Series when he hit 3 for 4, 2 HR, 5 RBI, and 3 R.
Age: 19 Years Old
Games: 14
Batting Avg: .345
Hits: 10
Home Runs: 3
RBIs: 9
Runs: 7
Walks: 7
RF – Tony Gwynn, Padres (1984)
Most people remember the great Tony Gwynn for being loyal. The man played his entire Hall of Fame career for the San Diego Padres. It is rare these days for any one player to remain with the same team for an entire career. Even the greats like Joe Montana and Jerry Rice played for other teams before retiring. He stayed true to his team for 20 years.
Age: 24 Years Old
Games: 10
Batting Avg: .316
Hits: 12
Home Runs: 0
RBIs: 3
Runs: 7
DH – Derek Jeter, Yankees (1996)
Since we already have a shortstop, we had no choice but to put 22 year old Derek Jeter in as our DH, designated hitter. He was so young back then but even at 22, he was setting the stage for an amazing career in New York.
Age: 22 Years Old
Games: 15
Batting Avg: .361
On-Base Pct: .409
Slugging Pct: .459
Hits: 22
Home Runs: 1
RBIs: 3
Runs: 12
Stolen Bases: 3
SP – Christy Mathewson, Giants (1905)
The New York Giants won the 1905 World Series after finishing 105-48. Christy Mathewson led the pitching rotation which also had three 20 game winners and not a single starter with an ERA over 2.87. Then he erupted in the World Series with 3 Complete Game Shutouts and never giving up a single run.
Age: 24 Years Old
Games: 3
Innings Pitched: 27.0
ERA: 0.00
Wins: 3
Strikeouts: 18
Complete Games: 3
Shutouts: 3
SP – Josh Beckett, Marlins (2003)
2003 was his third year in the league and Josh Beckett was needed by the Florida Marlins and he showed up. He ended up pitching in 6 games that postseason with a 2.11 ERA. After pitching Game 3 of the World Series on Tuesday, he was called upon to start again on Saturday for a clinching Game 6 and he was sensational on three days rest. He pitched a Complete Game Shutout giving up only 5 hits with 9 Ks. The game was truly the greatest of his career.
Age: 23 Years Old
Games: 6
Innings Pitched: 42.2
ERA: 2.11
Wins: 2
Strikeouts: 47
Complete Games: 2
Shutouts: 2
SP – Cole Hamels, Phillies (2008)
Numbers aside, Cole Hamels was one of the best pitchers in Philadelphia Phillies history because he did more with less around him than anyone else.
Age: 24 Years Old
Games: 5
Innings Pitched: 35.0
ERA: 1.80
Wins: 4
Strikeouts: 30
SP – John Smoltz, Braves (1991)
John Smoltz was just a great pitcher. He eventually moved to a closer role, which he also dominated for three seasons until moving back into the rotation and winning 14, 16, and 14 games. Can you think of anyone in the majors that started off a starter and dominated for many years before moving to the bullpen and tearing that up and then finally going back to the starting rotation and continuing right where he left off?
Age: 24 Years Old
Games: 4
Innings Pitched: 29.2
ERA: 1.52
Wins: 2
Strikeouts: 26
Complete Games: 1
Shutouts: 1
SP – Fernando Valenzuela, Dodgers (1981)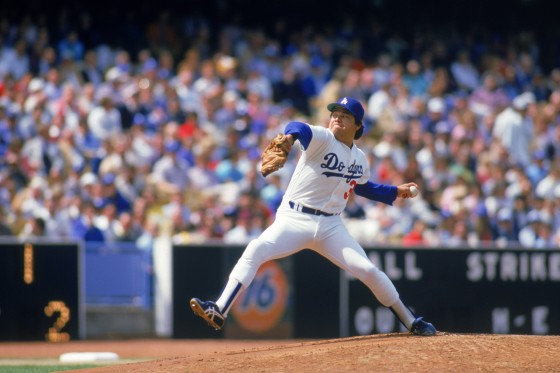 The 20 year old had his best season of his career in 1981 as well as postseason. During the regular season he finished with 8 shutouts, 11 complete games, a 2.38 ERA, and 180 strikeouts.
Age: 20 Years Old
Games: 5
Innings Pitched: 40.2
Wins: 3
Strikeouts: 26
Complete Games: 2
RP – Francisco Rodriguez, Angels (2002)
After pitching just 5.2 innings during the regular season, the Angels unleashed him in the 2002 playoffs and it was a legendary decision. Not only did he help the Angels beef up their bullpen, he won 5 of the 19 games they played that postseason. It is tied with Randy Johnson for the most wins in a single postseason by any pitcher and he did it before he was legally allowed to buy alcohol.
Age: 20 Years Old
Games: 11
Innings Pitched: 18.2
ERA: 1.93
Wins: 5
Strikeouts: 28
Holds: 3
CL – Neftali Feliz, Rangers (2011)
During his second consecutive World Series with the Texas Rangers, Neftali Feliz almost helped the Rangers win their first ever title. Even with his dominance in 2010 and 2011, he came in during the 9th inning of Game 6 with a 2 run lead. With 2 on and 2 out, he made a mistake and David Freese hit a game tying 2-run triple for the Cardinals. Outside of that one hit, he was nearly perfect that year.
Age: 23 Years Old
Games: 11
Innings Pitched: 11.1
ERA: 2.38
Strikeouts: 12
Saves: 6