The 30 Best Daytona 500 Races in NASCAR History
In every major professional sport, there is one event that is more prestigious and infamous than all the others. Golf has The Masters, tennis has Wimbledon, football has the Super Bowl, hockey has the Stanley Cup, etc…
But the one thing that makes NASCAR different than all of the other pro sports is that their biggest race of the year does not happen at the end of the season, it happens in the beginning. The Daytona 500 marks the official start to the NASCAR season each year and remains their biggest race with the largest payouts of any other race in the year, and it isn't even close. For example, in 2015, Joey Logano won $1.5 million after winning the Daytona 500 and the next highest payout that season was close to $500,000.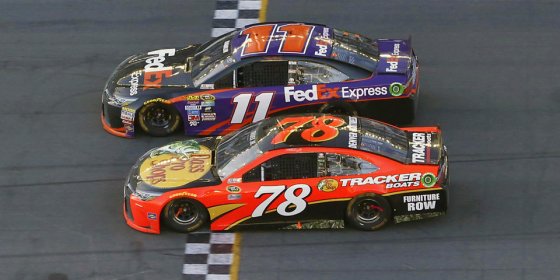 So what makes the Daytona 500 the biggest spectacle in all of sports? Why do we love watching this race for 500 miles on a large track with very little competition until the final ten laps? Because it is amazing. The Daytona 500 almost always provides us with a finish worth talking about all season long. It is rare to have a Daytona 500 winner that dominates the field all day. It just does not happen. The race is all about getting into position to be ready for the final five laps. That is when the fun and excitement begins.
The last few laps is when teams start pushing their cars to the front of the lines and fighting for position as that final lap approaches. It is also the time that most of the crashes happen as those drivers know what is at stake and winning a Daytona 500 is the same as becoming a made man in the mafia. So as they approach that final lap, and can see the lead, drivers tighten up and get more aggressive than in any other race of the season.
We wanted to rank the 30 greatest Daytona 500 races in NASCAR history in honor of the past sixty years of this amazing event. Enjoy.
30) 2005: Jeff Gordon, DuPont
29) 1970: Pete Hamilton, 7-Up
28) 1980: Buddy Baker, NAPA
27) 2010: Jamie McMurray, Bass Pro Shops
26) 1999: Jeff Gordon, DuPont
25) 1972: A.J. Foyt, Purolator
24) 2006: Jimmie Johnson, Lowe's
23) 2012: Matt Kenseth, Best Buy
22) 1981: Richard Petty, STP
21) 1962: Fireball Roberts, Pontiac
20) 2008: Ryan Newman, Alltel
19) 1990: Derrike Cope, Purolator
18) 2004: Dale Earnhardt Jr, Budweiser
17) 1969: LeeRoy Yarbrough, Jim Robbins
16) 1967: Mario Andretti, Bunnell Motor
15) 1994: Sterling Marlin, Kodak Film
14) 2007: Kevin Harvick, Shell/Pennzoil
13) 1988: Bobby Allison, Miller High Life
12) 1963: Tiny Lund, English Motors
11) 2016: Denny Hamlin, FedEx Express
10) 2001: Michael Waltrip, NAPA
Dale Earnhardt's death in 2001 was a tragedy because it happened during the final lap of the 2001 Daytona 500. At first glance, it looked very minor in comparison to the other wrecks we have seen in recent years. He wrecked himself while fighting for position and got turned sideways, slamming into the outside retaining wall. Darrell Waltrip calling the race and showing his enjoyment for his brother's victory became an iconic moment as no one knew what just happened to Dale Earnhardt.
9) 1993: Dale Jarrett, Interstate Batteries
The story of the 1993 Daytona 500 was about legendary Richard Petty's son, Kyle Petty, winning the pole making it the first time a Petty won the pole at a Daytona 500 since 1966, almost thirty years prior. However, Kyle Petty did not get his shot at winning after wrecking in the final few laps. Dale Jarrett ended up winning while his father, Ned Jarrett, made the call live on CBS Sports, and just hearing how proud he was for his son made this even more memorable.
8) 2011: Trevor Bayne, Motorcraft
After 74 lead changes and 16 cautions, Trevor Bayne found a way to become the youngest Daytona 500 champion in 2011. He was 20 years old and started the race in 33rd position, out of 43 spots. Since he was actually in the running for a Nationwide Series Championship, he was not eligible for championship points and what would have been 42 points for himself, ended up going to Carl Edwards Jr., who finished second, by default.
7) 1997: Jeff Gordon, DuPont Refinishes
The 1997 Daytona 500 featured Jeff Gordon, only 25 at the time, winning and becoming the youngest driver, up until Trevor Bayne broke the record in 2011, to win the race. The most memorable moment of this race involved Dale Earnhardt getting into the wall and flipping his car onto its' roof. As they tried to put his vehicle on the wrecker, he noticed it had all his tires left so he got them to unhook it and he was able to drive it back to pit road and finish the race.
6) 2013: Jimmie Johnson, Lowe's
For the first time in NASCAR history, a female driver would become the pole winner of the Daytona 500. Danica Patrick has never won a single race in NASCAR but she can always make her claim for winning the pole at the 2013 Daytona 500, an achievement that most drivers never win. She ended up finishing in 8th place, making history in the process.
5) 1959: Lee Petty, Chappell Motors
Besides being the very first Daytona 500, the 1959 race was also one of the only times in NASCAR history that no cautions occurred. However, when the race ended, NASCAR officials declared Johnny Beauchamp the winner after a photo finish between him and Lee Petty. But after protesting the results, NASCAR founder Bill France, Sr. began his investigation into the final results. After spending almost three days going over the various film footage and photos, he determined Lee Petty the winner. The controversy helped NASCAR's rise to popularity as it was all anyone could talk about the next week.
4) 1989: Darrell Waltrip, Tide with Bleach
As one of the legends of NASCAR, Darrell Waltrip had never won a Daytona 500 heading into the 1989 race. He won the pole the previous year and also in 1989, but he never claimed a victory at one yet. Once he crossed the finish line, he became celebrating and even gave viewers his version of the infamous "Ickey Shuffle" complete with a helmet spike and everything.
3) 1998: Dale Earnhardt, GM Goodwrench
Dale Earnhardt raced in 23 Daytona 500 races throughout his career and up until 1998, he had never won a single one of them. The man that finished his career with 76 wins remained empty when it came to the sports biggest race of them all. Leading up to it, Earnhardt was on a career worst 59 race winless streak before capping off an incredible career with a legendary victory in the sports most prestigious venues.
2) 1979: Richard Petty, STP
NASCAR was not always as popular as it is today. But that had a lot to do with the coverage of it. The Daytona 500 had no problems getting between 150,000 and 200,000 fans in the stands each year but the 1979 race was different because the TV coverage was more advanced than ever before. It was the first time they had in-car cameras that were broadcast on TV and it was also the first time they aired the entire race from start to finish. But what made it memorable was the infamous fight between Cale Yarbourough and Donnie Allison, who collided on the final lap causing both drivers to wreck and not finish the race. Their fight was broadcast live and became a viral sensation. It turned the sport upside down and immediately it became one of the most popular sports in America.
1) 1976: David Pearson, Purolator
There has never been a better finish in a NASCAR race than during the 1976 Daytona 500. On the final lap, David Pearson passed Richard Petty heading into the second half of the lap. By the time they reached the final turn, Richard Petty knew it was now or never and he made his move to pass Pearson, and he did, but only for a very short two seconds. As he passed him, he could not clear him and he collided with him causing both vehicles to go crashing into the infield. As Petty tried to start his car, he could not get it to turn back on and was left just a few hundred yards from the finish. Meanwhile, David Pearson had just enough to crawl his way to the finish line for the win. It remains the best NASCAR race finish ever.