The Best Remaining Free Agents
With just a month remaining until pitchers and catchers report to spring training the hot stove league has slowed way down. With most teams having full rosters, and most of the top talent already signed, teams are now just looking to fill holes and make minor tweaks.
Even though the big names like Zack Greinke, Josh Hamilton and B.J. Upton signed, teams looking to upgrade can still find deals on the free agent market. We break down the top remaining free agents, and predict where each will go in the coming weeks.
8. Delmon Young, OF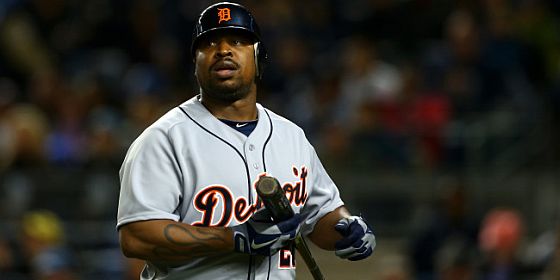 2012 Team: Detroit Tigers
2012 Contract: $6.75m
2012 Line: .267/.296/.411, 18 HRs.
Outlook: To call Delmon a bust is unfair, as he has scratched out a seven year career in the majors by age 27. Still, his career WAR of .6 is far below what was expected from the former top draft pick of the Rays. A couple of moves later and Delmon is left trying to find a team that sees his upside rather than his performance so far. With fellow former #1 Justin Upton on the trade market, teams may be looking at Young as a backup.
2013 Prediction: Baltimore is heading into 2013 without a regular DH and with Nate McLouth slated to start in the outfield. Young would be an upgrade at either of those positions.
7. Jose Valverde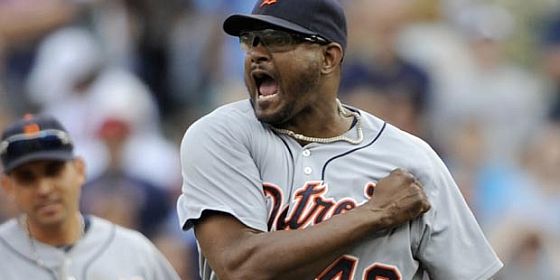 2012 Team: Detroit Tigers
2012 Contract: $9m in third year of a three year deal
2012 Line: 3-4, 35 saves, 3.78 ERA, 1.246 WHIP.
Outlook: Off the field problems and an abysmal showing in the playoffs eliminated any chance Valverde had of returning to Detroit, and his own indecision cost him a shot at the early rounds of free agency. If Valverde comes back to baseball for 2013 it will be at a steep discount, and possibly as a setup man.
2013 Prediction: Valverde does make an interesting pickup as a value proposition. A bad team can bring him in at low risk and then swap him for prospects at the deadline if he performs. We expect Kansas City to be that bad team.
6. Joe Saunders, P
2012 Team: Arizona Diamondbacks/Baltimore Orioles
2012 Contract: $6m
2012 Line: 9-13, 28 starts. 4.07 ERA, 1.340 WHIP, 112 Ks, 39 BBs
Outlook: Saunders didn't have eye popping numbers in 2012, but he provided a veteran presence for the Orioles as they made their surprising playoff run. With a reasonable contract he could again provide that experience to a number of teams with young rotations.
2013 Prediction: The Royals, our original pick, are off the market after the Wil Myers/James Shields trade last month. We expect Saunders to land back in Baltimore, who have regressed this off-season after their great 2012 season.
5. Scott Hairston, LF
2012 Team: New York Mets
2012 Contract: $1.1m in the second year of a 2yr/$2.2m contract.
2012 Line: .263/.299/.504, 20 HR, 8 SB
Outlook: Hairston has never been a star, but has been a quality bottom of the order player over his nine year career. The 20 HRs in 2012 were a career high for the 33 year old, and bumped his asking price considerably.
2013 Prediction: He's going to wind up in New York, either with the Yankees or Mets. We are betting on him remaining with the Mets for a clearer shot at regular at bats.
4. Rafael Soriano, P
2012 Team: New York Yankees
2012 Contract: $11m in the second year of a 2 years/$21m contract.
2012 Line: 2-1, 46 saves. 2.26 ERA, 1.167 WHIP.
Outlook: Soriano turned down a qualifying offer from the Yankees in the fall, and that, along with his demand to close has effectively destroyed his free agent market. Teams seem unwilling to surrender a pick for any reliever, and especially one with the salary demands of Soriano.
2013 Prediction: The Yankees aren't bringing him back, and that is pretty much the entire market for the 33 year old reliever. We are guessing he winds up in Detroit, but Soriano may well wind up sitting out the season unless his demands come way down.
3. Shaun Marcum, P
2012 Team: Milwaukee Brewers
2012 Contract: $7.73M
2012 Line: 7-4, 21 starts. 3.70 ERA, 1.266 WHIP, 109 Ks, 41 BBs
Outlook: Fangraphs breaks down many of the reasons that Marcum is still on the market here, and we agree with their assessment. Marcum is a huge risk for any potential employer, without the corresponding rewards that they tend to look for. That said, he's still a potential middle of the rotation arm that can thrive in the right situation.
2013 Prediction: San Diego has a hole in their rotation and a big ballpark that will play to Marcum's strength.
2. Kyle Lohse, P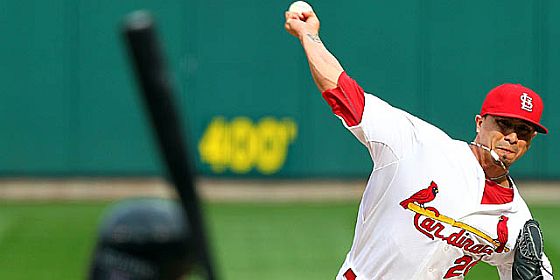 2012 Team: St. Louis Cardinals
2012 Contract: $11.9M in the last year of a 4 year/$41M contract
2012 Line: 16-3, 33 starts. 2.86 ERA, 1.090 WHIP, 143 Ks, 38 BBs.
Outlook: Lohse remains on the market thanks to the combination of his age (33) and a qualifying offer that will cost the team that signs him a draft pick. With rookies Shelby Miller and Trevor Rosenthal ready to crack the rotation there is no longer a place for him in St. Louis.
2013 Prediction: Texas saw its top target (Greinke) go elsewhere, and lost their own star player (Hamilton) as well, so is looking to upgrade and has the budget to do so. We expect them to sign Lohse in the coming weeks, especially with former teammate and new Ranger Lance Berkman campaigning for him.
1. Michael Bourn, CF
2012 Team: Atlanta Braves
2012 Contract: $6.8M
2012 Line: .274/.348/.391 9 HR, 42 SB
Bourn is the top player remaining from our top hitter list from the start of free agency, and the fact that he remains unsigned is the biggest upset of the off-season. The Braves have replaced him already with Upton, and seem disinterested in bringing him back without a significant discount. Texas is in the mix after losing Hamilton, but may be holding a roster spot for top prospect Jurickson Profar.
2013 Prediction: The Braves seem to be the only team actively courting Bourn, but are unwilling to meet his asking price. The best bet for Bourn is to take a one year deal to return to Atlanta and hope for a better offer next year.