Bond 50 Blu-ray Review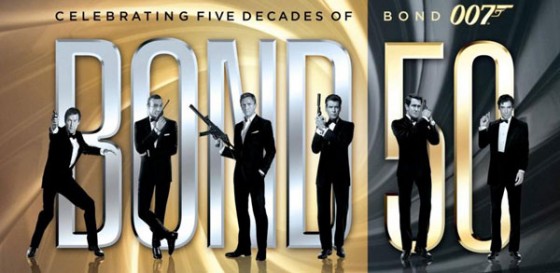 We're huge fans of James Bond here at Gunaxin, so much so that when we launched the site, he was the symbol of our media section. It's tough to think of another character the embodies the Gunaxin spirit more than Bond. Misogynistic quips, outlandish stunts, crazy spy gear, gorgeous babes, and exotic locales make us all wish we could be 007. So you'll have to excuse us for being so excited for the 50th Anniversary of the Bond Films today, and even more excited for the latest Blu-ray release.
What you see above is a boxed set celebrating fifty years of James Bond which includes 22 films on Blu-ray from Dr. No to Quantum of Solace. In all there are over 120 hours of extras, so you'd obviously have to be the ultimate fan to watch all of this amazing Bond content. Now the problem with any complete boxed set of movies that are still being produced is of course, that it's only complete until the next movie comes out. Luckily they've thought ahead a bit on that accord, and have even provided an empty slot for you to place your Skyfall Blu-ray once that is released next year. So at least for a couple more years, your collection will be complete.
The set includes 9 films that were previously unavailable on Blu-ray (and currently not available individually), although if you have already purchased the other 13, you're likely a bit upset that you didn't wait for this amazing box set. It's infuriating enough to have to keep purchasing movies in new formats (looking at you Star Wars), but even worse to purchase two of the same format just to make sure your set is complete. However at a price of about $150 most places, it's only $7 per film to ensure you have the ultimate collection.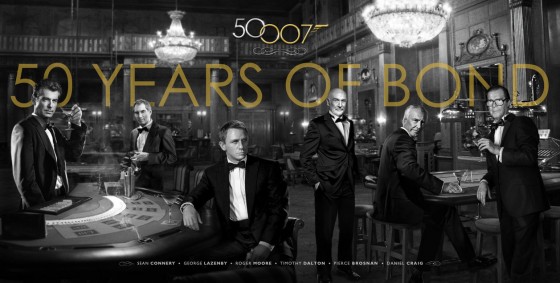 Included with this set is an all-new bonus disc, featuring World of Bond and Being Bond. Since we've seen all of the Bond flicks before, we merely sampled them for quality (amazing btw) at this time, however this new disc immediately caught our attention. World of Bond is a whirlwind of highlights from five decades of Bond flicks, showing unforgettable moments of danger, seduction, and adventure. Being Bond focuses on the actors that have played the iconic character with interviews of Sean Connery, George Lazenby, Roger Moore, Timothy Dalton, Pierce Brosnan, and Daniel Craig.
If you're a huge James Bond fan, you likely already have this set, and are just reading this because you read anything and everything related to Bond. If you're a casual fan though, you're likely debating the purchase. If the video above doesn't motivate you towards a sale, than we doubt anything will. – Amazon