Thirteen Fabulous Breastaurants
Move over Hooters. There are some new kids on the block when it comes to good food and hot sexy ladies. The new restaurants in town have been nicknamed "Breastaurants" and they may very well overtake Hooters in popularity. These eating joints offer everything that men could crave, such as good food, good beer, and sexy women! Here are thirteen of the best:
Hooters – World famous chicken wings and the just as famous Hooters girls are reasons to visit this original.
Twin Peaks Restaurant – Gives you comfort food, a mountain lodge atmosphere, great brews, and the famous Twin Peaks girls. All of this under one roof!
The Heart Attack Grill – A hospital themed restaurant located in Las Vegas that specializes in an unhealthy diet of incredibly large hamburgers. Also, the waitresses are referred to as "nurses" and dress accordingly. Enough said!
The Tilted Kilt – Who doesn't like to see some hot and sexy ladies parading around in a short kilt while drinking a brewski and eating some great food? You can find that and more at the Tilted Kilt.
Mugs N Jugs – Features world famous beers and some of the most sexy ladies serving it.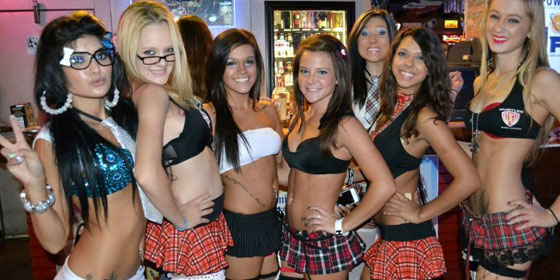 Red Neck Heaven – Texas offers a happy hour every day from two until seven, dress up days with the beautiful waitresses, and great drink and food specials.
The CANZaciti Roadhouse – Men may think they are in heaven with the CANZaciti Roadhouse girls, all the sports you can watch, great food, and spirits.
Bikinis Sports Bar and Grill – Features what else, girls in bikinis serving up the best food and spirits just for you.
Wowies Sports Bar and Grill – An upscale sports bar located in Boca Raton, Florida. It is the home of the Wowies girls that you will have to see to believe.
Show-Me's – Features great food and sexy ladies, all at a great price, you can't do much better than that.
Stacked Burgers – Founded by ex-jocks, so you know they know what you want to see and taste. This burger joint features stacked burgers, a full liquor menu, and some pretty stacked wait staff too.
Bone Daddy's – Features ice cold beer, the best around BBQ, and the spicy Daddy's Girls.
Cheerleaders Sports Bar and Grill – Meridian, Idaho features dozens of beers on tap and great food served by the beautiful house "cheerleaders" of the bar and grill.
With the slow economy, restaurants are turning to sex to sell food. The poor economy means hotter servers and lower prices, which equals a win-win situation for men everywhere. So, grab your buddies and head out to one of our picks of the best "Breastaurants" in the country.