Brown Ale Recommendations
August is a weird time for beer. Summer is winding down. Kids are going back to school. The time for light bodied, crisp ales is coming to an end, and you really don't want to move into a bombastic porter or a warming coffee stout when the thermometer still reads a balmy 97 degrees. Be patient, it will cool down, and you can enjoy an Oktoberfest while sitting on the couch watching Michigan play Notre Dame.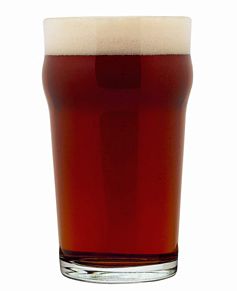 However in the meantime, Brown Ales, both American and English, are an incredible transition from Summer to Fall. From Brewpublic (link includes their recommendations as well):
Brown Ales are those made from dark or brown malts.  The term is believed to have been around since the 12th Century when the diffusion of bottles saw an increase.  In 17th Century London, brewers used the term to describe beers such as the mild ale.

Today Brown Ales come from all around the world, most notably England, Belgium, and North America, with varied interpretations.  Some are generalized as sweet and malt driven, while others are "nutty" in flavor and mild in alcohol content.  In Belgium, several Browns are known as "dubbels" or "quadruples." These style guidelines have evolved and changed over the years under social and industrial trends.  The range in flavor profiles of Brown Ales dictates that the name is arbitrary.  Whether sweet and malty or crisp and nutty, dark amber or deep brown, bold or mild, there are several Brown Ales out there worth sampling.
Here is a list of five brown ales that we recommend you give a try:
This beer is incredibly versatile as far as the foods it can be paired with. It also is amazingly easy drinking at a 4.5% abv.  Flavor is not neglected though the alcohol content is low. This is one of the best beers for a night of BBQ.
Samuel Smith is an English brewery and this is one of the best examples of this style that I can think of. Smooth bodied and balanced. Quite a simple beer, but one that is worth coming back to time and time again. Probably the easiest beer out of the list to acquire.
3. Sixpoint Brownstone
OK, this one is good. Really good. However it is really hard to come by if you aren't in a very specific section of the country. As in, New York, Pennsylvania and Massachusetts. On draft only. So this makes it next to impossible for most people to imbibe in this sweet nectar. If you are so blessed to be in one of these areas, go for it, you will not be disappointed.
This beer has been around awhile, as it was first brewed at Smuttnose in 1988.with Cascade hops and a hit of chocolate, this brown ale is smooth and mild. This one has an abv. of 6.7%. Perfect for burgers, chilli, or by itself.
This one has a 7.2 abv.  What sets this brew above the rest is how complex it is. It tastes a bit like molasses, a bit like coffee and even more like chocolate covered raisins. Best paired with bacon or anything else smokey and meaty.