Brydge Keyboard : Transforms a Tablet into a Laptop
This is a sponsored post written by Gunaxin on behalf of Brydge.
We love our laptop for getting work done, but sometimes it can be too cumbersome to take with us when we travel. We love our tablet for portability and the touchscreen, and the fact that we don't have to take it out of the bag when going through TSA screening. It lacks a keyboard though, and that makes it very difficult to get serious work and email correspondence done from a tablet. So we were delighted to discover the Brydge Keyboard, which gives us the best of both worlds, essentially converting our tablet into an ultra-portable laptop.
They recently sent us one to try out, and we were immediately struck by the build quality of the product, which is made to perfectly fit our tablet. It seamlessly integrates with leading tablets and serves as a stand. The quality and design of the Brydge is worthy of the product it was made to enhance. It's vastly superior to the previous option we have tried, using our desktop Bluetooth keyboard in tandem with the tablet. That keyboard is made for the desktop operating system, while the Brydge Keyboard is specifically designed for the mobile operating system, with custom buttons for common tasks like Home. That makes a big difference.
The Brydge Keyboard is very sleek, and allows the tablet to fold into a laptop-like tight package like you see in the images below. They make a version for each size and color of tablet, so that everything coordinates perfectly.
As we mentioned, it essentially converts your tablet into a touchscreen laptop for a fraction of the cost. The Brydge Keyboard helps elevate the potential of a tablet from mostly an entertainment device, to a productivity tool. It truly allows us to be productive anytime and anywhere.
The highly awarded Brydge Keyboard is feature-packed, including a patented hinge for 180 degree viewing angles, backlit keys, and a three-month rechargeable battery. We're looking forward to using the Brydge Keyboard on our future travel, and think it's the perfect solution for our needs. It makes us wonder how we've gone so long without it, but now we'll never leave home without it.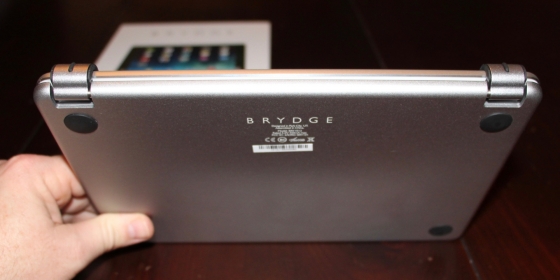 This is a sponsored post written by Gunaxin on behalf of Brydge.