Building a Snack Stadium with José Olé
When the folks at José Olé® challenged us to share our ideas for serving their products for a big game party, we knew immediately what we were going to do. It was Snack Stadium building time! You can see the delicious finished product in the photograph above, but we captured additional images of the process to share with you below. So follow along with us if you'd like to learn how to make your own snack stadium with José Olé mexican snacks…
Ingredients and Supplies
A quick trip to our local grocery store revealed a wide assortment of José Olé mexican snacks to choose from in the freezer aisle, and we decided to go with party favorites, Taquitos and Mini Tacos. We mixed it up a bit by selecting a few varieties of taquitos, including the Mextremes you can see above, which were chosen for color variation. Below is our list of ingredients and supplies :
José Olé Taquitos
José Olé Mextremes Taquitos
José Olé Mini Tacos
Tortilla Chips
Salsa
Guacamole
Sour Cream
Foil Trays
Football shaped dish, plates, and napkins
The Layout
Constructing a Snack Stadium takes a some planning to execute properly. There are many variations and sizes, but we decided to keep it fairly simple, opting to utilize cheap foil dishes and a relatively square design. The large one in the center is obviously the field, and the smaller trays on the outside are going to be the stands. As we began to lay things out, we also preheated our oven according to the directions on the packaging.
Test Fit
Normally Snack Stadiums are served cold, as they take a while to prepare, and you want your guests to be able to munch on them throughout the game. So utilizing José Olé mexican snacks is a bit of a challenge to time properly. To make sure we knew what the end goal was, we test fit the product in the trays before cooking them. The ideal situation is to have everything ready to serve hot, and allow just enough time for your guests to take a photo of your masterpiece before destroying it with their appetites. Once you figure out how much food you're going to cook (to fill up the stadium and your guests) it's time to start cooking the champion of this food spread.
Guacamole Field
While the mini tacos and taquitos were cooking, we turned our attention to building our field. The first step is to spread out guacamole in the center of the tray. It's obviously the only choice because it's green and it fits our menu perfectly. The guacamole should be firm enough to hold its shape, so you can probably form it even better than we've done above. Since guacamole is relatively expensive and doesn't keep well, you'll want to vary the depth based on how many guests you'll have and how much you think they'll eat.
Salsa End Zones and Sour Cream Lines
The next step is to fill the "end zones" with salsa. You could do two different types of salsa for a variety of color, or even utilize nacho cheese. Either way, the guacamole wall should hold up and the ingredients should remain separated. As you can see our next step was to utilize a cake decorating piping bag filled with sour cream in order to draw some lines and hash marks. Your level of skill with this technique will probably dictate how detailed you want to get with the yard lines and hash marks, but we'd recommend you avoid numbers and writing in order to preserve a sharp look. For our José Olé Stadium, we cut a logo out of one of the empty boxes to put at midfield. You are obviously free to use whatever logo makes sense for your own Snack Stadium creation.
Chips and Salsa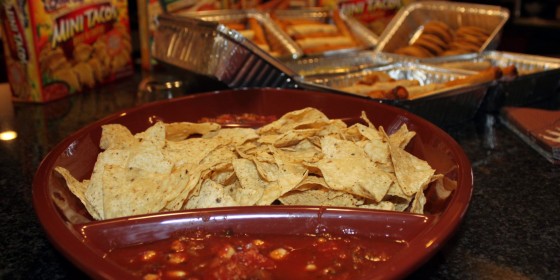 Since we filled the bleachers up with mini tacos and taquitos, we needed a separate vessel for our chips and salsa. We utilized a football shaped tray, but you could also integrate the chips into the seating area of your Snack Stadium of course. An alternate idea would be to fill four small round bowls with chips and place them in each corner, to mimic the ramps that are seen on some stadiums. The goal here is to have all of the cold ingredients in place before the hot product is done cooking, so you'll be ready to serve as soon as possible.
Fill the Stands with Taquitos and Mini Tacos
When the oven timer goes off, you should move quickly to fill the stands up with the hot product. We suggest utilizing tongs for this task. As you can see we alternated seating rows between two types of taquitos. The Mextremes have darker coated corn tortillas, which are a nice contrast to the flour tortilla color of the chicken & cheese taquitos. We also propped up the seating section containers at an angle to represent stadium seating.
José Olé Stadium Aerial View
Above you see our finished product, ready to serve. We suspect your guests will want to take photos, so let them get that out of the way before people start grabbing servings. Once the feeding frenzy begins, your Snack Stadium will quickly lose all resemblance to its inspiration and won't look nearly as cool in pictures. We served ours with football shaped plates to complete the theme. As we said, this is a very basic example of how you can build a Snack Stadium rather easily. If you're up for the challenge of creating an even bigger stadium, we have plenty of inspiration in our extensive Snack Stadium gallery. To get you started with the best ingredients, we're happy to share this coupon for $1 off José Olé products.
This is a sponsored conversation written by me on behalf of Jose Ole. The opinions and text are all mine.