Burn Notice Heats Up in Season 3.5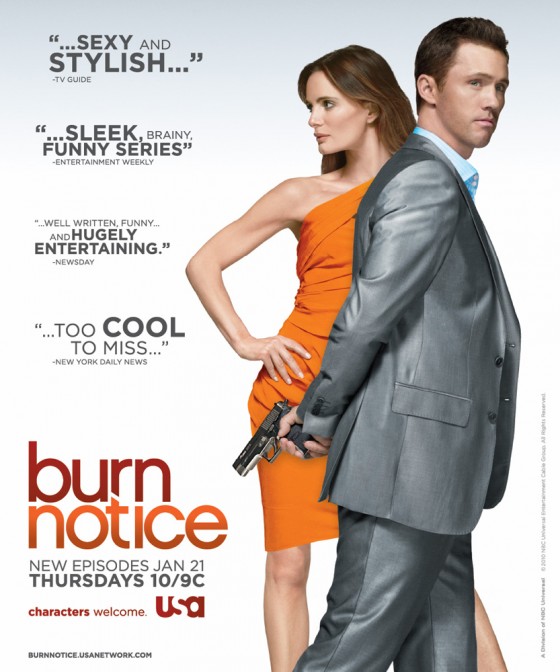 Season 3 of Burn Notice resumes on Thursday, January 21st on USA at 10pm and I could not be anymore excited. The show follows Michael Weston (played by Jeffrey Donovan), a former CIA spy who has been blacklisted (burned) by the CIA.  Apparently, when you are burned, you are left in a city with no money, nothing.  Michael was left in Miami where he was able to meet up with his ex-girlfriend Fiona (also a former spy, played by Irish lass Gabrielle Anwar) and a buddy, Sam Axe, who's also a former spy (left on his own accord and played by Evil Dead cult icon Bruce Campbell). 
The on going plot revolves around Michael trying to find out who burned him, why, and how to get his life back or at least clear his name.  Individual episodes revolve around Michael, Sam, and Fiona helping Miami locals overcome problems (gangs, scam artists, etc., like the A-Team) that the police would not be able to due to the inconveniences of the law and general police stupidity.  They use intricate spy techniques that Michael's voice overs explain to the viewer in a way that is informative, humorous, and completely believable.  Hell, I've even used one of his techniques to take on a small snake in my office.  A lot of the crap they do can be accomplished with common household items, which is awesome for the wanna-be spy (ME!).
Burn Notice has everything a red blooded American needs:  guns, explosions, espionage, crafty gadgets, cars, hot chicks, and Bruce Campbell.  Did I mention hot chicks?  Oh, I did, carry on.
And now a word from our sponsor:
Get ready to get BURNED! The #1 show on cable returns with all new episodes.  Don't miss Tyne Daly & Clayne Crawford guest-starring in the Burn Notice winter premiere – "A Dark Road" – airing Thursday, January 21 at 10/9C.  Become a Fan on Facebook, Follow on Twitter, and visit the Official Site to play Covert Ops: Vegas Heist (beginning 1/21) for a chance to win an all-new Hyundai Genesis Coupe!
To help promote the show, we have a Burn Notice Gift Bag for two lucky winners.  Be the envy of your town with…
Season 1 & Season 2 DVDs
Burn Notice Branded Flashlight
Burn Notice Book: The End Game
Burn Notice T-Shirt
To be eligible to win, simply complete just two easy steps:
Join (or already be a fan of) our Facebook Page
Comment on this article on our Facebook Page, letting everyone know you are entering to win.
(Open to U.S. Residents only, sorry you silly Canadians.  Entrants must be at least 18 yrs of age, but hey, I have the same requirement.)