California Double : Surf & Snow with the 2020 Chevrolet Bolt EV
The Chevrolet Bolt EV was introduced in 2017, and 3 years later it remains one of our favorite electric vehicles on the market. We spent a week with the Bolt back in 2018 and provided a full review, but this time we were invited to undertake a more exciting challenge with the 2020 version of the Chevy Bolt. Adventure sports enthusiasts call it the "California Double" and the goal is to hit both the Surf and the Snow in one day, something that is uniquely possible in California during the winter months.
Does the Chevy Bolt EV have the range to go both surfing and snowboarding in one day on a single charge? Spoiler : Chevrolet wouldn't have invited us out to California to try it, if they didn't think their EV was up to that challenge. In fact, for 2020, the range has been extended an additional 21 miles, to give the Bolt an EPA-estimated 259 miles of fun and sun. So the real challenge here was seeing if our bodies could handle waking up before dawn and running around California like we were filming a Redbull commercial till dusk. Unlike the Bolt, we stopped to re-charge our batteries a few times in the process.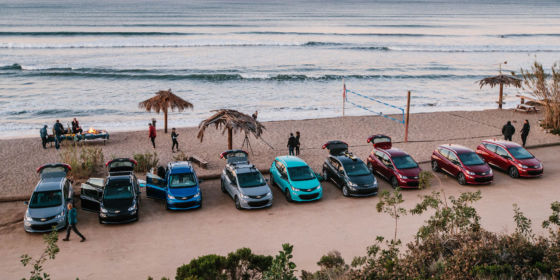 As you can see in the image above, Chevy gathered a decent sized group to embark on this adventure, so where possible we'll try to link out to their content at the bottom of this feature. The group included a wide variety of creators, most of which were far more skilled in the surf and snow than ourselves. You can see the entire group featured in our short video below, which makes extensive use of photographs provided by Chevrolet. It proves that the Chevy Bolt EV does indeed have the range to go surfing and skiing in the same day, if you are up for such an adventure.
If you've driven in California recently, you've no doubt seen that gas prices are on the higher side. In fact we filled up our vehicle in South Carolina for $2.05 per gallon before flying to Orange County where we saw prices as high as $4.05 in some areas. Add in the desire to lower your carbon footprint and be more green, and the appeal of an electric vehicle, especially in California, is readily apparent. So it was no wonder that we saw them everywhere in the state, and that there is an extensive charging infrastructure available to keep them on the road. The abundance of charging stations combined with the Bolt's 259 miles of battery should make range anxiety a thing of the past. Unless some of those miles are up a mountain on a windy day with a roof rack attached.
So here we are charging the Chevy Bolt, but not until the next day after descending from the mountains. While the Bolt EV definitely ate into its range rather quickly on the way up the twisty mountain roads, thanks to the regenerative braking of low mode, we gained many of those miles of range back on the way back down. It probably has something to do with gravity and physics, but if you plan it properly and drive efficiently, you can indeed get from the coast to the mountains and back again on a single charge. That pesky roof rack will however make that more difficult, as it creates wind resistance and cuts into the range. A loaded roof-rack DOES however make the Bolt look infinitely cooler, so this is exactly what they mean when they say, your mileage may vary.
In addition to ditching the roof rack, other hypermiling tips would include keeping the windows closed and trying not to use the air conditioning or heat. The heated seats and steering wheel provided a less power-hungry option to keep us warm. However the biggest energy savings came from using the previously mentioned Low Mode, which enables one-pedal driving.
One Pedal Driving lets you speed up and slow down using only the accelerator pedal. When you want to speed up, press your foot down like you normally would. And when you want to slow down, just lift your foot off the accelerator. One Pedal Driving helps you capture some of the energy from the moving vehicle and turns it back into electrical energy which is stored in the battery.
If you've never experienced this, it can take a bit of acclimation, but as we became smoother on the throttle and "brake", we saw our efficiency score increase on the 10.2-inch touchscreen. Add in the instantly available torque and driving the Bolt is an exhilarating and fun experience that most first time drivers don't expect.
The Bolt is surprisingly roomy inside. The high ceiling and large windows really help to expand the spacious feel of the cabin and provide great visibility. Packing for both surf and snow didn't allow for just utilizing small carry-on bags. We also extended our trip, so we were delighted to see that the rear seats fold down flat and there was plenty of room for two full-sized suitcases and several additional smaller bags. Depending on the surfboard length you ride, you may even be able to get your board inside the Bolt to avoid the wind resistance.
While we still have much to learn about surfing and snowboarding, our experience with the Chevy Bolt is approaching Double Black Diamond levels. Our adventure took us from Laguna Beach to Lake Arrowhead and back down the mountain for a few additional days of extended fun in Newport Beach, Disneyland and Huntington Beach. The 2020 Chevrolet Bolt EV took us everywhere we wanted to go, and charging it proved quite easy, with ChargePoint locations near restaurants and in Mickey's parking garage. The loaded model we drove has a retail price of over $40k. However dealer incentives and tax credits are typically available to help save your budget for some new gear and lift passes.
Additional California Double Coverage