Canadian Women's Hockey Team: Smoke 'em if ya got 'em!
Everyone knows that the rivalry between US and Canadian hockey has been raging for decades, and will go blades-a-swinging far into the future. But the game Thursday (Feb. 25th) night that proved the Canucks domination over the US women this particular Olympics didn't just end on the ice… or at all, for that matter. Maybe not completely walking into 'sore winner' territory, it certainly tread the line. As it seems, for more than an hour after the actual awards ceremony, the ladies continued to carry on like a bunch of… well, like a bunch of Gold Medal Winners with a grudge, honestly. But what the IOC (International Olympic Committee) saw was more akin to a full on mass of smoking and drinking ne'er-do-wells tarnishing the tradition of the Olympics and the game of hockey. Seriously. Here's a snippet from Yahoo.com spelling out the entire debacle. Oh, and just in case you readers were unsure as to my stance, this whole diatribe of mine is heavily doused with sarcasm. Anyway, here a go: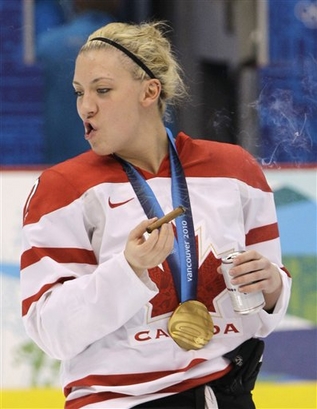 "A number of players, including 18-year-old superstar Marie-Philip Poulin, were drinking alcohol on the ice following the team's 2-0 defeat of the United States. (The legal drinking age in British Columbia is 19.) Players lingered for more than 70 minutes after the awards ceremony reveling in the arena, which was empty except for media and arena staff.
Gilbert Felli, the IOC's executive director of the Olympic Games, said that drinking in public was "not what we want to see" from athletes at an Olympic venue. The organization will investigate the actions and will speak with the international hockey federation and Canadian Olympic Committee and ask them to "act accordingly."
Look, I can understand where the batch of IOC humorless old farts are coming from -in a way. Witnessing the younger women taking cues from the older ladies and chugging down Moosehead lagers and huffing cheap cigars could certainly come across as a visage they really don't want portrayed. But what they don't quite get yet is just what's going to happen if the Canadian Men's hockey team can win gold (they can't. Go USA!). There's going to be outright bedlam and a stadium full of whores bathed in maple syrup, acres of back bacon spilled out as far as the eye can see, and quite possibly a Canadian Eskimo riding a Polar Bear. It will be an extravagant, victorious, circus and the IOC will, basically, shit themselves. So, let them have their fun. It's not hurting anyone, it's not even unexpected. But it is cool. They deserved every inch of that victory. But maybe next time, invite the US (silver medalists) women in… maybe with some Jell-O. You see where I'm going with this.
Oh, and in case you want to hear this article read to you… ya know, if you're too busy (or blind) to read, check this out: