Cargo Bridge Flash Game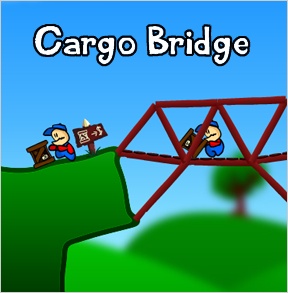 From Limex Games comes the new time wasting Flash Game, Cargo Bridge. This little game has been featured all over the internet recently, and I don't even recall where I first saw it. If I did remember, I would surely be sending them a bill for the hours I have spent on this life diversion. The folks over at Casual Gameplay have recently reviewed the game, and have a full screen-shot walk through of all 24 levels:
Cargo Bridge from Limex Games seems simple at first glance. Just build a bridge to span the gap to allow your little mover guys access to the cargo that they need to complete the level. Sounds pretty easy, right? I mean, how hard can building a bridge really be? The answer may surprise you.
Sounds like dorky good times eh? Why not give Cargo Bridge a try?
Now, once you have played for an hour or so, you may be looking for a little more help. The walk through linked above is great, but how about some video? We have that, thanks to YouTube user tasselfoot.
Cargo Bridge Walkthrough – Levels 1-8

Cargo Bridge Walkthrough – Levels 9-16

Cargo Bridge Walkthrough – Levels 17-24