Carlos Zambrano Is The $18,875,000 Mop-Up Man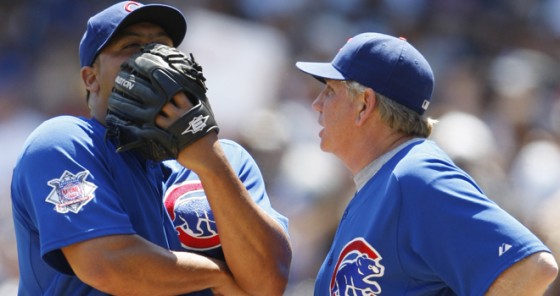 When the Chicago Cubs signed Carlos Zambrano to a five-year $91.5 million dollar deal in August of 2007, the idea was that he would be the club's unquestionable ace for the foreseeable future. After struggling out of the gate as a starter this season, Zambrano was promptly moved to the bullpen by manager Lou Pinella. "Big Z" was originally looked to as the 8th inning guy for the Cubs, where he was expected to pitch in high-pressure situations while working on regaining his command and composure.
Pinella's patience with Zambrano appears to have run out, as the mercurial hurler was moved to a mop-up role after Monday night's 11-inning victory over the Colorado Rockies. Granted, Zambrano's move to the 'pen was originally viewed as temporary, but given his struggles since the demotion it's hard to believe this second demotion is an effort to start stretching him back out to a starter again.
Whatever the case, the Cubs would be wise to hide the Gatorade coolers when "Big Z" is on the mound. At least until this mess gets figured out.