Top Ten Cars of the 2015 Dakar Rally
The epic 5,592 mile off-road stage race known as the Dakar Rally concluded over the weekend, and for the fourth year in a row, a Mini won the car category. The 36th running of the event weaved through Argentina, Chile, and Bolivia and featured four classes of vehicles; bikes, quads, cars and trucks. We're not going to lie, we normally only really care about what they call cars, and usually that includes what we would normally consider trucks.
Dakar Rally cars are some of the most badass racing rigs you'll ever see, so each year we love to see what the teams have come up with. While we were enjoying off-road trucks racing in the snow at Red Bull Frozen Rush, a Red Bull sponsored Mini was winning at Dakar in South America. Nasser Al-Attiyah took his second title for the X-Raid Mini squad in the #301 car you see above, but we wanted to show you what the rest of the Top Ten looked like. As you'll see, Toyota also had a strong showing and along with Mini, the two manufacturers really dominated the Top Ten by taking eight of the top slots combined.
2nd – #303 Toyota
3rd – #307 Mini
4th – #314 Mini
5th – #310 Mini
6th – #309 Toyota
7th – #315 Toyota
8th – #306 Mitsubishi
9th – #329 Mini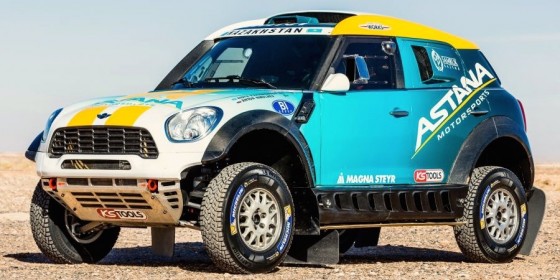 10th – #320 SMG

While they didn't finish in the Top Ten, there were several other cars that caught our attention, and we wanted to share those with you as well. In particular the Red Bull Peugeots looked totally badass, but sadly didn't perform very well in the competition. The notable first car below is American Robby Gordon's Hummer, which won the final stage and placed on the podium in two previous stages of the 2015 Dakar Rally.
Hummer
Peugeot
Ford
SMG