Cedar Rapids on Blu-ray and DVD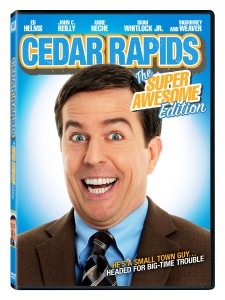 Ed Helms plays mild-mannered Tim Lippe as he takes off on an in the film Cedar Rapids, coming to Blu-ray and DVD in the "Super Awesome Edition" June 21st from Twentieth Century Fox Home Entertainment. The film is very funny and has a great cast; Helms (The Hangover), John C. Reilly (Step Brothers), Isiah Whitlock (TV's The Wire), and Academy Award nominee and Golden Globe winner Sigourney Weaver (Avatar).
The plot revolves around a naive small-town Midwesterner (Helms) who is sent to represent his company at a regional insurance convention in Cedar Rapids, Iowa. His mind is blown by the "big city" and he finds himself in the midst of the most unexpected shenanigans. With a great cast, this film is hilarious and you will want to watch over and over again to catch all the great comedic lines.
We had a chance on the Gunaxin Podcast Show to speak with Isiah Whitlock about the film. You can check out the interview here and see his answers to the Gunaxin 6Q!
The movie comes with some nice features on the disc, including deleted scenes, a gag reel, and other bonuses such as Tweaking in the USA,  Wedding Belles – Crashing a Lesbian Wedding, and a  Top Notch Commercial. You can purchase the DVD or Blu-ray at the FOX DVD shop or win a copy on DVD if you follow us on Twitter. Check out the trailer below!